Phyllo Chicken Pot Pie from Frozen Phyllo Dough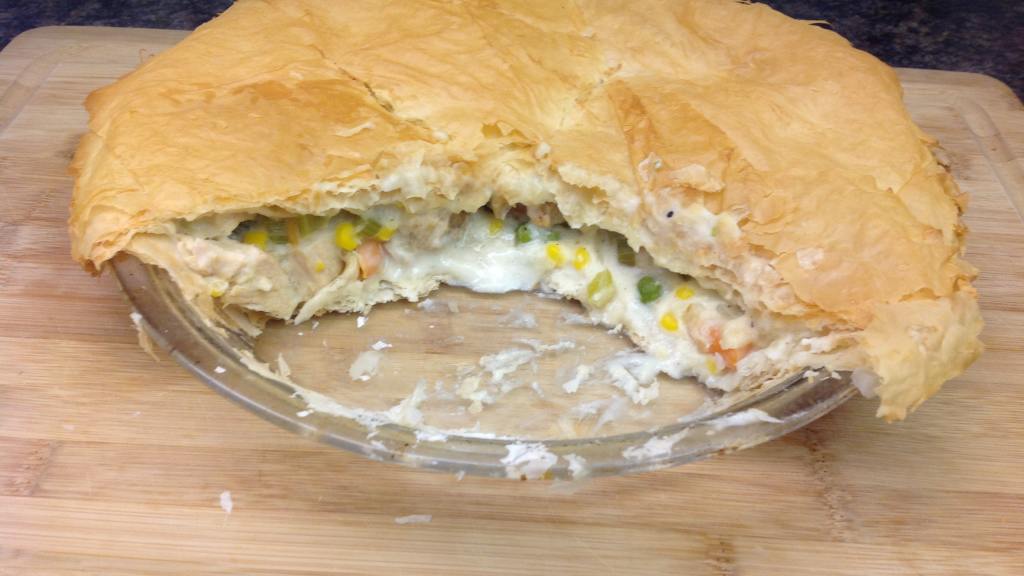 Ready In:

1hr 15mins

Ingredients:

15

Serves:

4-6
directions
1.) Place carrots, celery, potatoes and onions into the chicken broth and cook over med-high until tender. Add frozen peas and corn. Add diced chicken, salt pepper sage and thyme. Simmer over med-low for a few minutes.
2.) Whisk milk and flour together. Add to above mixture and simmer until thickened.
3. ) To make pie, overlap 10 sheets of fillo in a 9" pie pan, buttering the sheets as you layer them in the pie pan. Pour chicken mixture on fillo dough. Top with remaining 10 sheets, overlapping the fillo and brushing each layer. Score top.
4.) Bake in preheated 350ºF oven for 25 to 40 minutes or until golden brown Let stand 5 minutes. Serve hot.
GENERAL FILLO DOUGH HANDLING DIRECTIONS. Allow fillo dough to thaw in refrigerator overnight. Bring to room temperature before using. Carefully unroll fillo sheets onto a smooth, dry surface. Cover fillo completely with plastic wrap, then a damp towel.Keep fillo covered until needed. Do not leave uncovered for more than one minute to avoid drying out. Microwave butter until melted. This will give you a lighter and flakier pastry. Brush each layer of fillo with melted butter, margarine or oil.To prevent edges from cracking, brush edges first and then work into center. Be sure to brush the last layer of fillo with melted butter.Fillings should be chilled and not excessively moist. Fillo may be rolled and refrozen to store when not in use.
Join The Conversation
My 13 year old who doesn't like vegetables loved this dish as did my husband. Dealing with the phyllo dough is labor intensive. I don't see the point in buttering the first ten layers for the bottom crust since they come out soggy anyway. I used half and half which seems to cut down the cooking time in the pot quite a bit since it thickens quickly. I saved time by using organic pre-peeled and washed baby carrots and cut them into thirds. One cup of potatoes is only two medium potatoes. I used Yukon gold and cut small cubes so they would cook faster. For the chicken, I used a pre-roasted chicken from the supermarket. Two cups included all the meat except one drumstick and thigh that I'll use for something else. Step 1 can be done in advance.