Philly Cheesesteak Sandwich (((Authentic)))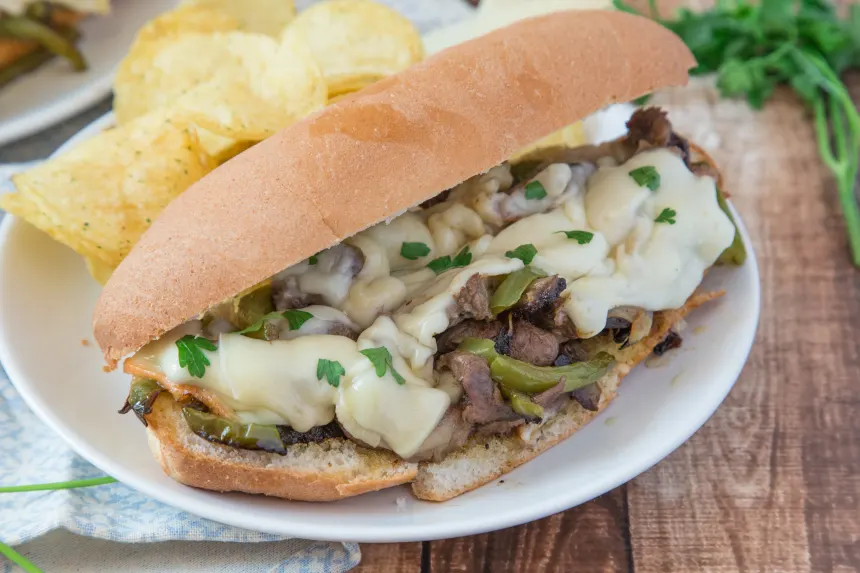 photo by anniesnomsblog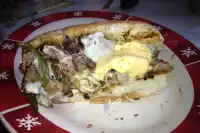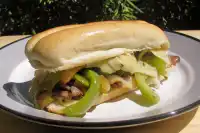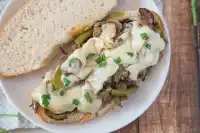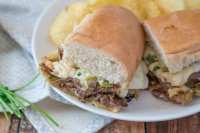 Ready In:

20mins

Ingredients:

9
ingredients
1

2 large hoagie rolls or 2 large sub rolls

1⁄2 lb deli roast beef (very rare, sliced wafer thin, or you can use a frozen Rib-Eye roast shaved on an electric slicer, wh)

1

white onion (thinly sliced)

1

green bell pepper (thinly sliced) (optional)

2

teaspoons garlic (minced)
1⁄2 lb provolone cheese (thinly sliced)
extra virgin olive oil (for grilling)

salt and pepper

marinara sauce (optional topping) or ketchup (optional topping)
directions
Heat a griddle or a large saute pan over medium-high heat.
When hot, cover bottom with olive oil.
Add the onions and bell pepper and cook, stirring, until carmelized, which will take about 6 to 8 minutes.
Add the garlic, salt and pepper, and cook for about 30 seconds.
Then, push the mixture off to one side of the griddle.
Add the meat to the hot part of the griddle.
Cook, continuously flipping the meat over and slightly chopping the meat into slightly smaller pieces with 2 spatulas, until the meat is not pink, which should take about 2 minutes.
Mix the meat and the carmelized onions and bell pepper together.
Divide into 2 portions, and top both portions with the cheese to melt.
If using Italian or French bread, cut the bread in half, crosswise, and slice lengthwise to open for the 2 sandwiches.
Hollow out some of the soft white bread part from inside and place face down on top of the meat and cheese.
When the cheese is melted, and with 1 or 2 spatulas, flip the sandwiches over and add topping, such as marinara sauce or ketchup, if desired, and serve immediately.
Questions & Replies

Got a question?
Share it with the community!
Reviews
OK, this is NOT, NOT, NOT a Philly Cheesesteak if you use deli roast beef. You must use thinly sliced rib eye. And the poster has personal preferences in the recipe. I do not know of a single place that has garlic in the sandwich unless requested. Also, as a BASIC original cheesesteak, 99% of places do not use bell peppers. This would still be a good sandwich if made as described, but it would NOT be AUTHENTIC. Trust a 250 pound guy who has probably eaten 1000 of them in his life - and has had heart bypass as proof, LOL.

 

This recipe should be resubmitted as a roast beef sandwich. The othere reviewer is correct, this is not a Philly cheesesteak. It does not contain the correct meat or trimmings. Also, you can't put it on any roll from the supermarket. It needs to be a hoagie roll from an Italian bakery to give it that authentic taste. Oh..and you forgot the garbage can..you need to lean over the can as you eat the sandwich so the grease can drip into it!

 

This is a terrible recipe if they are going to boast authentic. My biggest peeve is when a restaurant or otherwise present a "Philly" cheesesteak and it's anything but. Just call it a cheesesteak and move in. Our cheesesteaks are simple: ribeye meat, whiz, and a roll. Maybe some carmalized onions, or long hots, or peppers, or some other cheese - those are personal changes/additions. But at its core, it's ribeye, whiz, and roll. Done.

 

This is nice and all, but not "Authentic." This is a hot roast beef sandwich: And putting marinara and/or ketchup on it? You'd have to go to Confession for that. The cheese is either the "Whiz" or a Provolone. Slicing the meat on a home slicer is difficult at best; especially on a slow small home slicer. Having been a chef in Long Island, NY, I use a 10" slicer that spins up at around 470 RPM's; and the rib-eye has to be partially frozen. In that way I can slice my meat so thin, it's only got one side.