Petchah (Calf's Foot Jelly)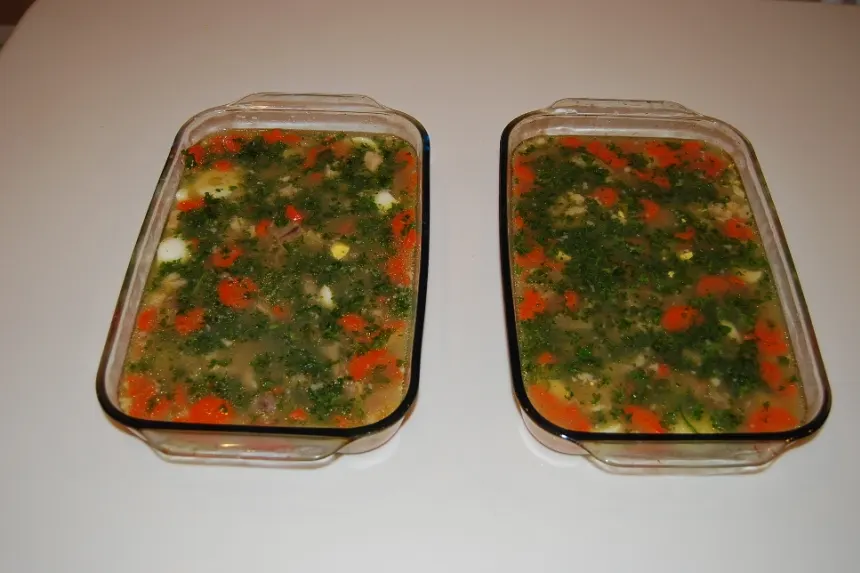 photo by Joseph S.

Ready In:

7hrs

Ingredients:

9

Serves:

16-20
directions
Thoroughly rinse calves feet with water and place in a stockpot with enough water to cover.
Bring the vessel to a boil and remove any scum that appears on the top.
Drain the calves feet and cover again with a change of cold water. Bring to a boil again.
Lower the burner to the lowest setting possible. Add the diced carrot and onion, salt and pepper. Cook on the lowest possible heat for a minimum of six hours, preferably overnight until any adherent meat, cartilage, tendons and ligaments separate easily from the bones.
Reserve everything but the bones and discard the bones. Taste the broth and adjust salt and pepper to your liking.
Chop the meat, cartilage, softened tendons and ligaments into small pieces (being careful not to miss any bone fragments and to use only those pieces that can be easily cut with the knife) and mix with minced garlic. Alternatively, take the larger pieces and put with cloves into a food processor and process until well incorporated and a ball of lumpy paste is present in the food processor.
Place the sliced eggs neatly in the bottom of a rectangular glass or enameled baking dish.
Over the eggs, evenly distribute the meat/garlic mixture.
Over this, pour the broth including the onions and carrots. Depth of the broth should be no less than one inch though an inch and a half is ideal.
Allow mixture to cool on the counter or stove top briefly and then place on a shelf in refrigerator to sit, undisturbed, until the mixture solidifies. Any fat coming to the top of the mixture may be removed by skimming with the edge of a knife after mixture gels firmly.
Following solification, the mixture should be cut into squares. It is served cold as an appetizer or as a cool snack. Garnish with a slice of lemon wedge which may be squeezed over the aspic for additional flavor.
Reviews
Why are people saying this is gross and revolting? Ok so it has pig feet. What's wrong with that? No different than ham hock or chicken necks etc.... It's great to add flavor. Not a ton of meat on them but that's not the point. Tendon is awesome. I get tendon in my pho all the time. Great flavor. People are just weird and afraid to try anything other than their boring normal but this dish is definitely not disgusting. I'm not a fan of hard boiled egg so I leave that out but this is a tasty dish.

 

When there was no broth left after cooking, I added more water before refrigerating. It turned out great. A few of the pieces were too hard to chew, so I probably didnt cook it long enough. I cooked it about 7 hours. I made a lot so I was thinking of freezing some. Does anyone know if freezing it will turn out OK?

 
RECIPE SUBMITTED BY
I am a health professional who lives in Florida with my wife and three boys. My taste in foods and cuisines is quite broad and I appreciate both traditional and eclectic foods. Obvious influences include my own Ashkenazic Jewish background as well as my wife's Greek-Turkish Sephardic Jewish background, but I frequently enjoy so-called "Floribbean" cuisine" and forays into French, Italian, North African, Middle Eastern and Eastern cuisines. My middle son and I love to fish and in South Florida, the variety of fish available is unparalleled. God's bounty of food sustains us and restores us. Preparing foods provides us with a sense of connection to a place, a history or to a culture. Spending time in the kitchen or at the table with family allows us time to get away from the madness of our harried professional lives and provides a comforting and soothing time to reflect on ourselves and reconnect with those people and things that are most important and dear to us. I love to pick out microingredients in a recipe and stun people when I tell them I can taste it. Passions include cooking and the ethnology and history of food and the people behind it, family, music, contract bridge and fishing. Pet peeves include rushed meals, overcooked vegetables and the culture that places more emphasis on speed and numbers than on quality.
View Full Profile