Perfect Divinity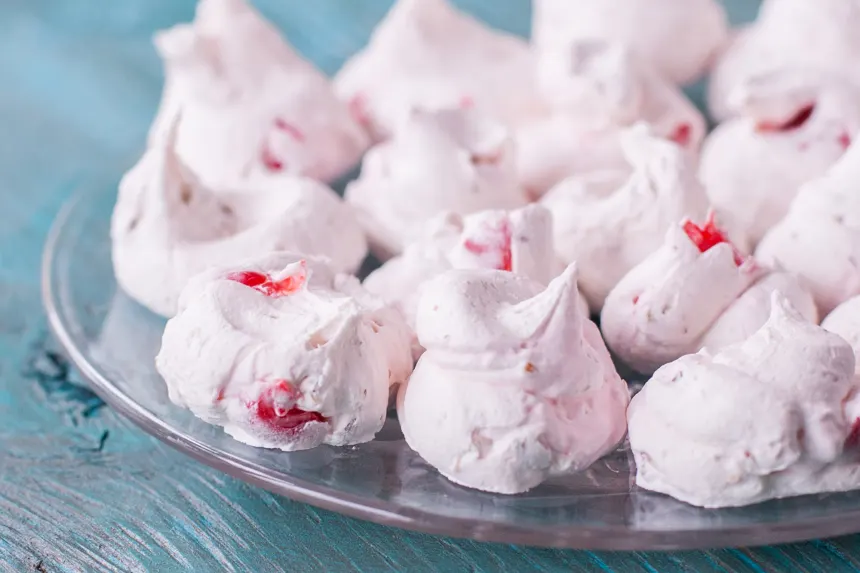 photo by DianaEatingRichly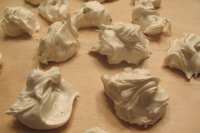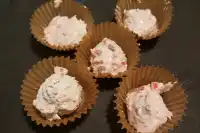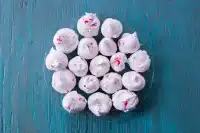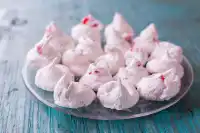 Ready In:

35mins

Ingredients:

7
directions
In a 2 quart saucepan combine sugar, corn syrup, water, and salt.
Cook to hardball stage, (260 degrees), stirring only until sugar dissolves.
Meanwhile, as temperature of syrup reaches 250 degrees, beat egg white till stiff peaks form.
When syrup reaches 260 degrees, very gradually add the syrup to egg whites, beating at high speed with electric mixer.
Add vanilla and beat until candy holds its shape, 4-5 minutes.
Stir in the chopped nuts or cherries, if desired.
Quickly drop candy from a teaspoon onto waxed paper, swirling the top of each piece.
Let cool.
Questions & Replies

So I've attempted to make divinity so many times and can not get it right! The first few times it was to soft and would be like a dollar pancake when I was done spooning it out on the wax paper. Now I've made it 4 times and it seems fine until I spoon it out then it's rock hard. So I thought I was mixing it to long so I've backed off and it's still to hard. I don't understand why people say to whip it until no more gloss...I feel like I whip it to long still waiting on the gloss to go away and then it's to hard. The only time the gloss goes away is after I've already whipped it to long. I've whipped for 3-4 mins and that's not long enough I whip for 4-5 mins and it's rock hard. The taste is always good but the texture is too hard. Someone please help me!?!?

 
Reviews
I love Divinity! My granny and I make it every Christmas and instead of stirring in the nuts we place a singel pecan on each one which makes it very pretty! This recipe is a good one!! I have one small change though, I decreased the sugar to 2 cups because my first batch was very stiff. My second batch was perfect! Like little pillows of goodness! My granny also says never to make it on a rainy day, too much humidity!

 

Just want to say to people who think you can't make divinity when it is humid, you can. When it's raining outside just reduce the amount of water in the recipe by about a tablespoon. Also, I remember from childhood, just spreading it out in a sheet pan and slicing it into squares. Doesn't look as pretty but is much easier and tastes just as good.

 
Tweaks
My daughter and I made this recipe for divinity today and it turned out great! I switched beaters from my whipping beater to the regular beater after the egg whites were beaten before gradually adding the syrup. I had a sink full of hot soapy water waiting for the pan, mixing bowl and untensils and clean up was a breeze too! It is truly perfect divinty and I am very pleased.

 
RECIPE SUBMITTED BY
My name is Nita and I am a 50 y/o grandmother of 3 beautiful children; a 13 y/o granddaughter, a 11 y/o grandson, and an 5 y/o old grandson. My daughters are 34 and 22. Yikes! Where did the years go?? I rescue wolves and have 4 of my own...my big ole furbabies. I've placed appx 30 wolves in wonderful forever homes. Hobbies include cooking/baking, reading, gardening, writing poetry and short stories, and collecting angels, lighthouses and teapots...just to name a few. One of my passions is doing my part to take care of our natural environment and one of my pet peeves...hmm...that's a tough one...ok, 2 of my pet peeves are people who litter and people who talk loudly on cell phones while eating in a restaurant or shopping in supermarkets (give us a break, folks...at least lower your voices!). I love trying new recipes and meeting people. I'm a real nature nut and adore animals, having had some very "unique" pets. I love camping, fishing and picnics. I lived in Texas for 25 yrs but have recently moved back to my hometown in Oklahoma to be near Mom. She's elderly and her health isn't good, so it was time. Through the grace of God Mom and I are now neighbors! It broke my heart to leave my two girls and their families on the coast in Texas although knowing I'm where I need to be at this time makes the transition easier. Am very much looking forward to making lots and lots of new friends here at Zaar!
View Full Profile