Perch Fillets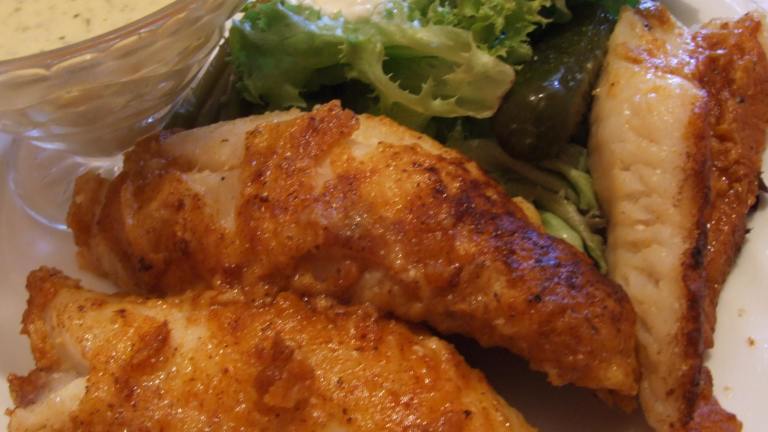 This is the ONLY way to cook Perch caught fresh in Northern Canadian waters.
Ready In:

20mins

Serves:

Units:
directions
Mix flour, paprika, and salt together and set aside.
In a small bowl, blend the egg and the milk.
Heat butter in a large frying pan.
Dip perch fillets in egg wash first and then into the flour mixture.
Carefully place them into the hot butter in the frying pan and brown on both sides.
Remove from the butter and drain on a paper towel to absorb excess butter.
Serve immediately.
Submit a Recipe Correction
THIS IS HOW YOU FRY FISH>>>I never use egg wash or butter to fry my fish. (For me egg mixture is or things that you need to really adhere, like coconut batter for coconut shrimp. It's too heavy for this small fish.) After I rinse it off it's damp enough to adhere to the dry mixture. For the best fry, I cut 60 yellow corn meal and 40 flour. (add a small amount of seasoning to your dry mixture, not too much) Most people fry fish with corn meal and the flours helps where it's not to hard texture. Season it with Lawrys Season, Lemon Pepper or Old Bay. Salt has no flavor, you want your food to have some flavor. You want to be a smash put that salt down and use Lawrys..life changing!! I don't measure, but dont go not too heavy. Make sure your grease is hot, not smoking. Get a bag and shake your fish in there to evenly coat and drop it in the hot grease. Cast iron skillets are the best to fry anything, next is a Fry Daddy because it fries both sides evenly. It takes about 3 minutes or when it turns golden brown, watch it because it's the pieces are small you don't want dry, hard fish. When they turn golden brown, remove and drain on paper towel. Serve with fries, hush puppies or slaw/salad. If you know how to cook greens slap them on the plate. GOOD EATING!!

This recipe definitely needs more salt and way less egg flour mixture. Otherwise, it is a great recipe. I had about 2 lb of perch fillet strips. I salted the fish before dipping it into egg wash and flour mixture (I added garlic powder and a bit of Old Bay seasoning to it as well as additional salt). I fried it in oil instead of butter just like some other reviewers. There was plenty of egg wash and flour left after all the fish was cooked, so I will use less next time. The fish turned out very good. I wish I had tartar sauce to serve it with.