Penne Alla Vodka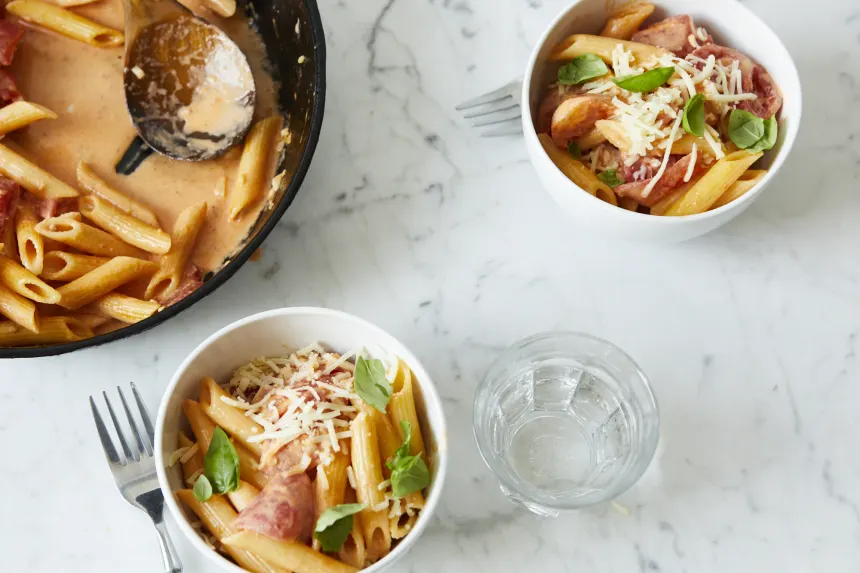 photo by eabeler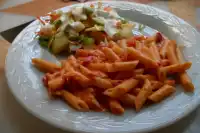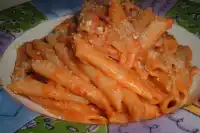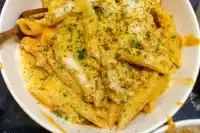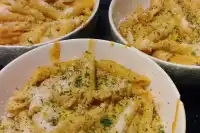 Ready In:

15mins

Ingredients:

10
directions
In a wide pot big enough to hold all the pasta and sauce, melt the butter.
add the garlic and cook until golden brown.
stir in the proscuitto and cook for a a minute or two.
add the tomatoes, crushed pepper, pepper and salt.
simmer for 5 minutes.
stir in the cream and cook for 2 minutes stirring alot.
add the vodka and cook until it no longer smells strongly of vodka (about 3-5 minutes).
cook the pasta as directed on box but al dente.
add the pasta to the pot with the sauce and mix until it is all coated over the pasta.
toss with the cheese and serve immediately.
Questions & Replies

I'm trying this recipe during the COVID-19 lockdown so I don't have all the ingredients. No heavy cream or milk tomatoes and prosciutto. I do have a jar of Penne Vodka sauce but I wanted to make it my own. I have ham (frozen from Easter) and some smoked Kielbasa. Which would be better? I have a small jar of Alfredo sauce...I was thinking about using some to add the creaminess. I also wanted to add some diced sautéed onions and celery with the garlic. We like our sauces chunky. Oh and I did find a small can of diced tomatoes I thought I'd drain and add. I also have the vodka but not sure how much to add since it's already supposed to be in the sauce. I definitely would appreciate everyone's advice. Thanks!

 
Reviews
Wow,.....I just made this disk and my 10 year old daughter who just went to a "movin on up" party for her 5th grade class where they had a caterer bring the same dish in told me mine was better. I am a pretty good cook to and would love to offer some of my own recipes sometimes. I have a Nephew also who went to Culinary School and is a Chef who gives me lots of good ideas. Thanks so much for such a good recipe....it was so easy and a great recipe I will use over and over. Chellen322@aol.com (Helen)

 

I did make a few minor modifications to this recipe. I had made it twice before and decided to change it. I added 3 shallots to the first step and used crushed tomatoes since we don't favor a chunky sauce, and I added some oregano. However, I STILL had to puree everything in a blender so that the prosciutto flavor blended better. My husband and sister loved it! I guess the third time really is the charm. This got added to my recipe collection, we'll definitely be making again.

 

Absolutely delicious. Just like the penne alla vodka that I loved to order in Italian restaurants in NJ (it's an American-Italian dish)--it's the first recipe I've tried that comes out the right pink color. I didn't try it this time, but I've also seen this with peas in it. It's very rich. I wouldn't skimp on any of the ingredients, though. In particular I thought the prosciutto made recipe.

 
Tweaks
I made this recipe as an appetizer for Christmas yesterday. It was DELICIOUS and everyone loved it! I used a jar of one of my favorite marinara sauces instead of the can of crushed tomatoes the recipe called for. I also added cubed chicken pieces. I think the next time I make this dish I am going to add some saut?ed onions as others have mentioned. I worked in an Italian restaurant for over 8 years when I was younger and their vodka sauce is one of my family's favorites, but they were just as pleased if not more in love with this one!

 

****Original review 7/21/2008: Prosciutto, garlic, cream....how could one go wrong! Excellent flavor. I used fire roasted diced tomatoes instead of whole tomatoes. Since my DH & DD are not big fans of "chunky sauces" I might try this next time with crushed tomato....I bet it would be wonderful. Definitely a keeper! Thanks for posting! New 2010: I made this using crushed tomatos and it was much better appreciated by my DH and DD. I forgot to add the parmesan cheese, but passed it at the table. It tasted a bit sweet without it for some reason, so I won't forget it next time!

 
RECIPE SUBMITTED BY
I am a mother of my 5 year old beautiful, sweet boy! And a 2 year old gorgeous little girl! I am very fortunate to be able to stay home with them. Yeah I thrive for adult conversation but that's what 'zaar is for right?! I would love to go back to school someday for either interior design, or business and culinary school to start up my own bakery or catering business, or even photography. That would be my dream come true! I married my best friend on June 22, 2003. DH works allllll day(60 hours a week) 5 days a week so I dont get to see him as much as I wish but that's why I cook dinner and treasure dinner time. It's our time to unwind together. We love watching movies together. He's a Star Wars and Lord of the Rings nerd. I love them too but don't admit it often or I will have to watch them every day! I'm a feminest, which it turns out I have been since birth, but my best friend going to school for woman's studies and sharing her knowledge, amplifies it.I would love to see a world where my children aren't condemmed to the gender rolls we give them. My Mom is an amazing cook and I picked up cooking from her, but I really am self taught. I love to experiment and try new things. I'm like a Jewish or Italian mom, forcing people to try everything I make and I don't take "no" for an answer! The whole saying that you are either a cooker or a baker is so not true, I am both! My best friend is a cooker and baker too she makes the best cake you could ever taste! (she won't post the recipe...trust me!!)but she makes some killer meals too! I just love getting a ton of ingredients out, make a appetizer, a meal with three or four parts to it,and then bake a kick a$$ dessert to follow, clean up and have all your family and friends grab a big dish and stuff yourselves, the feeling you get when you finally sit down is, to me, comparible to sex! http://www.recipezaar.com/members/home/102299/100_0209.jpg
View Full Profile