Peking Duck Chinese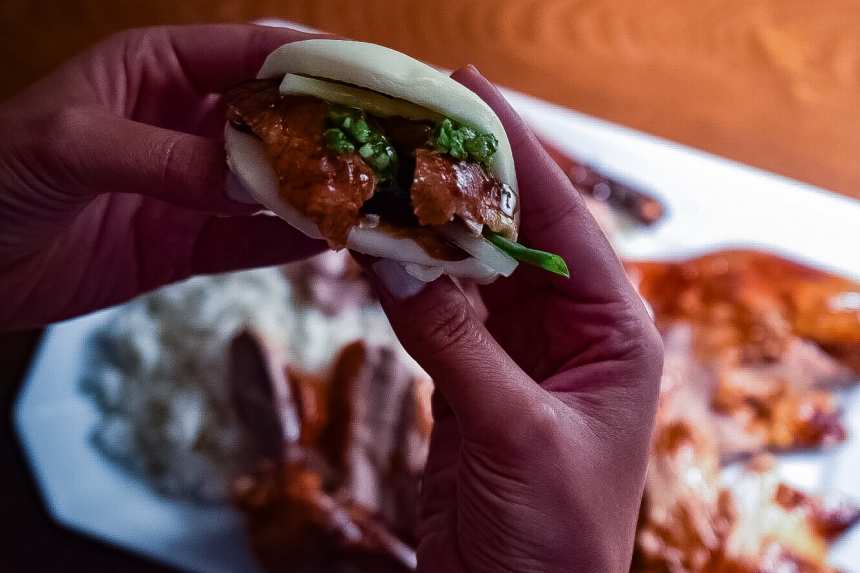 photo by The N.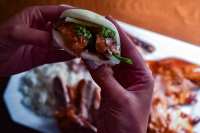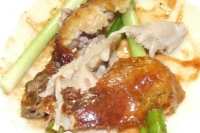 Ready In:

8hrs

Ingredients:

9
directions
Cut off duck wings at second joint, remove excess fat and skin, rinse and dry well.
Insert chopstick thru neck opening and force along the wing bone under the skin until it protrudes slightly at the second joint.
Push other end along other wing so that you end up with a duck that has its arms straight out like a crucifix.
Tie a string on to the middle so you can hold the duck and hang it up.
Bring 6 cups of water to boil in a wok.
Add maltose or honey and stir to dissolve.
Add sherry and vinegar.
Make a slurry out of the cornstarch and add to wok.
When liquid returns to a boil, dip the duck into liquid and spoon liquid over duck.
Repeat until duck is thoroughly moistened.
Repeat dunking once more.
Hang duck by string in a cool airy place with a bowl underneath to catch drips.
Leave for 4-6 hours until skin is dry and taught.
Put roasting pan on lower oven rack and fill with 2-3 inches of water.
Oil rack above pan.
Preheat oven to 350.
Remove chopstick and string.
Put duck on oiled rack in center of oven breast side up.
Cook 30 minutes.
Turn duck breast down for 45 minutes.
Turn breast up for 30 minutes or until skin is dark brown.
While duck is cooking make scallion brushes.
Trim roots,cut off most of green part, leaving a 3 inch piece.
Make several 1 inch lengthwise slits in each end of scallion, put in ice water for 20 minutes, drain and refrigerate.
Carve duck and separate meat and skin.
Mix hoisin with sesame oil and 1 tbl water.
To serve: use scallion brushes to wipe hoisin mixture on to pancakes, add duck skin and meat and scallion, fold one end over and roll up.
Questions & Replies

Got a question?
Share it with the community!
Reviews
This duck was unbelievable. I was a little leary about hanging a duck out for so long, but wow, this was truly fantastic. I prepared it exactly as the recipe is written, hung it for 6 hours in front of a fan and it was the juiciest duck ever. The skin was a beautiful color and very crispy. We had these with Bergy's "Mandarine Pancakes" and ate like kings. Top notch recipe with perfect results.

 

Right ingredients, wrong process. After the wings are trimmed one should use a sharp small paring knife and carefully peel off the skin in one piece (like a glove); at the breast the skin is attached to cartilage, so use the nice to shave off a small bit so as to continue the process. Remove any very large fat accumulations and brush the exposed meat with a bit of honey thinned with lemon juice. Pull the skin "glove" back over the carcass - if you've made any large tears, take thread and stitch them up, you don't need to worry about really tiny ones. This process allows the remaining fat to freely circulate and thereby baste the meat and make the skin really crisp. For serving, cut scallions into 1" lengths, split the ends 1/3 towards the middle, place the prepared scallions in ice water - they will curl up and form a "flower". Take pancake, brush with hoi sin, then alternate 1 1/2 squares of meat and skin with scallions, roll up lightly.<br/><br/>Oh, and save the rendered duck fat - phenomenal on noodles, etc.

 

Exquisite duck. I love this very much. We bought some of the pancakes at the local Asian market and in each one we brushed on hoisin sauce with green onion "brushes" threw the green onion in there too, some of the duck meat, a piece of the crispy and oh so delicious skin and a little spear of cucumber. Simply wonderful. Had for Christmas dinner. :)

 

This recipe was very good. Full of flavor, my only downfall was I would have liked for the skin to be a little more crispy, other than that it was a very easy recipe, although my son and I had a fun time with the chopstick, I should say my son and I had a very good fun time making this recipe. Maybe I'll dry it a little more next time. Oh yeah, my oven was perfectly fine, no splatter at all, guess that's what happens if you do it right.

 
RECIPE SUBMITTED BY
<p>Mother of 4, grandmother of 3.... <br /> <br />One of my favorite authors is Kipling, he had a way with words... <br />...when the moon gets up and night comes, he is the Cat that walks by himself, and all places are alike to him.... <br />Rudyard Kipling</p>
View Full Profile