Pecan Pie Cupcakes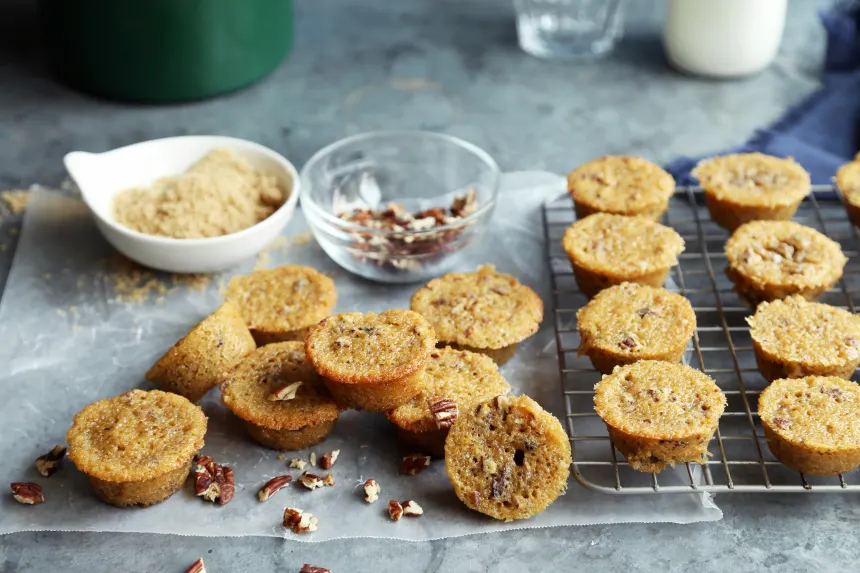 photo by Jonathan Melendez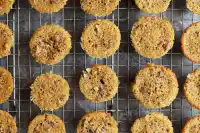 Ready In:

33mins

Ingredients:

5
directions
Preheat oven to 350 degrees.
Combine all ingredients and mix well.
Spray a miniature muffin tin with non-stick cooking spray.
Fill each 3/4 full.
Bake in preheated oven for approx.
18 minutes.
Reviews
This recipe is awsome. Will use it for the holidays instead of making the pie. I used a standard muffin pan, no liners, just spray/grease pan well. It made 10 muffins. They do not raise, so fill them 2/3 or more. I cooked them 20 minutes. Wait til they are cool to try them. They need to be cool for the pecan pie flavor to come thru.

 

Awesome little cupcake. No one could eat just one. To prevent them from sticking to the pan, flip them out as soon as they come out of the oven. I got exactly 24 mini muffins from my batch. PS: I also added 1 tablespoon of Karo light corn syrup and 1 teaspoon vanilla to the batter. What is a pecan pie cupcake without a little Karo syrup and vanilla!

 

I give these five stars being being so delicious and easy to get ready. They freeze well too!!!! The whole family loved them! I will tell you a little tip that helped me....DO NOT let them cool in the mini muffin pan....slide them out immediatly and let them cool on a plate, cookie sheet, whatever...if you let them cool in the muffin pan they will stick and they will not look very nice, then you will forced to eat them all yourself.

 
Tweaks
I just got these out of the oven....let them cool a little....and WOW.....these are the best cupcakes, just like pecan pie but not near as fattening!! I used buttery spread instead of butter and egg beaters instead of eggs....turned out wonderful.....next time I am going to use splenda brown sugar and add some vanilla....5 stars!!

 

I am afraid I had a lot of problems with this recipe and I am not completely sure why. To start with, I used raw sugar instead of brown sugar as I couldn't find any. As I was mixing the ingredients, the two eggs seemed excessive as the mixture was really runny with one egg so I left it out. I also reduced the butter as it seemed a lot for 24 mini-muffins so I used 1/2 cup. The mixture was very runny and sugary as I put it into the muffin tins but I had hopes it would set after baking. Unfortunately, the muffins were sticky and gluey and a mess. I couldn't get them out of the pan, they looked nothing like the pictures here. Now thinking about it, I believe the flour wasn't enough and I should have increased it. It's either that or the fact that the extra egg and butter set the muffin somehow. These did taste nice but were far too rich and heavy for me. I would assume that these are for pecan pie lovers only and I would not try them again.

 

These are great little cupcakes and very quick and easy to make, in fact I like them so much that when I went on my diet I tweeked the recipe for it. If you want the diet version then use brown flower, splenda (in same quantities) and 1/2 cup of olive oil spread instead of the 2/3 cup of butter, they aren't quite the same but still very tasty.

 

What a treat these were! I used walnuts in place of pecans. This was so quick and easy that one can have a great sweet snack in no time at all. The texture was nice & the outside was nicely crisp because I used butter to grease the muffin cups! I will make these often. I am always looking for good recipes to use my mini muffin pans, and this one will be at the top of my list! Thanks so much.