Pear Coffee Cake with Ginger Pecan Crunch Topping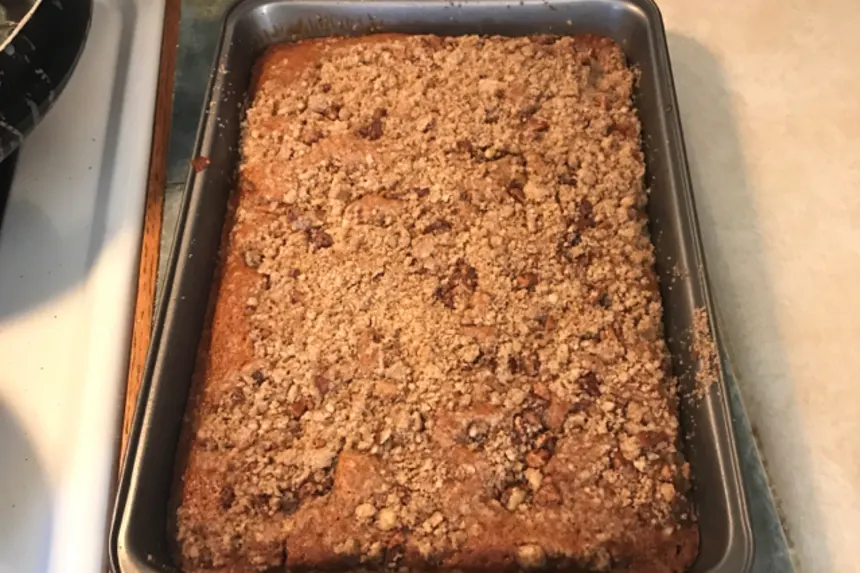 photo by Deanna K.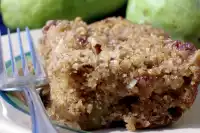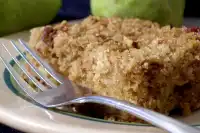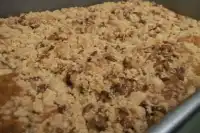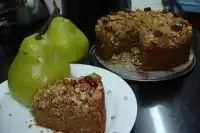 Ready In:

1hr

Ingredients:

13

Yields:

1

nine inch thirteen inch sheet cake

Serves:

18
directions
Mix together flour, sugars, salt, nutmeg and oil.
Set aside 1 cup of mixture for topping.
Add 2 cups chopped ripe pear to the rest of the above mixture.
Add egg, buttermilk, baking soda, and baking powder.
Topping: Add ginger and pecans to 1 cup of reserved mixture.
Spread in greased 9" x 13" x 2" sheet pan.
Sprinkle topping over top.
Bake at 350 degrees for 40 minutes or until knife inserted comes out clean.
Reviews
The combination of pears, nutmeg, ginger & pecans in this recipe is incredible, and the aroma of it permeated the whole house while it was baking--it was simply wonderful. This is one of the most delicious coffee cakes I have ever tasted! I would recommend this recipe to anyone - it was very easy to make, and I will make this again...and again...and again! -M

 

This is a "real good" cake - its nutty, smells wonderful, got fresh fruit, is soft and incredibly tasty! It is very similar to one of Mirj Mom's cakes that used ginger and apple in it. I loved the taste of ginger in particular that stands out at the end - thats, "To die for". I did make a few substitutions, though. I used light brown sugar instead of dark brown, as I had only light brown on hand. Also, I didn't have nutmeg on hand, and I substituted it with cinnamon. Pecans out here cost a fortune, and, I substituted those with almonds. Everything worked well. This cake took 1 hour 40 minutes to bake in my AMC Dutch oven. To make this cake slightly guilt-free, I used low-fat milk in which I added lemon juice(prepared this as a substitute for buttermilk). Everything else was perfect. I would recommend this recipe to everyone. It's my uncle's(mom's younger brother's) birthday today, and while my dad, bro. and the rest of our larger family is celebrating on my uncle's huge lawn, we decided to have a small cake and samosas here, just to keep the mood up(Everyone was low as India lost against Australia in the World Cup today), and, just to put a little smile on their faces, I baked them this cake. The guys who work with dad loved this(I packed some for their families). I've saved one huge helping for my dad and bro. to dig into when they get back home on the 19th:) Thanks for sharing an excellent recipe! Belated Happy V-day to you.

 
Tweaks
I had some really ripe pears I needed to use and I found this recipe. I'm glad I did! I like the nutmeg and ginger with the pears. I did cut back on the sugar to 1/2 cup, and next time I may use butter instead of oil, but this recipe is definitely a keeper. I'm looking forward to having this with a cup of coffee for breakfast tomorrow.

 

Wonderful, easy coffee cake. I used 1 c white flour, 1 c whole wheat flour & 1/2 c whole wheat pastry flour and the cake was still light. I also used almost all applesauce in place of the oil. The resulting "crumb" topping was very dense and lumpy, but the lumps sunk right in the batter & added a delicious cruch to this very moist coffee cake. Per others suggestions, I didn't add the salt until after I removed the 1 c for topping. I also used pumpkin pie spice instead of nutmeg. Delicious!

 

I thought it needed a little more ginger, or perhaps fresh ginger on top. I had to substitute pumpkin pie spice for the nutmeg, which worked out well and also substituted milk and lemon juice for buttermilk. Everyone who tasted it said it was wonderful. I also cooked it about 2 minutes less. It was super moiste.