Peachy Mango Salsa, Canned for Chris!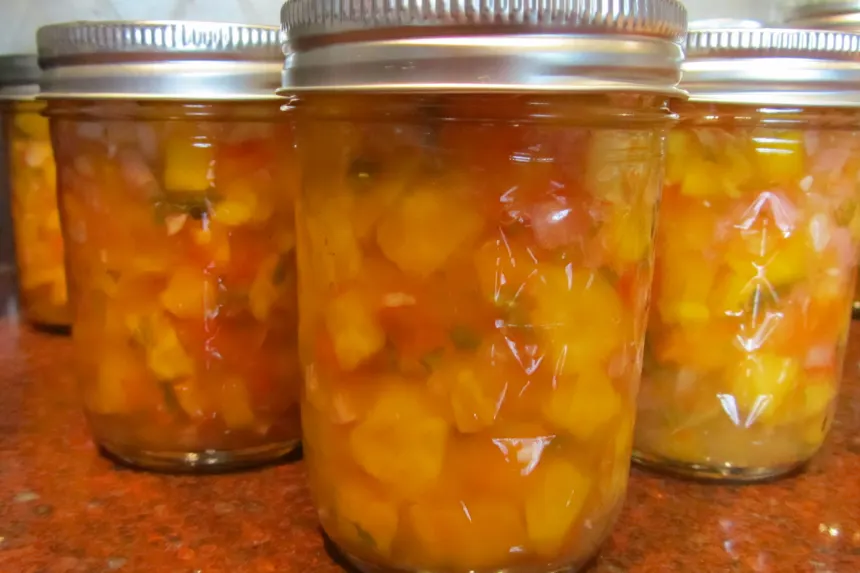 photo by Rita1652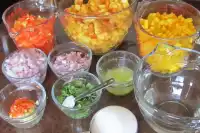 Ready In:

1hr 35mins

Ingredients:

11
directions
Sterilize Ball jars rims and screw tops.
Place all the ingredients in a large pot. Bring to a boil over high heat, stirring to dissolve sugar.
Reduce to simmering, and simmer 5 minutes. Do not overcook.
Fill into hot sterile jars with hot salsa leaving 1/2 inch head space. Being careful not to leave any salsa on the rims. Wipe jar rims with a clean, damp paper towel. Put on lids and screw on metal bands tightening firmly and evenly. Do not over tighten.
Put the sealed jars in the canner and keep them cover with at least 1 inch of water and boiling. Boil them for at least 20 minutes.
Lift the jars out of the water and let them cool them in a draft-free place overnight. You can then remove the rings if you like. Once the jars are cool, you can check that they are sealed verifying that the lid has been sucked down. Just press in the center, gently, with your finger. Label and store in a cool place out of direct light using within 1 year.
Questions & Replies

I love this recipe! We made it during our shelter-in-place order for Covid 19 and we are enjoying it so much! I'm wondering if it has been pH tested? We want to make this for Christmas gifts but have botulism concerns since I wasn't sure if it had been tested in a scientific kitchen. Thanks so much!

 
Reviews
I have used this recipe three times with wonderful results. I have made it once with just Mango and twice with both Mango and Peaches...both delicious and a staple for our winter pleasure. It is a versatile recipe...add more lime juice, cilantro or garlic...add ginger in addition to the garlic...use white wine vinegar...use red peppers, green peppers and more jalepenos if you like it spicier. I will make this every year as soon as the peaches smell like peaches in the store and the mangoes are firm yet with just the right amount of give.

 

I'm making goodies ahead for a girl's weekend so we don't have to spend all our time cooking. Tried this salsa and it is awesome! So far have only tried the bit left over that didn't make a full jar (I got 10 1/2 jars), and it has a lot of heat and great flavor. There were no instructions on seeding the jalapenos, so seeded 2 of the jalapenos and left the seeds in for the other 2. Tried it with the ginger rather than the garlic, might try the garlic in the future; I can picture either variation as tasty. Made according to recipe except only had 2 tablespoons cilantro on hand. Pleased to have gotten some yummy gifts made as well as something wonderful to go with our chicken quesadillas for girls weekend.

 

I found myself with 2 bushels of fresh peaches and having never canned before, no idea really what to do with them. Among my jam and fresh sliced peaches, I created a double batch of this. It is EXCELLENT! Even my 73 year old Portuguese fil loved it! It was so good my husband didn't want me to take any to work to share--he wanted to save it for us. :)<br/><br/>I made mine with the garlic vs. the ginger. I have no complaints with the recipe as is. My fil said it was a bit spicier than he is used to, so if you are sensitive to heat, watch the jalapenos (& seeds). I think this would be lovely on top of some grilled chicken or mixed with some cream cheese to make a super simple dip. <br/><br/>I send a million thank yous to the poster of this recipe...and for Chris who requested a canned version. Thank you!!!<br/><br/><3 K

 

Perfection!! This salsa is great on fish, chicken, pork, and with tortilla chips. If canned properly, it is perfectly safe to store for six months. Once opened it should be used by approximately 4 weeks. I used to help a woman who was certified in jam and vegetable canning. Never any problems. We always released all air bubbles after filling jars and checked jars to be sure they were sealed. I used jalapenos, half ginger and half garlic, half parsley and half cilantro. I used only half of the jalapeno because i can't handle too many peppers. I have polished off half of a jar while writing this review.