Parker House Rolls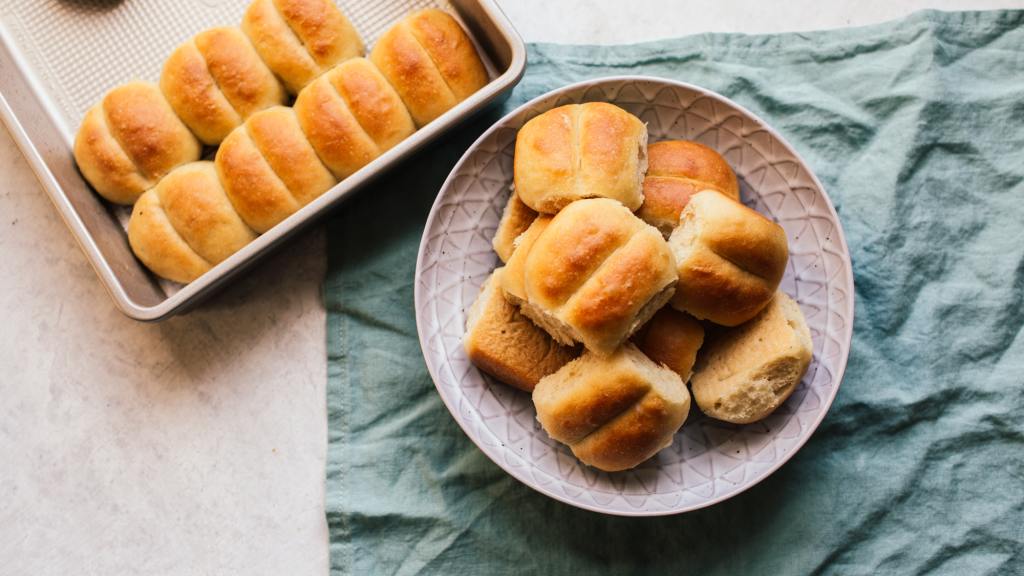 Ready In:

27mins

Ingredients:

9
directions
In bowl of heavy-duty mixer combine warm water, sugar and yeast.
Let it sit for about 5 minutes until foamy.
Melt butter in glass bowl in microwave.
Add milk and heat to lukewarm (no hotter than 110°).
Add milk mixture to yeast mixture.
Put on dough hook.
Add bread flour and salt and combine well.
Add all-purpose flour slowly until dough forms a slightly sticky ball.
Continue to knead dough for 5 to 10 minutes longer, adding in more all-purpose flour if dough gets too sticky.
Place ball in a greased or buttered bowl.
Turn to coat with butter.
Cover with plastic wrap and let rise for about an hour or until doubled.
Butter a 13- x 9-inch baking pan.
Divide dough into about 20 pieces.
Form into smooth balls and place in 5 rows in pan.
Cover loosely and let rise until doubled again (about 45 minutes).
Make a deep crease down center of each roll using a spatula.
Let rise, covered, another 15 minutes.
Preheat oven to 375°.
Melt 2 tablespoons butter.
Brush tops of rolls.
Bake in center of oven for 20 to 25 minutes until golden.
Join The Conversation
I just tried these out. The recipe works. The rolls cook up great. For me, it was just not the flavor I am looking for. For the time it took to make these, I would just rather heat up one of the frozen yeast rolls packs from the grocery store. They taste great and are way less trouble. I think I may be just jaded, however. If I had been eating home made yeast rolls my whole life and then tried a frozen roll, I probably wouldn't enjoy the frozen one. Taste is so subjective. These aren't bad, I just won't take the time to make them again.

I was so skeptical, cause all the recipes I tried lately were not good, They were either heavy and dense or too sweet or just plain yucky. This one is sooo good ! And I used just all purpose flour, I cant imagine how it would of been with the bread flour, and A.P flour together. This is the BEST ! Anyone who is a novice or begginer, should have this one in their recipe box or folder.Tender and delicate warm butter dripping down the sides glistening over the crevices of the roll is utter sinful, with a few sprinkles of gray sea salt to entice your taste buds. Give it a try ! Two thumbs way up !!!