Panko Fried Oysters for Two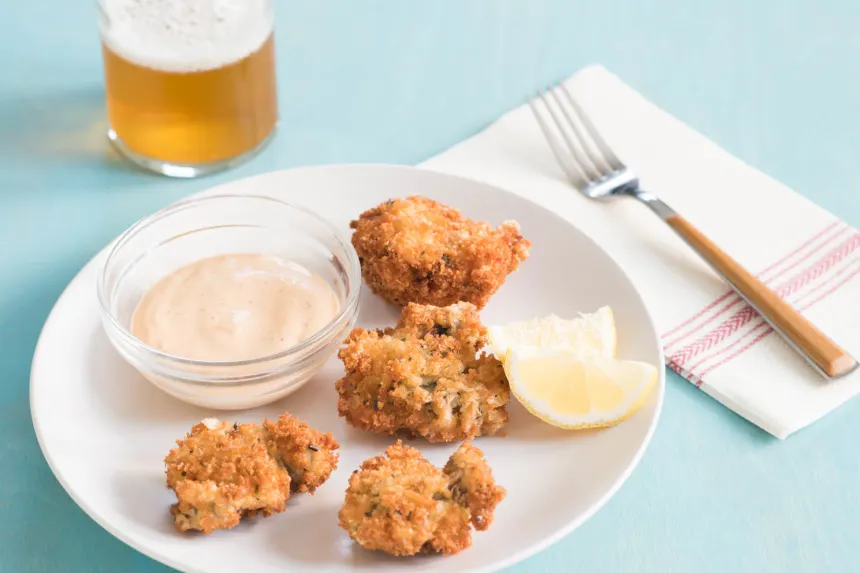 photo by Robin and Sue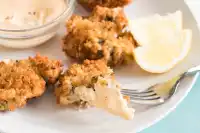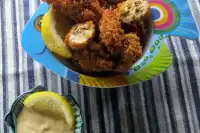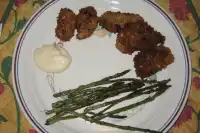 Ready In:

50mins

Ingredients:

16

Serves:

2
directions
HOT SAUCE: Mix all ingredients together.
To allow flavors to blend, refrigerate several hours.
Hot Sauce will keep several days in the refrigerator.
Be sure to cover it tightly.
Line colander with two layers of paper towel.
Rinse oysters, drain and put in colander, patting to dry.
EGG DIP: In small bowl, add egg and milk; whisk to blend well.
If using only egg whites, do not whisk enough to be dry/frothy.
FLOUR COATING: Put all ingredients in small plastic bag and shake to mix well.
PANKO COATING: in a small bowl, add ingredients and mix well.
TO BREAD OYSTERS: Step 1: Dip 2 or 3 oysters in Egg Dip, letting any excess drain off.
Step 2: Place them in Flour Coating, shaking to completely coat oysters.
Remove from Flour Mixture.
Step 3: Repeat step 1.
Step 4: Place them in Panko Coating bowl.
Roll them over and get them completely coated with bread crumbs.
With tongs, gently remove them from breadcrumbs and place in a single layer on a baking tray lined with plastic wrap.
Repeat Steps 1-4 until all oysters are breaded.
Cover breaded oysters with plastic wrap and refrigerate at least 2 hours or more.
This breading can be done up to 8 hours ahead.
TO FRY OYSTERS: Heat frying oil in deep pan to 375 degrees Fahrenheit.
With tongs, gently remove oysters from baking sheet and gently drop them into the hot oil.
Fry the oysters in small (6-8 oysters each) batches to keep from lowering the temperature of the oil too much.
Fry about 2 minutes or until golden brown on one side, turn and brown other side (about 1-2 minutes).
Remove from oil and drain on layers of paper towels.
NOTE: After cooking one batch of oysters, let the temperature of the oil return to about 375, before cooking the next batch.
If the oil temperature is not hot enough before adding the oysters, they will taste greasy, rather than light.
Serve immediately with Hot Sauce.
Questions & Replies