Panamanian Sancocho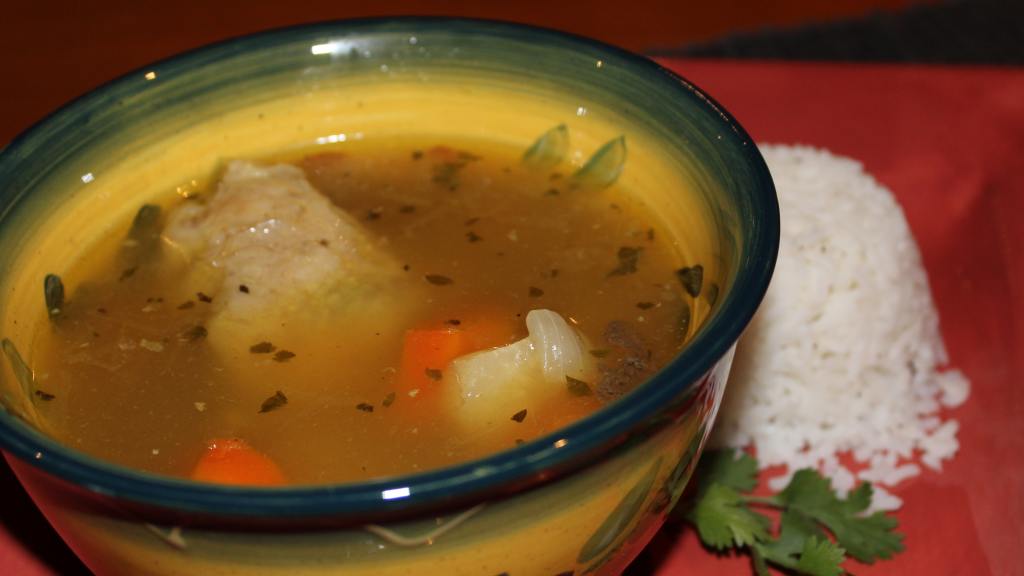 Ready In:

1hr

Ingredients:

10
ingredients
1

roasting chicken, cut into pieces (you can also just use 3-4 whole chicken breasts)

3

teaspoons salt

1

tablespoon cilantro, minced

1

teaspoon dried oregano

3

garlic cloves, minced

2

teaspoons olive oil

1

large onion, chopped into bite-sized pieces

3

lbs yucca root, peeled and chopped into bite-sized pieces (also called cassava)

4

cups chicken stock (the kind bought in a box is fine)

salt and pepper
directions
Rinse the chicken and pat dry.
In a small bowl, mix the salt, cilantro, oregano, garlic, and olive oil. Rub the mix all over the chicken and let it marinate for 10 minutes.
In the meantime, peel and chop the yucca and the onion. Set aside.
Heat a large pot over medium heat. Place the chicken in the pot, place a lid on it, and let it sweat for about 7 minutes.
Add the onion and the chicken stock. Bring the soup to a boil and then let it simmer over medium low heat until the chicken is cooked through and soft.
Raise the heat to medium and add the yucca. Bring the pot to a gentle simmer and cook until the yucca is cooked through (approximately 10 minutes).
Serve with white rice on the side that is added into the soup when you are about to eat it.
NOTE: This soup keeps well frozen and only gets more flavourful with time.
Join The Conversation
We've never had Sancocho before, so can't rate it based on authenticity. But this soup was fantastic! Considering how common the ingredients were (other than the yucca) we thought we might have to kick it up a bit. But we were so wrong!!! From the moment the chicken went into the pot to sweat, the aroma was incredible. And once it was in the bowl... YUM! DH couldn't stop saying how good it was. The only bit of excitement came when I dropped a piece of the raw yucca on the floor (it is SO hard to slice!) and our Rotty nabbed it and ran out the door with it. All of a sudden it flashed in my mind that raw yucca is toxic. I finished up putting the yucca in the pot with the chicken and went to google the subject - and found out that yucca needs to be cooked without the toxic root, which is the part down the middle of the yucca. And it was already in the pot!!! Needless to say, we didn't waste it and took our chances. I'm happy to report that we're all three still alive and kicking... LOL! But the center of the root was fibrous and next time I'll prep the yucca correctly (and keep the dog outside!). Thanks for posting this marvelous recipe! Made for Spring PAC 2013.