Pan Seared Scallops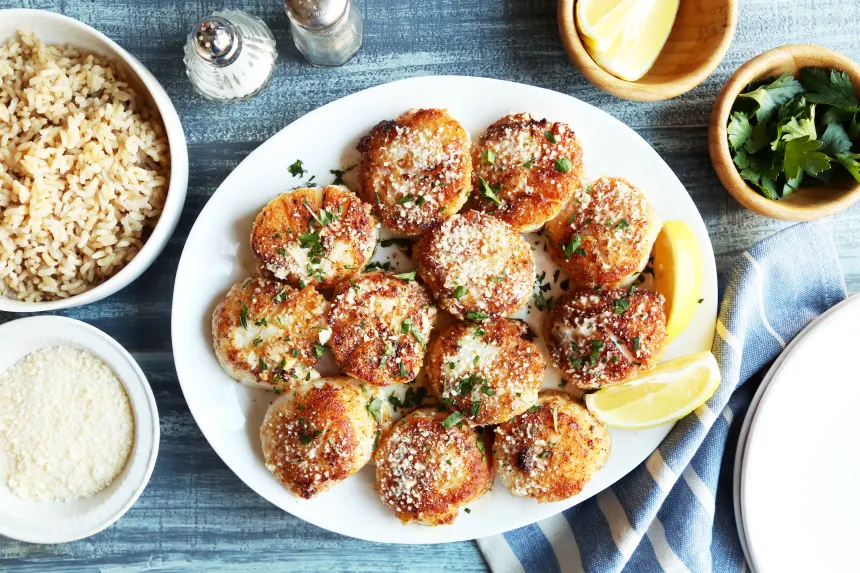 photo by Jonathan Melendez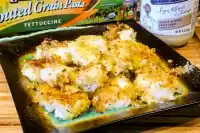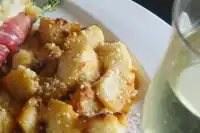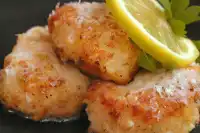 Ready In:

15mins

Ingredients:

6
directions
Roll scallops in bread crumbs.
Put olive oil and butter in a large skillet; stir and heat until hot.
Add scallops, turning once, until browned on both sides (3-4 minutes); remove from heat.
Halve lemon and gently squeeze juice over scallops, then sprinkle with cheese.
Cover with a lid and let steep for 5 minutes to allow the flavors to mingle.
Questions & Replies

I have not had great luck with scallops in the past. I like to get a nice sear on them but find this to be VERY difficult as I can usually only find "wet" scallops and not "dry" like I prefer. I have tried brining the "wet" scallops in salt and lemon first and this seems to help dry them out a bit. Is breading the scallops a better way to prepare "wet" scallops? Last time I tried, I saluted garlic in 2T of butter, added the scallops to sizzling butter - in 3 batched so as not to crowd the pan and still ended up with a pan full of "juice" which looked great once I seasoned and added parsley but ultimately I had mediocre scallops that were much smaller than when I started in a delicious broth!!

 
Reviews
This recipe is a keeper. Great pairing of flavors. I normally do not use breading, but this breading did not overpower the fresh flavor of the scallops and the result was light and crispy. I dipped the scallops into the lemon juice before breading after reading other reviews. I did use Panko crumbs which worked well. After removing the scallops from the pan, I added a little butter and about 1/2 cup of white wine along with pepper and just a bit of half and half for a delicious sauce. I ladled the sauce on top of angel hair pasta and added the hot scallops. I serve with a spinach salad. It is easy to over cook scallops so 1 1/2 minutes on each side is perfect.

 

O M G soooo delicious. I didn't have lemon so I skipped that, used Panko, garlic salt, onion powder, parmesan cheese, a bit of paprika. I made sure to dry the scallops off with paper towels really well first. Heated the evoo and butter in a cast iron pan. Threw the scallops in the panko mixture, and browned them. Yeah, the breading fell off a little, but sauteed it all together and it was crispy and AMAZING!

 

Excellent recipe and flavor. I did follow some of the others suggestions and dipped the scallops in lemon and then rolled in bread crumbs (with a touch of salt/pepper and garlic). Seared them in a cast iron skillet. topping with cheese was a bonus and will try a splash of lemon just before serving. Thanks for an easy and tasty recipe. I served with angel hair pasta and green beans. Will make the sauce with butter and wine as suggested by another.

 

All of the taste, flavor, and texture of a finely seared scallop meal that doesn't weigh you down. All the flavors burst in your mouth. We did not cook it the same way, we just seared in the pan and then baked in the oven for a few minutes. Then switched to broil for one minute to allow cheese to fully melt on scallops.