Pan-seared Cod With Basil Sauce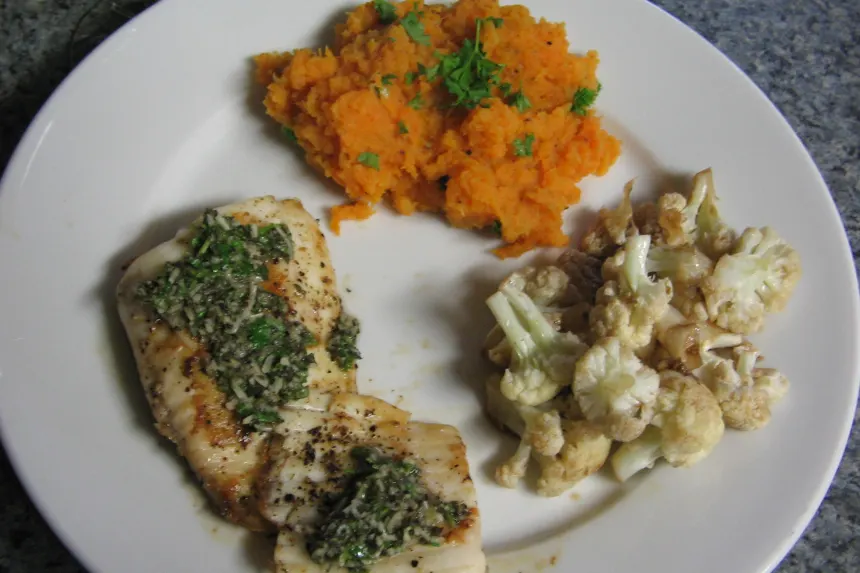 photo by Vino Girl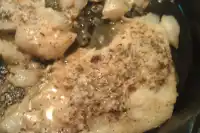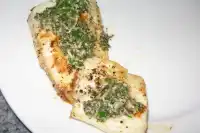 Ready In:

21mins

Ingredients:

9
directions
Combine basil, broth, cheese, oil, 1/2 tsp salt, and garlic in a small bowl.
Sprinkle fish with 1/2 tsp salt (I omit) and pepper.
Coat a large nonstick pan with cooking spray and heat over medium-high heat.
Saute fish for 5 minutes on each side or until it flakes easily with a fork.
Spoon basil sauce over fish to serve.
Questions & Replies

Got a question?
Share it with the community!
Reviews
I followed the recipe dutifully but it somehow lacked the kick I was looking for... that is until I added some white wine to the chicken stock, and even some cognac which made a huge difference! It tasted alot more complex and had more depth in its taste. I had also rubbed the cod fish with salt, pepper and old bays seasoning for added taste prior to baking them in the oven at 180 deg celsius for abt 20 min or so. Kept them warm at 100 deg celsius until my guests were ready for the main dish! Turned out fab!!!

 

Light, healthy, and wonderfully flavorful for being so quick and easy to prepare. Who can argue with a combination like that? I made everything as per the recipe. Was a little doubtful about the sauce, but as soon as I tasted it I thought, "Wow, I made *this*?". (I'm not exactly Top Chef material.) It really transformed plain old cod into something special. This is a dish I would feel confident putting on the menu when entertaining. It paired wonderfully with a very moderately priced Sauvignon Blanc.

 

Excellent recipe. Easy, flavorful and great way to jazz up cod. I know it will be seen a lot on the table during basil growing season. I did add a few swipes of the micrograter of lemon zest. My Mom said to let everybody know it was so good she didn't even use the tartar sauce she had pulled out. I served this with a garden salad and potato.

 
Tweaks
OK, all this hype over this newly famed "pesto" and I had yet to try anything like it. So, when I read your description, I jumped at the chance (and with the ingredients, didn't seem like a bad choice!). You have now introduced me to what is going to be my new chicken sauce, side dish dip, toothpaste, ice cream topper....you name it! :D YUM all the way! Perfectly cooked fish (I omitted the salt in cooking as I like to sprinkle a salt sub on instead afterwards and also used orange roughy instead of cod), a delicious sauce, and a happy tummy. All I put with it was a big baked potatoe with some cream cheese and fresh chives and I had an easy night of cooking. Oh, yes, and the ease and prep...tops on my list! Thanks so much for dinner tonight and most likely tomorrow night. :D Hope I can find more recipes from you!

 
RECIPE SUBMITTED BY
My husband and I married straight out of college in July of 1992. I work as the Assistant Manager at a wine shop which allows me to drink on the job! (OK, not that much, but it's still a fun job...) Besides helping customers choose wine they will like (and also help with food and wine pairings for their menus), I also get to help with the catering end of the business, so I get to spend a fair amount of time in the kitchen making fun appetizers and beautiful food displays. I also work part-time at the fromagerie next door. So yeah - that means I eat on the job, too. :^D We live on several peaceful wooded acres on a cute little river in rural NE Wisconsin, with a cranky old-lady Burmese and whatever stray outdoor cats that have decided to adopt us on any given day. The cute puppy in the picture is Jake, our Elhew-bred English Pointer that we brought home on Easter weekend 2007. I've also got 2 painted turtles named Dennis and Fuzz, and a bunch of fish (koi and goldfish, along with the guppies & swordtails in the turtle tank). I USUALLY eat and cook healthy, but I rarely pass up dessert, either. I do not eat red meat, and try to limit other animal products, too. I love to bake, although I seem to collect a lot of scone and biscotti recipes which I NEVER get around to making. I bake and eat A LOT of cookies and muffins... I almost always reduce the sugar by 1/4 and use whole wheat pastry flour for at least part of the flour. Those two changes do so much to make recipes healthier without compromising taste. I try to reduce fat whenever I can, too, but while I want to eat healthy, I still want to ENJOY what I eat!!! I seem to give a lot of 4 and 5 star reviews here - I seem to have a pretty good sense of what I like by looking at a recipe before I try it. Thank you to anyone that tries my recipes in return, or photographs them. Amber: <img src="http://netnet.net/~mkburie/amber2.jpg"> ........And a grown up Jake (one year old in January 2008) :) - <img src="http://netnet.net/~mkburie/JAKE111307.JPG"> Charlotte (May 27, 1992-June 1, 2009): <img src="http://netnet.net/~mkburie/Charlott.jpg"> Ashley: Adopted October 8, 1996 - Passed Away January 6, 2009 <img src="http://netnet.net/~mkburie/ashley2.jpg"> Mike: September 26, 1994 - March 19, 2004<img src="http://netnet.net/~mkburie/mike1997-lr.JPG">.... <a href='http://www.niftymaps.com/visitor-map.php?id=36321'><img src='http://i.niftymaps.com/36321.png' alt='Click to zoom in on my visitor map!' border='0'></a>Create your free world <a href='http://www.niftymaps.com/' target='_blank'>visitor maps</a>
View Full Profile