Pan Fried Fish With a Rich Lemon Butter Sauce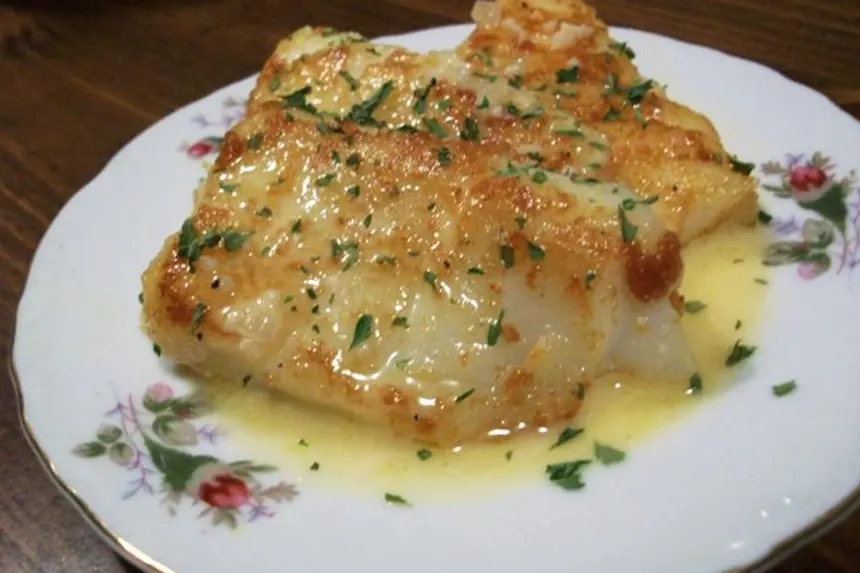 photo by 2Bleu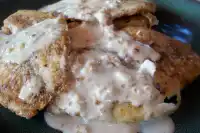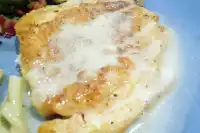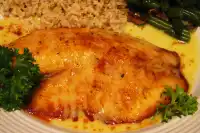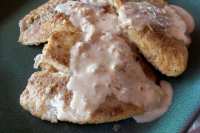 Ready In:

15mins

Ingredients:

22
directions
LEMON BUTTER SAUCE: Heat a large skillet over high heat. Add the wine, lemon juice, garlic, and shallots. Cook for 3 minutes.
Stir in the salt, pepper, Worcestershire, and hot sauce and simmer until the mixture is somewhat syrupy, about 3 minutes.
Stir in the cream and cook for 1 minute. Over low heat, whisk in the butter a few pats at a time. Continue whisking until all of the butter is incorporated into the sauce. Serve immediately or keep warm until ready to use.
FISH: Mix fish spice blend ingredients together. Season both the fish and flour with spices and dredge the fish in the seasoned flour or panko/almond mixture, coating completely.
In a large saute pan, heat the olive oil. Add the fish to the saute pan, pan-frying for about 4 minutes on each side.
SERVE: Drizzle some lemon butter sauce on each plate. Top with fish and drizzle more sauce over top of fish. Top with fresh parsley.
Questions & Replies

Got a question?
Share it with the community!
Reviews
Where have you been all of my life??? Let me start by saying I am not a big fish eater, but with this recipe, I could eat fish often!!! Fabulous, wonderful, and beyond restaurant quality - it's that good!!! I prepare this recipe as it, as no tweaking is necessary!! I do a few things to simplify this recipe so I can prepare it as a weekday meal if desired. First, I make up a batch of the fish spice to keep on hand, that way it's ready to go whenever I need it. I also prepare the sauce ( which for me if my favorite part), and I divid it into 2-3 containers, and I freeze it. (The sauce reciepe makes more than is needed for one serving, IMO). When I prepare this meal, I pull out a container of the sauce, defrost it in the microwave and enjoy! The sauce does not change consistently at all and tastes just as wonderful as when I first made it. This has now become one of my top 10 favorite meals!

 

Delicious! We had some thick cod filets in freezer and used those, serving it with rice pilaf and asparagus. The cod took a little longer to cook, so we turned down the heat and covered the pan until it was at 145 degrees. Moist and flaky! For folks who complained the sauce had too much lemon or acid, ignore the timing and cook the wine/lemon juice down by half. Using heavy cream, the sauce didn't break. Stirring in cold butter at the end gave us a smooth, creamy sauce. I use cold butter to finish all my pan sauces, and they're always silky, never broken. Keep whisking until each piece of butter is fully incorporated. Heeding others who said the seasoning was too heavy, we dusted the fish and mixed most of the seasoning into the flour. Next time we'll use more of it on the fish. I tossed some parsley into the sauce right before the fish came out of the pan. So good, and we are happy to add this sauce into our rotation.

 

Oh My God! SO AMAZING! will make this often! Restaurant quality! Cut down on the spices for the rub by half. In my 1/2 cup measurer, I put 2 Tblsp of cornstarch, then added flour to make 1/2 cup. Fish had a nice deep golden colored crispy sear, but tender inside. PERFECT!!! The sauce was perfect following the recipe, although I used the juice of 1 regular lemon and the juice of 1 Meyer lemon, and the wine I chose was Dr. Loosen Reisling.

 

I actually created an account on Food.com to comment on how awesome this dish was!!! Seasoning the fish first, in addition to the flour, made an incredible difference! The sauce is seriously kick-butt. My husband and I made this together, he did the sauce and I did the fish and rice. We had a blast and dinner was phenomenal. THANK YOU!