Pan De Muerto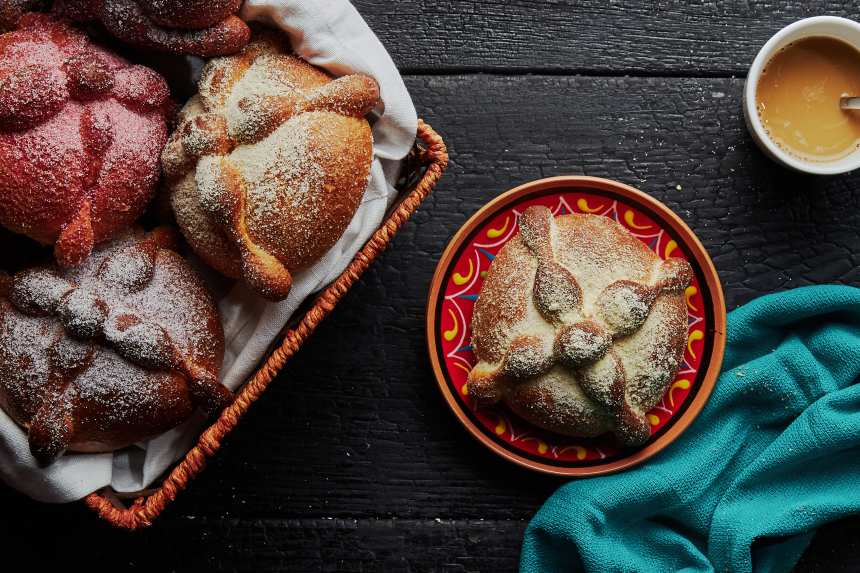 photo by Rick M.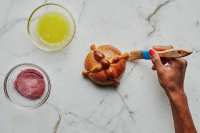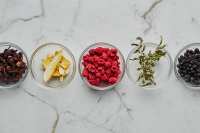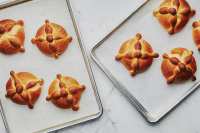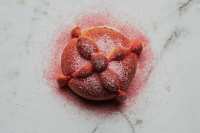 Ready In:

14hrs 10mins

Ingredients:

11
ingredients
2

ounces freeze dried fruit or 1 ounce freshly dried herbs
3⁄4 cup sugar, divided
1⁄2

cup whole milk (warmed to 110 degrees F)

1 1⁄4 ounces envelope active dry yeast (about 2-1/4 teaspoons)

2

teaspoons kosher salt

3

large eggs, room temperature

1

teaspoon finely grated orange zest

3

tablespoons nonfat dry milk powder

3

cups bread flour, plus more for surface

14

tablespoons unsalted butter, cut into pieces, room temperature, plus more for bowl

nonstick cooking spray
directions
Pulverize fruit or herbs in a blender until very finely ground. Transfer to a small bowl and whisk in ½ cup sugar. Sift through a fine mesh sieve, discard any large pieces of fruit or herbs and store sifted fruit sugar in an airtight container until ready to use.
Whisk milk and yeast in the bowl of a stand mixer (alternately, use a large bowl to knead by hand). Let sit 10 minutes to dissolve, you will see a few bubbles but mixture won't be foamy and that's ok. Whisk granulated sugar, salt, eggs and zest in a small bowl.
Add milk powder, 3cups flour, and egg mixture to yeast mixture. Mix with a wooden spoon until a shaggy dough forms. Transfer to stand mixer and fit with dough hook. Mix on medium speed until dough comes together but is still slightly tough, about 3 minutes. Increase speed to medium-high and add butter, 1 Tbsp. at a time (dough will look broken after each addition, but it will eventually come together), until dough is smooth, elastic, and very tacky but pulls away from sides of bowl, about 12 minutes. This may seem like a long time, but the texture of the bread improves with a long knead time. (Alternatively, knead dough on a lightly floured surface, adding 1 Tbsp. butter at a time, until smooth and elastic, about 15 minutes.).
Lightly butter a large bowl. Scrape dough into bowl. Cover with plastic wrap and let dough rise in warm, draft-free area until doubled in volume, 35–50 minutes. This is one of those times when the visual cues outweigh whatever your kitchen timer says. If allowed to overproof, this dough will start to smell like alcohol and develop off flavors. Check it at 35 minutes: It should smell buttery and yeasty, and if it's doubled, it's done. If not, check again in 10 minutes.
Gently deflate dough by lifting it up around the edges and letting it fall back into bowl, turning bowl and repeating if needed. Cover bowl tightly with plastic wrap and chill at least 12 hours and up to 3 days (an overnight rest works great).
Line 2 rimmed baking sheets with parchment paper; lightly coat parchment with nonstick spray. Turn out dough onto a clean work surface and divide into 8 equal pieces. Then tear off a tablespoon-sized piece of dough from each piece and set aside. Re-shape the larger 8 pieces into a smooth round balls and transfer to the prepared sheet spaced evenly apart.
Pinch off a ½ teaspoon-sized piece of dough from each of the remaining smaller 8 pieces. Roll each tiny piece into a smooth round ball and transfer to the second prepared sheet in a single row on one of the narrow ends spaced about 1" apart.
Divide remaining 8 pieces of dough in half; you should now have 16 small pieces of dough. Working one piece at a time, roll using the palm of your hand into a 3" thin rope. Use your index finger to roll and press the center of the rope so that the middle is thinner and both ends are thicker. Next, use your two index fingers to roll and press the centers of the two thicker ends so that the centers are thin and the ends are thicker. The dough should look like a rope of 4 links of sausage, these are the bones. Carefully transfer to second prepared sheet tray and repeat with remaining dough spacing evenly apart on prepared sheet. Spray two large sheets of plastic wrap with non-stick spray and loosely cover. Let rise in a warm, draft-free area until almost doubled in size, about 1½ hours.
Position a rack in center of oven; preheat to 350°. Remove plastic wrap and carefully pick up one of the bones, lifting from the ends (it will stretch and deflate slightly). Drape over one of the larger dough rounds, positioning at 12 o'clock and 6 o'clock. Repeat with second bone, positioning at 9 o'clock and 3 o'clock. Carefully place one of the small balls in the center, at the point where bones overlap, gently pressing edges of the ball into bones and larger ball, crowning the loaf.
Bake until deep golden brown, 30–40 minutes. Transfer pan to a wire rack and let cool 10 minutes. Remove from pan and brush with melted butter and immediately sprinkle with fruit sugar. Let cool on a wire rack at least 1 hour before serving.
Do Ahead: Bread can be made 3 days ahead; let cool completely before storing and keep tightly wrapped at room temperature.
Questions & Replies

Got a question?
Share it with the community!
Reviews
Have any thoughts about this recipe?
Share it with the community!
RECIPE SUBMITTED BY
Food editor, food stylist. I cook, I write and I eat. I have the best job ever. Surrounded by people who love food as much as i do, who are incredible cooks and teach me something every day. Not to mention the fact that I get to graze on amazing food and get paid for it, like that chocolate cherry shortcake I just ate for breakfast. Yeah, it doesn't suck.
View Full Profile