Oven Rack Cleaner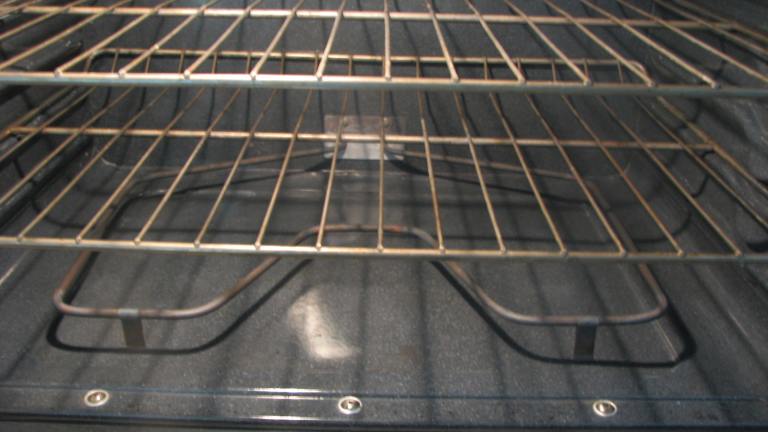 Ready In:

2hrs 5mins

Serves:

Yields:

Units:
ingredients
powdered laundry detergent
directions
Take racks out of your oven. Turn on your self cleaning oven (if you don't have a self cleaning oven it's OK just clean the racks the same way), put Hot water into your bathtub (about 5 to 8 inches) & 1/2 to 3/4 cup of powdered laundry detergent, swish around, put in racks, let sit, by the time your oven is done (about 3 hours) your racks will be clean, wipe down (use fingernail to pop/peel off the really bad spots if there are any, maybe use a toothbrush to get into the tight spots and rinse, spray in your favorite tub cleaner and clean your tub as you normally would. Perfect! Three chores done in one (oven clean, racks clean and bathtub clean). Once you find out how easy it is to clean those nasty racks you will never have to scour, scrape, get steel fibers from SOS pads in your fingers or buy expensive cleaners that DON'T work again! LOL!
Submit a Recipe Correction
Brilliant!<br/>I HATE cleaning the oven racks, so I'd put the job off for ages. And then I found this post and figured it was time.<br/>Like other responders, I also added a 1/3 cup or so ammonia to the water. Mine only soaked for about 1 1/2 hours because I ran out of time, but all the baked on stuff came right off the racks very easily with just a little bit of scrubbing. The darn things look brand new!<br/>No excuses anymore - my oven racks will be clean from now on. Maybe.

I don't even have to wait for my racks to come out of the tub to rate this. I put my racks in the tub with 1/2 C liquid detergent because I don't have powder. I set the shower head to hard spray to mix the soap and the grime was already coming off as I filled the tub. I don't know why I never thought to place the racks in the tub. So much easier, they fit and I don't get the gunk all over the kitchen trying to fit them in a sink that is just way to small. Thanks for posting this great idea.

To be honest I didn't really think this would work. I also put a little amonia in with the detergent and let soak for about six hours (had to play Dominos with some friends). To my surprise I had to scrub a few places that has been stuck on forever, but for the most part the racks came clean. Thanks for such a great idea. I will be doing this from now on.