Oven Fried Sesame Chicken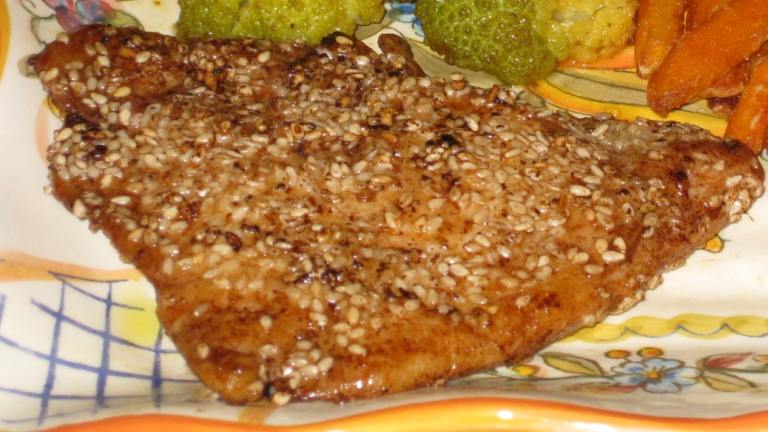 Ready In:

45mins

Serves:

Units:
directions
Preheat oven to 400°.
Combine sesame seeds, flour, and pepper.
Dip chicken breasts in soy sauce. Dredge in sesame seed mixture.
Arrange chicken in pan. Drizzle margarine over chicken.
Bake for 40 minutes or until done.
Submit a Recipe Correction
Very good! Only change I made was to increase the sesame seeds and use lower sodium soy sauce. I really love sesame seeds, and I think I've had too much regular soy sauce since I've toured Asia! Definitely a keeper. Thnx for sharing your recipe, Vicki. Made for the Voracious Vagabonds for ZWT6.

NOTE REVIEW HAS GLUTEN FREE ALTERNATIVE... Vicki, I thought I reviewed this the first time I made this...never did. We LOVE this chicken recipe! It was the first RZ recipe that my husband rated a 5 star and that is saying something!!! We made it again last night, but with a few changes. We found out a short while back that DH is gluten intolerant, so I subbed 1/2 corn starch and 1/2 white rice flour, with very good results. And for those making it gluten free it is best to use McCormick's sesame seeds unless you know for certain no gluten is used as an anti caking agent in yours. San-J Tamari is a gluten free soy sauce that is very flavorful. I used chicken breast tenders and they were done in 35 minutes. This is a definite keeper. And since I didn't get a review done previously, I can add this to my cookbook set aside for the best picks of 2010 :)

Yum! I did adapt the recipe to what I had on hand...which means I used chicken paillards and cooked them on the stovetop. Other than that, I followed the recipe. It was excellent--and took less time. I used a combination of butter and olive oil and cooked at a little too high a heat...I recommend medium and longer rather than medium-high.

Really tasty and quick to put together! I loved the generous quantity of sesame seeds which formed a really nice and crunchy crust. During the latter part of cooking I moved it a bit closer towards the top element to brown the sesame seeds further but managed to burn them a little because I got side-tracked. Therefore my photo doesn't really do the recipe justice but the toasted effect on the seeds did taste wonderful and the chicken was very moist and tender inside.