Oven Fried Eggplant (Aubergine)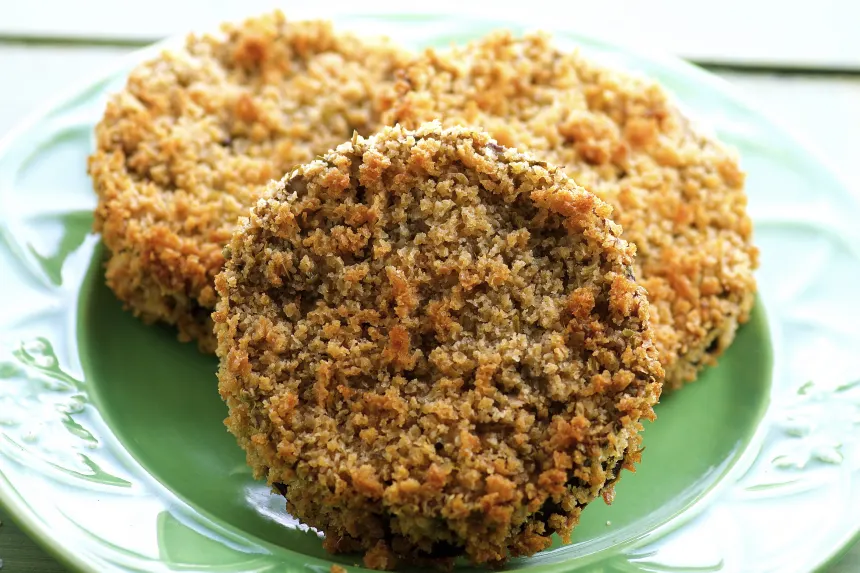 photo by May I Have That Rec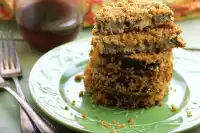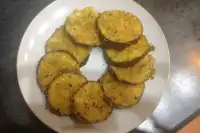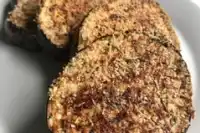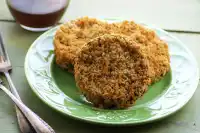 Ready In:

35mins

Ingredients:

7
ingredients
1⁄2 cup fat-free mayonnaise

1

tablespoon minced onion

1

lb unpeeled eggplant, sliced-about 12 (1/2 inch slices)
1⁄3

cup fine dry breadcrumb

1⁄3 cup grated parmesan cheese (or parmesan alternative, like asiago)
1⁄2

teaspoon dried Italian seasoning

vegetable oil cooking spray
directions
Combine first 2 ingredients, stir well.
Spread evenly over both sides of eggplant slices.
Combine breadcrumbs, cheese, and Italian seasoning in a shallow bowl; dredge eggplant in breadcrumbs mixture.
Place eggplant on a baking sheet coated with cooking spray.
Bake@ 425 degrees for 12 minutes.
Turn eggplant over; and bake an additional 12 minutes or until golden.
Questions & Replies

Got a question?
Share it with the community!
Reviews
I have mixed feelings about this recipe, based on personal preference and tradition. It tasted good and was super simple to make. This method of making "fried" eggplant cutlets was easier, less mess and obviously healthier. I would recommend letting the eggplant rest on the pan for at least 10-15 minutes once it has come out of the oven. All in all, a very good alternative to the traditional preparation, especially for those who are health conscious or are looking to spend less time and fuss in the kitchen. <br/><br/>However (based on my own family's taste), for making Eggplant Parmigiana or for crispy cutlets that can be handled or eaten immediately after cooking, these cutlets just can't hold up. Traditional pan-fried cutlets have a taste and texture that can't be beat BUT are not as healthy as this recipe. The texture of this preparation doesn't seem quite cooked through even though it definitely is. Pan-fried eggplant has a crunchy outer coating and an almost creamy interior. This recipe produces a whole different "mouth feel" than pan-fried eggplant. When using these eggplant cutlets in Eggplant Parm or any layered application, compared to the pan-fried version, these have a "raw" taste to the breadcrumbs and make for a sandy texture because the crumbs absorb all of the moisture in the sauce. You will need to have extra sauce on the side. I increased my sauce in an Eggplant Parm recipe by 50% and it still needed sauce on the side. The breadcrumbs can't hold up to the sauce like fried cutlets can. <br/><br/>If you remove the skin from eggplant before cooking, as many Italian-American traditional recipes do, cut your eggplant at least 1/2" thick or your cutlets will fall apart when oven-fried.<br/><br/>This was a good recipe. Thanks for posting it.

 

So easy, yet so good. 1/2 inch was just the right thickness for the slices to end up with a lightly crispy crust and a soft center. I did have trouble with mine sticking to the pan, despite oiling it generously. After baking, I topped each slice with some sliced garden tomatoes which had been sitting in a bit of olive oil and chopped basil; then a slice of provelogne cheese. I turned off the oven, but put the whole pan back in to melt the cheese. To serve, I stacked 2 slices on each plate and accompanied it with a bowl of cold Lebanese Cucumber Soup. Yum!

 

Excellent!! My husband and I are big fried eggplant fans, but I was never big on the greasy overload from the excess oil the eggplant soaked up. These were great. I used Miracle Whip instead of mayo since I didn't have any fat free mayo on hand, and my husband and I agreed we really liked the tangy zip that the Miracle Whip added. I served them plain with a vegetable medley of sauteed fresh green beans, zuchinni, Vidalia onions, basil, garlic and olive oil as the side dish. The meal was excellent. Thanks for the post!!

 

EXCELLENT recipe! I am trying to lose a few pounds and this recipe will become a mainstay. I served it with marinara sauce and I didn't use the cooking spray since I just baked it on parchment paper (it didn't stick). Great non-greasy way to fix eggplant since eggplant tends to absorb SO much oil if you use ol...i just added a bunch of herbs to the bread crumbs and it was fantastic. Thanks for sharing!

 
Tweaks
Excellent recipe! I used regular mayo and homemade breadcrumbs and this was still so much simpler and healthier than frying the eggplant! I went on to use this in eggplant parmesan but this would also be wonderful on a sandwich! I've made this three times, but this time I peeled the eggplant and used onion powder instead of minced onion to save time and it was the best yet! Thanks for a great recipe.

 

Delicious and very easy to prepare. The baking time was perfect, the eggplant was golden brown and crispy on the outside and creamy on the inside. Instead of using oil, I lined the baking sheet with non-stick foil and did not have a problem with the slices sticking. This is going into the favorites file!

 

Great recipe! I used Italian seasoned breadcrumbs and added dried basil and oregano instead of the Italian seasoning, but I'd probably add some more seasoning next time for a little more flavor. I'd also make sure to mince the onions smaller, as I didn't take too much care to do that this time. But overall, great flavor, simple, and easy to make! Will definitely make this again.