Oven Fried Chicken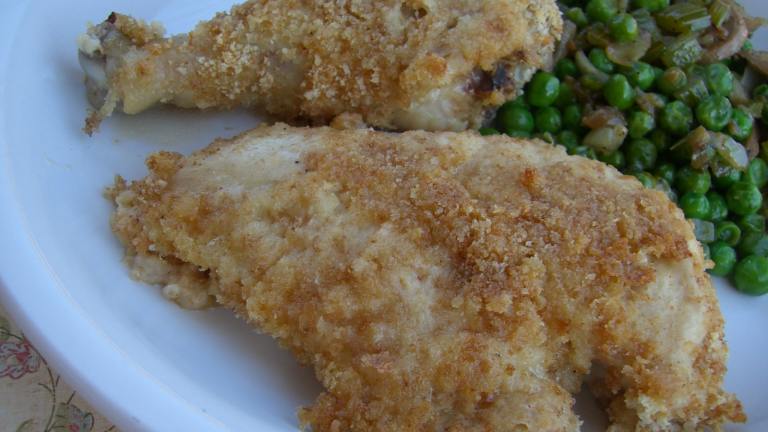 Ready In:

1hr 5mins

Serves:

Units:
Nutrition Information
directions
Preheat oven to 350°F.
Combine sour cream, lemon juice, worcestershire sauce, celery salt, paprika, garlic, salt and pepper in a shallow dish. Dip chicken in cream, then in bread crumbs.
Coat a rimmed cookie sheet with oil. Place chicken on cookie sheet and place in oven. Bake 45-50 minutes, until cooked through. Turn over halfway through.
Submit a Recipe Correction
Join The Conversation
Just made it (for my husband and me) and ate it! Because it was just the 2 of us and the meat was on sale this week, I used chicken thighs--bone in, of course, and I removed the skin. I did the wire rack thing too and used convection since I was not cooking any white meat. It was really good and easy. Thank you for submitting this recipe.

Dee-lishisss! Used this recipe because I always like to use "family" recipes( See my profile for why). I usually grill my chicks but we've had a bit of a cold snap here in So. Indiana, so I needed to try an indoor recipe. I love the fried flavor without the mess. I also used a wire rack to crisp both sides and cut down cooking time. Amy020 had a great addition with the Pam spray. Definately add that step. Another extra I added was to bump the temp at the last few minutes to 500 for a little extra crisp. Keep an eye on it and it turnes out great. I will add this to my recipes and use again and again.

Update 3/14/11: I can't believe I commented before but didn't rate this recipe. This has become our GO-TO "fried chicken" dinner. It's my 11 YO DD's favorite dinner. In fact, I made this when one of her friends was over and he begged his mom to get the recipe from me! ~*~*~*~*~*~*~*~*~*~*~*~*Quite possibly the best oven fried chicken I've ever made!! The secret is definitely in the sour cream dipping sauce, although I subbed non-fat plain yogurt for the sour cream b/c it's what I had. Used a cut-up fryer (skin off), and it was flavorful and crispy. A couple tricks: I baked the chicken on wire racks in a shallow baking pan (no oil). This allows air to circulate around the chicken so it doesn't get soggy on the bottom. I also sprayed the chicken with cooking spray before I put it in 400* oven, baked a half-hour, turned the chicken and sprayed again.