Oven Baked Chicken With Tasty Rub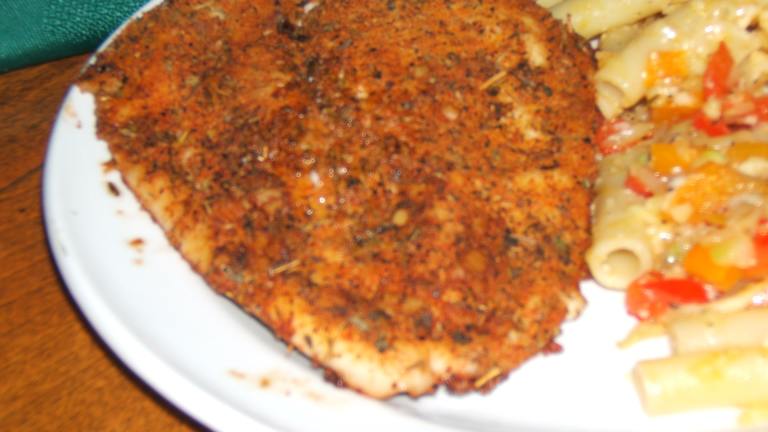 very easy and delicious meal
Ready In:

50mins

Serves:

Units:
directions
Preheat oven to 350 degrees.
take all ingredients except for olive oil and chicken and combine in small bowl. vary amount of chili powder depending on desired level of spice.
take chicken and lightly coat both sides with olive oil.
place chicken in oven-safe dish and rub both sides heavily with ingredients previously mixed (dont be shy!).
pour a little bit more olive oil into the bottom of the dish, enough so that it is lightly covered.
cook for roughly 35-45 minutes.
Submit a Recipe Correction
We liked this very much. We didn't think this was too salty. We basically used a whole chicken skin-on and bone-in, sectioned into large pieces, making sure that the rub went under the skin, so that the meat itself was adequately coated. Then let it just sit for a few hours to marinade. Cooked for 45 minutes in our toaster oven covered with aluminum foil. Then for an additional 30 minutes uncovered on broil so that the outside was golden brown and crispy, but inside is still juicy and tender. We used the bottom of the pan drippings flavored with the rub as a gravy for our rice. It was great! I really don't know if this recipe would work with boneless skinless beasts - like I mentioned we used this recipe on a whole chicken.

There's not much salt in this recipe at all. Unless you're using garlic salt instead of garlic powder, and onion salt instead of onion powder. I made the recipe and rubbed my chicken very well with it and it wasn't very salty. Now I did add my own little thing I sprinkled it very lightly with Progresso bread crumbs before I put the aluminum foil on. But that's doesn't make any difference either it wasn't more than a couple tablespoons of breadcrumbs. Mine came out really good but the cooking time was about 10 minutes short but the breasts I used were quite large and I don't pound chicken breast. It ruins the meat to hit it with a hammer. Good combination of spices though.

First of all you don't have to use the entire seasoning for the chicken, use it generously, however I did decrease the measurements on all ingredients. I stored the rest of the rub in a container. This rub is very delicious if you know what you are doing. I give it 5 stars, thanks for the recipe!

I am giving this two stars because I think if the proportions of spices were adjusted, this could be a good recipe. I used 75% less salt and 75% less oregano than the recipe called for and while that amount of salt worked well, the oregano was still incredibly overpowering. My husband, who usually tries to eat my meals even if they aren't great, had to admit defeat and we both threw it out. I would recommend mixing the spices and saving the oregano until the end, then adding based on smell.