Our Daily Bread in a Crock - Weekly Make and Bake Rustic Bread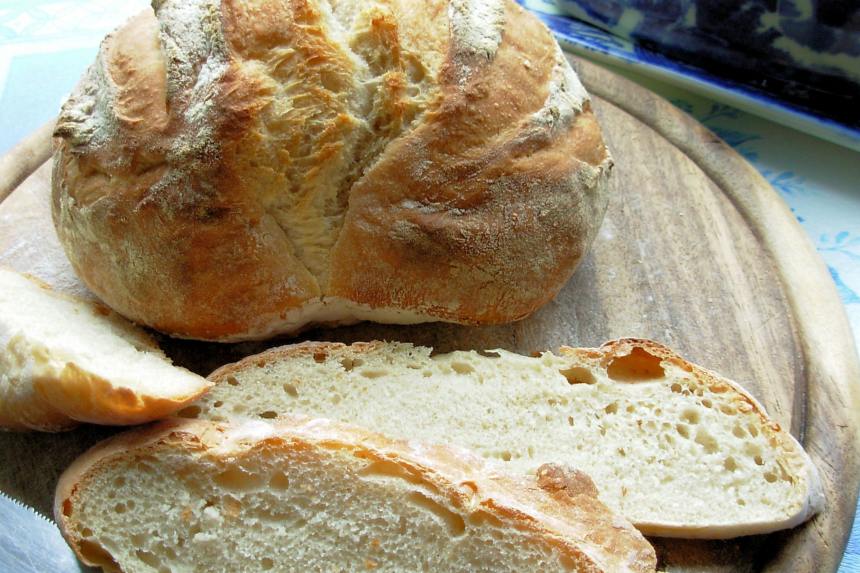 photo by French Tart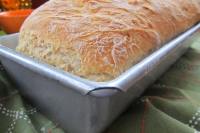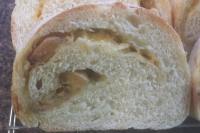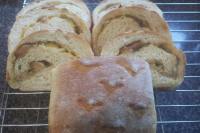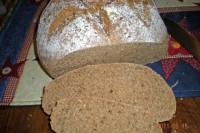 Ready In:

336hrs 30mins

Ingredients:

4
directions
Pour the warm water into a large mixing bowl - the water should be tepid or hand warm - NOT too hot, as it will kill the yeast.
Add the yeast to the water and then the salt, mix well.
Add ALL the flour and mix thoroughly with a wooden spoon or a dough hook until all the ingredients are amalgamated - NO need to over knead.
Leave the bread dough in the mixing bowl and cover loosely - I use a shower cap to cover my dough! (That is NOT used as a shower cap anymore, I hasten to add!).
Allow to prove for 2 hours, or until doubled in size.
The dough can now be stored in the fridge or you can use the dough to make a loaf of bread immediately.
If baking a loaf of bread now, pre-heat the oven and place a baking sheet or pizza tray in there. Tear off a large ball, about the size of a small melon, and knead it for about 1 minute with floured hands and on a floured board, Shape it as desired (Rolls, Boule, Baguette or Bannette) or place it in a greased and floured loaf tin. Allow to prove and rise for a further 20 to 30 minutes. Slash the surface with a sharp serrated knife if you wish, see photos. You can add a glaze or special finish at this point.
Bake at 225C/450F for 30 minutes or until well risen, brown and the loaf sounds hollow when it is tapped on the underside. (If you wish, you can add a bowl of boiling water as soon as you put the bread into the oven – this steams and bakes the loaf to give a good chewy texture and keeps the inside moist.).
Remove the bread when baked and cool on a cooling rack. Serve warm with butter, cheese, jam, hams and cold cuts, or slice when cool for sandwiches. Also wonderful when toasted the next day.
Store the excess dough in the mixing bowl, loosely covered, in the fridge or somewhere cool until needed – this will keep for 2 weeks, but I find it has all gone by 7 to 10 days! This amount of dough will make between 4 and 5 loaves of bread, depending on the shape and amount of dough you use.
Questions & Replies

Got a question?
Share it with the community!
Reviews
I use this recipe twice a week. I've tried many bread recipes and while they were all good, this one is great. It has a terrific spongy texture that we love. And best of all, we have cut most sugar out of our diets for my daughters ADD, and this recipe fits the bill. You cant even tell there isnt any sugar in it, its so good. Thanks! UPDATE: I made this bread first few times with the steam pan method. And then i got lazy and just used a spray bottle to mist the top of the bread just before putting in the oven. I saw no difference in the texture of the dough. It worked great. I have also subbed 1/4 cup Whey Protien Powder for 1/4 cup of the flower to add protein to the bread, and there was no change to the texture taste or moisture level. Still wonderful

 

Wow! I am enjoying this recipe so much. I have done this countless times now, and have tweaked it a bit to get it to work for me. At first I was having a hard time getting it to rise after coming out of the fridge, so I tried rising it for 2 hours in the oven with the light on. That seems to work well. Also, I add a bit more yeast then called for, as that seems to help the rising too. Also I add 3tsp of sugar when I am adding the salt. I find this rounds out the flavour a bit. I have done this with a mix of white and whole wheat bread flour, as well as just all whole wheat, which I think I like better. I also found that baking it at 450 was giving me loaves that were a bit too crusty for my liking, so I have been baking mine at 350 for 25 mins, and I find that they are perfect! I have also used this as a pizza dough with great success! I rolled it thin with a rolling pin and brushed it with olive oil, and baked for 7 mins, then added sauce and toppings and put it back in the oven until done. It is amazing to have bread/pizza dough in the fridge all the time ready to go when I am. Thank you so much for posting this. I hardly buy bread anymore, so this recipe is also a big money saver, as well as being fun and easy!! I would recommend this to anybody....it is quick, easy and great!!

 

FT- I made this bread recipe last week and all week long. It is FANTASTIC!! If I could give you 5 stars for each day of the week I would. I made a baguette for dinner Sunday, Rolls for pulled pork on Monday, a mini loaf for 2 Tuesday, a baguette Thursday and used ther emainder of dough to make rolls for the weekend.On each the insides were soft and fluffy, not dense or heavy at all as my DS said. He finished the baguette off after dinner with slathered butter. For the rolls I wanted some crusty and some soft tops. For the soft tops I brushed on melted butter as they came out of the oven and they were soft but not squishy. PERFECTION> I have a bowl ready to go in the firdge right now for dinner tomorrow and the remainder fo the week more breads. I may even try some in a loaf pan for sandwich bread but I am having so much fun just taking out a softball doughball and cooking up a storm. It is the best smell in the morning. I also plan to incorporate some freh herbs from my garen this week into the loaves. I cannot wait! Thank you again. edited April 9, 2010. I have to say I use this recipe all the time now! If I want a change I change the flour additions to rye or wheat with the white. I love it, DH loves it and now FIL comes over for some fresh made rolls.Today's dough ball is going to be used to make cinnamon bread for DH. He mentioned it has been a while lol. FT you have saved me an enormous amount of money on yeast and an enormous amount of time. I rarely use my bread makers anymore and I have 2 because I could always have fresh bread baking. Now I just pull out your recipe on Sunday morning, get it going and I have bread or rolls for the week and each day fresh, resh, freash! I can't wait til my summer herbs are ready to make herb bread again. Tomorrow with my new batch of dough will make rosemary foccaccia as my rosemary plant made it through winter and is ready for plucking!