Oregano Lamb Steaks With Lemon, Olive Oil and Feta Cheese Mash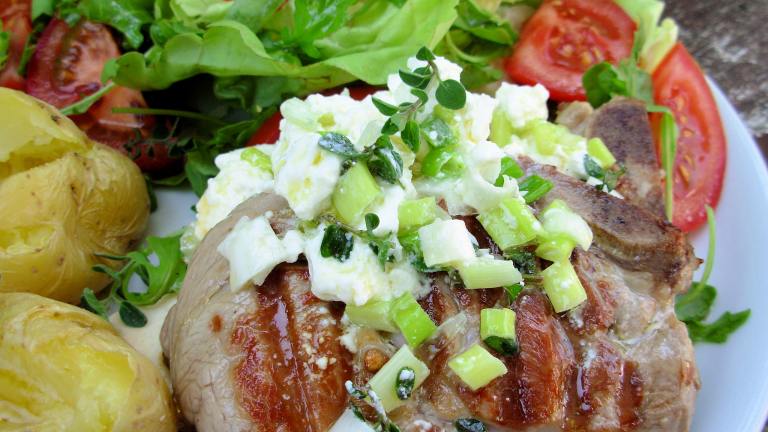 Grilled lamb steaks served with a tangy lemon, feta cheese, and herby olive oil mash; this simple supper has bags of hearty, robust flavours, and is very easy to whip up. I always make extra feta, lemon and olive oil mash, so it can be used as a dip or a sandwich filling for another meal. Try to use fresh herbs wherever possible, they have a softer and more subtle flavour and truly make the lamb steaks sing! Serve this supper dish with jacket potatoes and a fresh mixed salad. The flavours in this recipe remind me of hot sunny days by the seaside here in South West France, the distant fragrance of herbs mingling with the salty air........free-range lamb would also be good - especially hill reared lamb that has a distinct herby flavour in the meat. I serve this in true French fashion with a glass of chilled Rosé wine. Bon appétit! (The inspiration for this dish came from Nigel Slater's wonderful grilled lamb with feta and lemon recipe..........I have altered it enough to call it mine though!)
Ready In:

15mins

Serves:

Units:
directions
Rip the tender little leaves off the oregano sprigs and place into a bowl with the olive oil. Crumble in the feta cheese. Season, to taste, with freshly ground black pepper, then add the chopped spring onions and lemon juice and mix everything together gently, mashing some of the cheese.
Heat a griddle pan until hot, season the lamb steaks with salt and freshly ground black pepper, and brush each steak with a little olive oil before placing on the hot griddle. Cook for a few minutes one each side, or until lightly crisp - I like mine still pink in the middle.
Pop the pitta breads into a toaster or under the grill for a minute or two, until they are puffy and hot; carefully cut them into three pieces and place on the serving plate.
Place the lamb steaks on top of the hot, cut pitta bread and while they are still sizzling, gently spoon over the feta and herb mash. Eat immediately, while all is hot, herbal and piquant! Serve with jacket potatos, fresh mixed salad leaves and a good glass of wine.
Submit a Recipe Correction
RECIPE MADE WITH LOVE BY
"Grilled lamb steaks served with a tangy lemon, feta cheese, and herby olive oil mash; this simple supper has bags of hearty, robust flavours, and is very easy to whip up. I always make extra feta, lemon and olive oil mash, so it can be used as a dip or a sandwich filling for another meal. Try to use fresh herbs wherever possible, they have a softer and more subtle flavour and truly make the lamb steaks sing! Serve this supper dish with jacket potatoes and a fresh mixed salad. The flavours in this recipe remind me of hot sunny days by the seaside here in South West France, the distant fragrance of herbs mingling with the salty air........free-range lamb would also be good - especially hill reared lamb that has a distinct herby flavour in the meat. I serve this in true French fashion with a glass of chilled Rosé wine. Bon appétit! (The inspiration for this dish came from Nigel Slater's wonderful grilled lamb with feta and lemon recipe..........I have altered it enough to call it mine though!)"
I went creative with this one, based on what I have in my fridge. We didnt have any spring onion or oregano around (both our herb plants died when our garden was flooded), and replaced them with leek, parsley, chopped almond and alittle chopped garlic! It was so yummy with a mediterranean flavour. The chopped almond gave it a complementary crunch which we really enjoyed. My husband is full of praises for this one and we paired it with simple tomato and red onion silvers salsa with a dash of lime juice, that went beautifully with the lamb. Thanks for the wonderful recipe!

We loved this! I used lamb chops instead of the steaks. The mash is very flavourful and loved the texture. Looks lovely on the plate. DH hummed through his dinner. I made the mash ahead of time and let it sit in the fridge to blend the flavours. Thank you FT for sharing this wonderful recipe that will be made again.!