Oma's Gingerbread House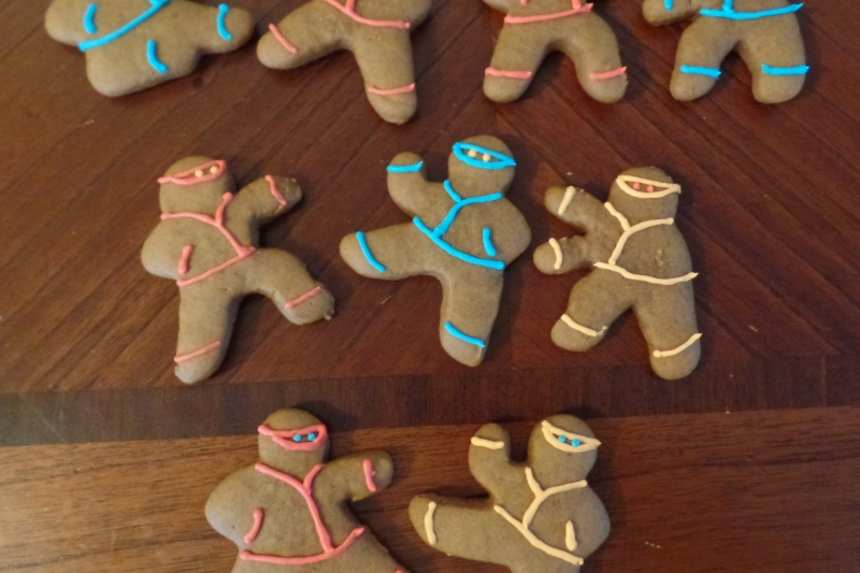 photo by Jadelabyrinth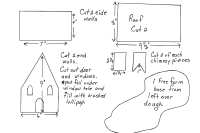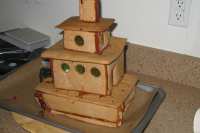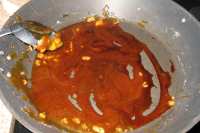 Ready In:

25mins

Ingredients:

12
directions
Mix ingredients in order given.
Flour liberally! It will start out a bit sticky. Just keep adding flour to your board and your rolling pin. Turn it often.
Roll to a maximum thickness 1/4" (1 cm).
Bake at 350°F until brown and slightly crisp. It is hard to give a time for how long to bake. It depends on how many pieces you have on your sheet, how thick they are, etc. I found that they all needed a minimum of 8 minutes. And then I just kept checking every 3 minutes after that.
Dust the flour off of the pieces after they have cooled. A pstry brush works well for this.
Glue: Melt a fair amount of sugar in a large heavy pan over low heat. Mom used a cast iron pan. We started with about 2 cups of sugar and ended up adding about another cup. Keep stirring and waiting. You want the sugar to get to the point where it is almost a clear brown. Be careful though, the "glue" burns BADLY if dripped on skin.
Mom would simply "dip" the edge of the piece that she wanted to glue into the sugar and then press it with the other piece. When it cools, it is VERY hard and holds very well. It does cool quickly though, so work fast.
For Icing: Beat egg whites until stiff. Slowly add in all of the icing sugar.
To make cookies: Bake until lightly browned for soft cookies. Crisp cookies will keep better though.
There is enough dough to make a house and a free form base to put your house on. Or you can simply make a bunch of cookies with the "leftovers".
Mom has some hand drawn pictures of how to cut out the house. Here are her measurements and directions.
Cut 2 side walls: 7" x 4".
Cut 2 roof panels: 9 1/2" x 8".
Cut 4 chimney pieces: 2 1/4" x 1 1/4" (in two of them, cut a 1" V into the bottom so that it will "straddle" the peak of the roof).
Cut 2 end walls: 6" x 9" (4" up the sides, cut diagonally to the top center to make a point). In one end, cut out door and two windows. Bake the door along side.
For the windows: Place foil underneath and fill with crushed lollipop. Bake as usual.
Base: Simply roll out the leftover dough to make a free form base. Make sure that it is wide enough for the house.
NOTE ABOUT CLEAN-UP: Don't fret! Your pan that you melted the sugar in is certainly not ruined! All you need to do is add some hot water, let sit for a little while (5-10 minutes) and then rinse it out. If for some reason, that isn't quite working, simply heat the pan full of water over low heat for a short while (again, about 10 minutes).
Questions & Replies

Got a question?
Share it with the community!
Reviews
These cookies taste great! The dough and cookies smell amazing. I added 6.5 cups of flour and none when I rolled it out. I reduced the baking soda to 1 teaspoon. Even though I did, the dough spread enough that all the pieces I had for a gingerbread house came out with gently rounded sides. It made putting the house together difficult. I will make this as cookies again, but I will find another recipe to make our gingerbread house out of. Thanks!

 

This recipe is fabulous! It was my first attempt at making a gingerbread house and it turned out really well. When I made the dough, I used my Kitchenaid stand mixer with the dough hook, which made the process much easier. The dough turned out perfectly! It kneaded nicely, rolled with ease and tasted delicious. There was enough dough for one house and several gingerbread men. After I cut out the windows prior to baking, I filled them with crushed up Jolly Ranchers. The heat from the oven melts the candy and gives the windows a lovely stained glass appearance.<br/><br/>I rolled the dough to 1/4" thickness and baked it for 21 minutes.

 

This review is only on the sugar glue as I did not make my creation from the rest of the recipe. The glue worked like magic and I was very impressed with its holding power. One of my decks cracked and I was able to repair it with the sugar glue reinforcing it with extra strength! This is definitely a "must" in gingerbread house construction!!!

 
Tweaks
Great recipe ! loved it :) I made this before Christmas but sorry, forgot to make the review until now. The best part was that once I got the hang of the dough, it worked up easily and my house bits came together nicely. Molasses isn't a standard thing here, so I had to hunt around speciality shops.. and maybe it's becuase I grew up on Golden Syrup and Stroop, I found the smell and taste of molasses a little overpowering. I am certain that that's *entirely* a cultural difference though. I did try a second mixture with a slightly different array of spices and with Golden Syrup in place of the molasses.. WOW the gingerbread was georgous.. but the baked pieces were far far softer than the first Molasses baked pieces and it quickly became obvious that there was NO way that the house bits that I made would stand up to construction, so my daughter and I decorated them flat and gave them as Christmas pressents to her teacher, music teacher etc. I also made a 3rd mixture with the golden syrup and these were made into gingerbread people... these were gobbled up at the Class end-of-Year-kids-party as there was easily one per child. The house shown in the photo became the centerpiece of the Sint Nicolas celebration buffet table as family gathered at our place in 2006. Not only was it good to look at, but guests got to dismantle it for dessert and to take the leftovers home... and very pleased they were about that too! Thanks for a great recipe... it's my first foray into gingerbread but it won't be my last :)