Olive Garden Ravioli Di Portobello / Portabella Mushroom Ravioli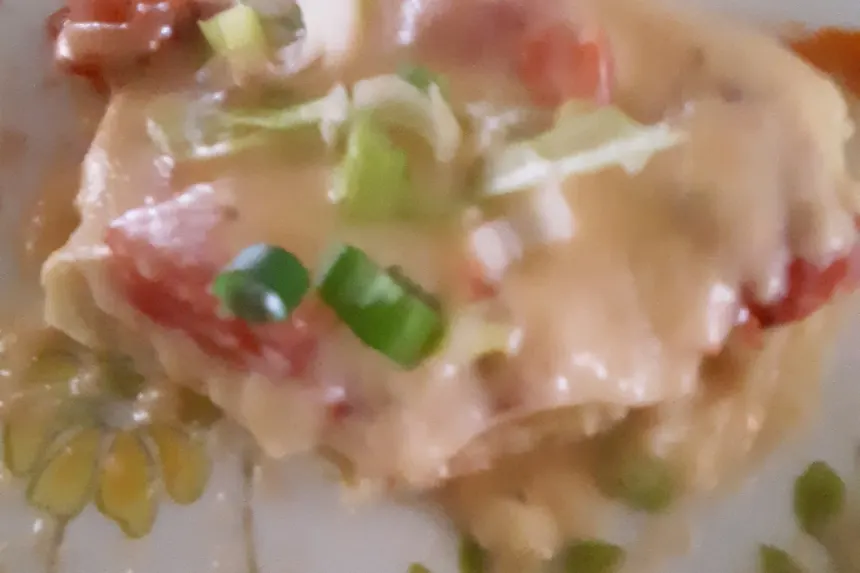 photo by Diann H.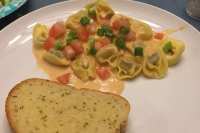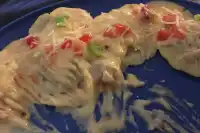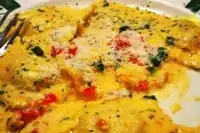 Ready In:

1hr 15mins

Ingredients:

16

Serves:

2-4
directions
Filling:

Melt butter in a pan over medium heat. Sauté onion until soft. Add mushrooms and sauté for two minutes. Reduce heat and let simmer for 5 minutes or until liquid has evaporated and the mushrooms are fully cooked. Set aside.

Ravioli Dough:

Mix dry ingredients and eggs in a bowl. Add water a little at a time, while stirring, until it forms soft dough. Dough should be soft, but not sticky.
Roll out on a floured surface to ¼ inch thickness. If dough is sticky, sprinkle with flour.
Using a biscuit cutter or small glass, cut 3-inch circles from the dough.
Place a spoonful of the mushroom and onion mixture in the center of the circle and top with another circle of dough.
Crimp the edges with a fork, being sure to completely seal the ravioli. If needed, moisten the edge of the bottom circle with cold water before crimping the top circle over the filling.
Drop raviolis, a few at a time, into boiling water being careful that they do not touch in the kettle. When the raviolis float to the top, boil for one minute and then remove them with a slotted spoon.
Keep hot in a covered dish. Drizzling with a little butter or oil will prevent them from sticking to one another.

Sun Dried Tomato Sauce:

Melt the butter in a saucepan. Stir in the flour to make a thick paste. Add cold milk, stirring constantly to prevent any lumps from forming. Cook until the sauce thickens.
Add cut up smoked Gouda cheese and the chopped sun dried tomatoes. Heat until cheese is completely melted.

Serving:

Arrange raviolis on a dinner plate that has a slight indentation. Pour the sun dried tomato sauce over the raviolis so that the raviolis rest in a bed of sauce. Sprinkle chopped green onion and diced tomatoes over the top.
Questions & Replies

Got a question?
Share it with the community!
Tweaks
Thanks to all the comments and a little common cooking knowledge. I think I've perfected the sauce. Cat's version of Sun-dried Tomato Sauce: 1/4 cup butter 3 1/2 T flour 2 cups milk 3/4 cup heavy cream 6-8 small sun-dried tomatoes packed in oil , chopped extremely fine or run through food processor 1 1/2 T sun dried tomato oil 7 ounces smoked gouda cheese 2 oz parmesan 1/4 cup pasta water *Try adding a garlic clove or two with the butter for added flavor Garnish: chopped green onion Chopped tomatoes Directions: Melt the butter in a saucepan. Whisk in the flour to make a paste and it smells nutty and looks a light golden brown. Add milk, cream, sun-dried tomatoes and oil whisking constantly to prevent any lumps from forming. On medium heat cook until the sauce thickens slightly. Turn heat down to low, add shredded smoked Gouda and parmesan. Whisk on low heat until cheese is completely melted. At this point it will look like one massive booger. With heat on very low add 1/4 c pasta water and use an immersion blender for one min and whisk up the sauce to create a much better texture! *Sauce can also be CAREFULLY poured into a standard blender and returned to the pot on low heat to ensure its warm enough to serve Serving: Arrange mushroom raviolis or tortellini on a dinner plate that has a slight indentation. Pour the sun dried tomato sauce over the raviolis so that the raviolis rest in a bed of sauce. Sprinkle chopped green onion and diced tomatoes over the top.

 

I make this all the time and turns out wonderful... I however always use three bridges fresh wild mushroom Ravioli and instead of chunks of gouda cheese i prefer to use Smoky Gouda chesse spread and all that to butter and milk and flour... Always turns out much more creamier and has a hint of smokiness to it..

 

Thank you, Chele, for sharing this recipe! <br/>My thoughts are:<br/>1. For pasta dough, mix 2 cups of flour and 3 room temperature eggs (as fresh as you can find). Mix, then knead until well combined. Cover in plastic wrap and let sit on the counter for 30-60 minutes.<br/>2. The Olive Garden likely:<br/> Uses cream instead of milk & butter for the sauce.<br/> Sautes the ravioli in olive oil after they've been boiled but before serving.<br/> Adds egg and maybe breadcrumbs to the filling to make it stick together more.<br/>3. Another step you can take is to mix smooth the gouda and sun-dried tomato sauce in a blender. Then return to saucepan to reheat and further marry the flavors.<br/><br/>I realize that most of these ideas increase the calories and require more time to execute but it will be worth it!

 
RECIPE SUBMITTED BY
I am a culinary school graduate now practicing in my home kitchen. I currently teach special education. I have two beautiful girls, 18 and 10, who both drive me nuts in their own special ways ;). I LOVE to cook, but I HATE to clean up. I enjoy trying new foods. I may need to seek help for my recipe addiction. I have more recipes than I could ever use, but you never know when some obscure recipe might come in handy!
View Full Profile