Ole! Authentic Chiles Rellenos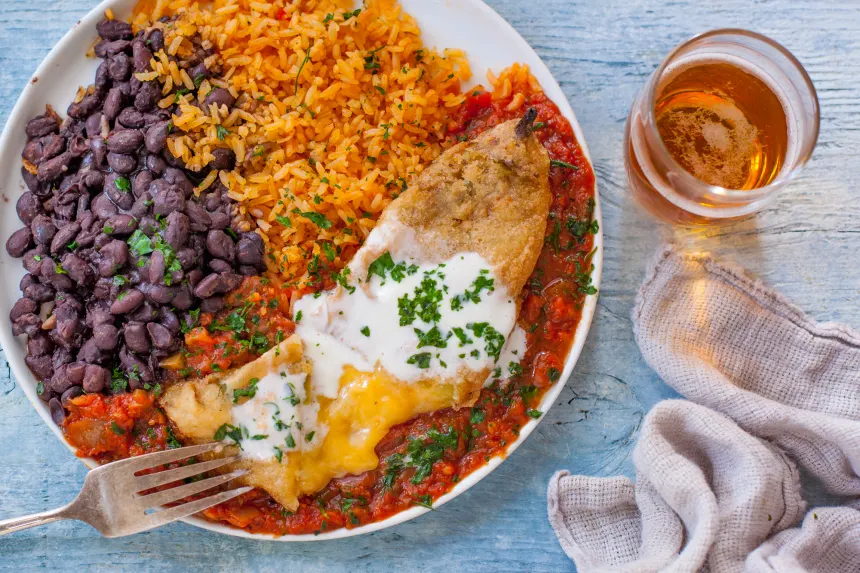 photo by DianaEatingRichly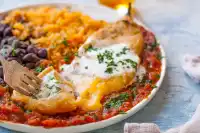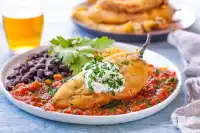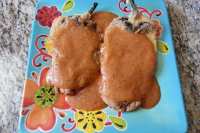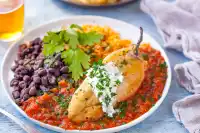 Ready In:

1hr

Ingredients:

24
directions
PREPARE the SAUCE: HEAT 1/3 cup corn oil in a medium saucepan over medium-low heat; CHOP 1 medium onion together with 4 cloves of garlic in a food processor; SAUTE the onion and garlic mixture in corn oil until translucent and golden, and almost caramelized. ADD 1/3 cup flour to the saute mixture, until flour is lightly browned (the color of brown mustard); SPREAD the mixture evenly as it cooks. PLACE into the large bowl of a food processor enough fresh ripe Roma tomatoes to yield approximately 1 1/2 cups pureed, and one stem-removed seeded fresh jalapeno pepper; PROCESS both until pureed. SCRAPE the sauteed onion and garlic mixture from saucepan using a flexible spatula into the bowl of the food processor with the tomatoes and jalapeno, submerging the onion and garlic roux into the puree. PROCESS mixture until all ingredients until finely pureed. POUR pureed mixture into the same medium saucepan. STIR into the sauce mixture 5 cups water, 2 teaspoons salt, 1 1/2 teaspoons crushed Mexican oregano (crush between fingers) 1/4 teaspoon finely ground black pepper, and 1 large bay laurel leaf (and 1 pinch ground cinnamon and 1 pinch ground cloves if desired). BRING mixture to boiling while whisking; REDUCE heat to medium and cook for about 45 minutes, or until desired consistency is reached, whisking occasionally. COVER slightly vented so steam can escape; KEEP sauce warm over lowest heat, whisking as needed to refresh consistency until served, or reheat and stir before serving.
ROAST fresh peppers if not using canned; KEEP stems intact; PLACE under broiler and broil on each side until evenly blistered slightly blackened; IMMEDIATELY place peppers into a large plastic ziplock bag and allow to steam for a few minutes; REMOVE skins from each pepper (they should slide off easily now); CUT a slit lengthwise down the middle or side of each (just big enough to slide in a stick of cheese or a mound of shredded cheese); CUP each pepper with one hand and pour gently running water into slit to flush out seeds.
SOAK fresh or canned chiles in brine for a few minutes; CUT cheese into 6 long thin sticks (OR) shred cheese then thinly mound and mold 6 portions; REMOVE chiles from brine and blot with paper towels.
STUFF each chile with one cheese portion then slip into pepper slit (if a chile tears don't worry, flour and egg batter will seal it well enough).
POUR oil into an electric wok or an electric skillet (or enough oil into deep fryer); SET heat control to 265°F.
MEASURE flour into a sifter or fine mesh collander; DUST each of the chiles well with flour on all sides and set aside (for torn chiles, apply extra flour at the seam then overlap slightly).
BEAT egg whites in a medium bowl with one pinch salt, using an electric mixer until stiff peaks form; BEAT egg yolks in another bowl with one tablespoon flour and 3/4 teaspoon salt; ADD yolk mixture all at once to egg whites; FOLD together lightly but thoroughly while keeping the egg mixture fluffy.
COAT one chile evenly with egg mixture, using rubber spatula if necessary to "frost" chile; HOLD chile by the stem; PLACE place carefully onto the hot oil; REPEAT with the remaining chiles, frying no more than 2 or 3 at a time.
FRY until golden on all sides, turning once with spatula until done, about 5 minutes total; DRAIN between paper towels (if necessary, rellenos may be individually reheated in a microwave (100% power) for 15-20 seconds).
SERVE over a pool of warm SAUCE, or top with your favorite pico de gallo or salsa and a dollop of sour cream, and cilantro sprig to garnish; SNAP your fingers and shout,"OLE"!
Questions & Replies

Got a question?
Share it with the community!
Reviews
I made the chile rellenos as directed and the end result was fantastic! This is a great recipe, and very easy to make. I did not make the sauce, I served my chile rellenos with pico de gallo salsa instead. This was better than a lot of the chile rellenos I have had at Mexican restaurants. Thank you for the recipe, I will definitely be making these again! -Meow UPDATE 5/19/09: I made this again, and prepared the fresh tomato sauce that is included in the recipe. I left out the cinnamon and cloves (personal preference). I did not use the brine, and it came out perfect. It was delicious, my Mom even liked it, and she is a tough sell. Thank you so much, I can't wait to make this for my best friend who is Mexican...I am sure she will love it!!

 

ever since a trip to Chiapas, Mexico my husband has been craving real Mexican chiles rellenos. these perfectly fit the bill. they were quite a bit of work. between my husband & i they were done in about 2 hours. but i still give the recipe 5 stars because the result was worth it. the sauce was absolutely delicious. however, i had to turn it up to medium-high heat to get it to condense, since it was still watery after 45 minutes. no problem, though, because we were still busy stuffing and battering chilies. i am usually turned off by such a demanding dinner, but this might be one of the few times i feel it's worth the investment. we used a combination of half mozzarella and half sharp cheddar, served with house made refried beans and citrus rice. fantastic dinner. and likely to be repeated. just set aside a little time, have a friend or your significant other help you, make a nice project dinner of it, and enjoy! thanks for sharing.

 

Wonderful tasting chile relleno. I changed the filling a bit to include leftover crab we had on hand as well as the cheese indicated. Since it's hard to find good tasting fresh tomatoes now I decided to use tomato sauce along with 1 hothouse tomato to make the sauce and increased the water ratio. I liked the addition of cinnamon and clove in this sauce - a bit like Cincinnati chili flavor. Very distinctive and it went very well together with the chile. Used fresh poblano which were grilled in the oven to blister and skin taken off. This recipe was surprisingly simple to make and I think the sauce here is the star. Thank you for sharing a wonderful recipe with us!

 

My husband makes these often. They are easy and this recipe is way too complicated to make it worthwhile in my opinion. It does not seem authentic to me either. It appears to be more of a "chef" creation. We make our pico de gallo with just fresh tomatoes, fresh cilantro and the green part of the the scallion, no salt. Be warned that Mexican oregano is very strong tasting and many people do not like it because of that. 1 1/2 tsp. is way too much of this strong herb. I have used it and 1/4 tsp. would have been sufficient and not too pungent. Polano chiles are spicier hot compared to Anaheim chiles which are mild. We don't brine our chiles. We use fresh (roast the skin off) or canned chiles, stuff them with cheese, batter them and fry them and serve them with pico de gallo. No need to get complicated or serve the rellenos in a bed of puree that makes the relleno soggy. This is my hubby's mom's recipe and it is authentic from Mexico. I have never seen a restaurant serve them like this posted recipe nor a have home serve them this way. Mexican cooking is typically very simple. This allows the flavors of all the ingredients to shine through.