Old-Fashioned Pound Cake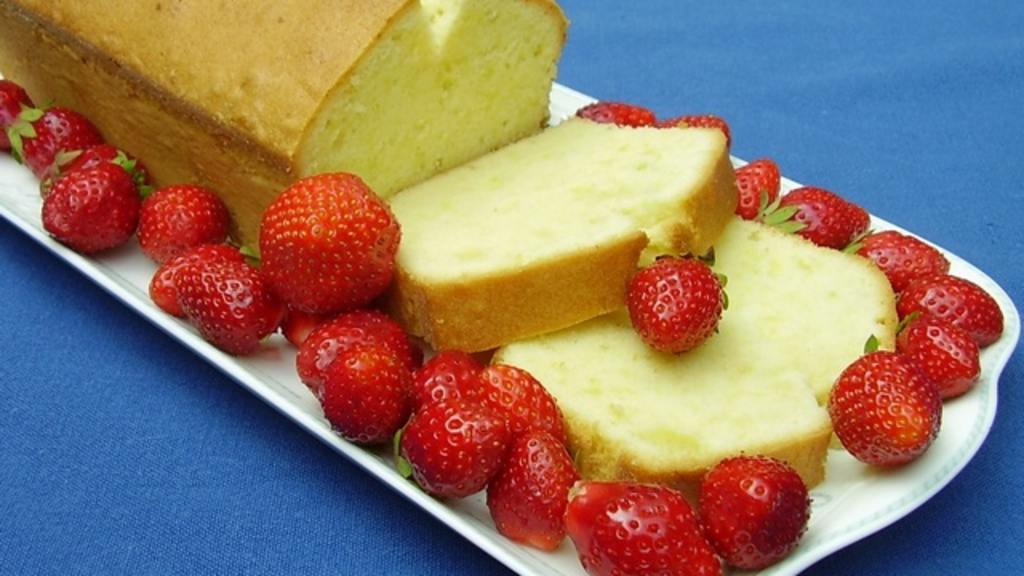 Ready In:

1hr 35mins

Ingredients:

6
directions
Cream butter and sugar until very light and creamy.
Beat in eggs, one at a time, beating well after each.
Gradually add cake flour, blending thoroughly. (Use a medium speed for this.).
Add lemon rind and juice.
Bake in 2 greased and parchment paper-lined or waxed paper-lined 9x5" pans at 350º for about 1 hour and 15 minutes.
Frost or glaze, or leave plain.
*If wanting to make a half a recipe, use 5 eggs.
Join The Conversation
This is the one and only true recipe for the original pound cake, but I do things just a bit differently. This recipe, as written, tends to yield an unpleasantly dry texture, so on a friend's advice, I now add a cup of whole milk to the batter alternately with the cake flour and bake at 375 for an hour or until it tests done. I also add all the juice and zest from two large lemons. This gives me a cake with a very light, but dense texture and incredibly rich flavor that just begs for a homemade blueberry compote or masserated strawberries and whipped cream. Awesome!

Extremely delicious. And it is so easy to make. Just follow exactly the description and at the end your geuts will praise you for making this cake. Take your time for step 1 and 2. The sugar must be dissolved completely and I mixed it until it was really creamy. The outcome after baking is gorgeous. I served it with whipped cream and strawberry puree. The texture of the cake is fluffily but firm enough. The lemon rind and juice add a fresh note. The combination with strawberries is heavenly. After a first mouthful you would like to have more and more. It also reminded me to my childhood, I love these kind of cakes (and still do), but this one reach the summit of all pound cakes. My suggestion: try it - love it. I would add many more stars, if I only could. (July 17, 2005) You should also try her "Sara Lee" Pound Cake (recipe #123117).

Absolutely delicious! I can not tell you how excited I was when I pulled this out of the oven. I couldn't keep my knife away long enough to let it cool. I ate two pieces before I could make my DH a dish with strawberries and cool whip on top of a slice of this delicious pound cake. WOW! I have a strong feeling it will not last two days if that! Just smelling the pound cake bake in the oven made me so anxious! Loved the texture of this too. Thank you so much for sharing this great recipe! Its a keeper! (I sure wish I could give a higher rating on this, it deserves it)