Oladi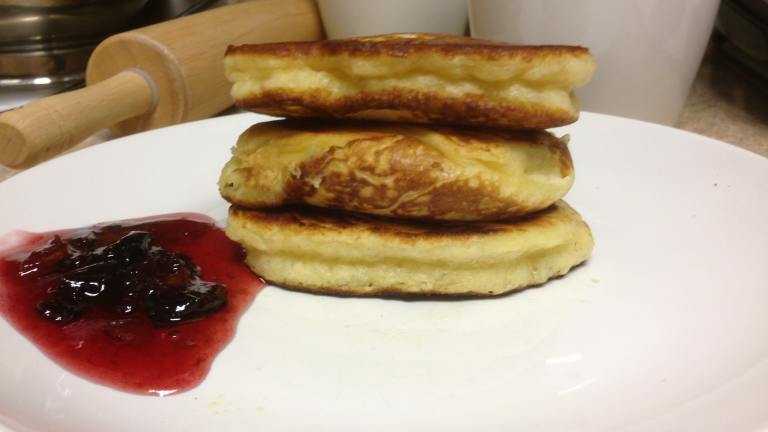 I take no credit for this, the original is from: http://www.olgasflavorfactory.com/breakfast/oladi/, I swapped the standard milk for kefir.
Ready In:

1hr 35mins

Yields:

Units:
directions
Mix the milk, yeast and flour in a large bowl with a wooden spoon.
Cover the bowl with plastic wrap and let rise in a warm place until the dough doubles, 30-50 minutes.
When the dough has doubled in size, add the eggs, oil, sugar and salt. Mix until thoroughly incorporated.
Cover and repeat rising time, once again until the dough doubles.
Heat a few Tablespoons of oil in a nonstick skillet on medium heat.
Since the dough is VERY sticky, the dough sticks to the spoon mercilessly and you will have a mess on your hands. Fill a mug with water, and dunk your spoon in the water EVERY time you get more dough. Gently scoop the dough, trying not to deflate it as much as possible. The dough doesn't stick to the spoon and effortlessly slides right off and into the skillet.
Cook, until golden on both sides.
Drain on a paper towel. Enjoy with sour cream, jam, berries, etc. You can also add apples, berries, chocolate chips or nuts to the oladi. Simply add them to the batter when adding, eggs, oil, sugar and salt. They are a great addition to oladi.
One of my favorite variations from my mom are oladi in sweet sour cream. Whisk up sour cream with sugar and vanilla and dunk each pancake in the sour cream. Layer all the oladi in a bowl and the sweet sour cream will seep in to the oladi, making them even more tender and juicy.
Submit a Recipe Correction