Ohio Shaker Lemon Pie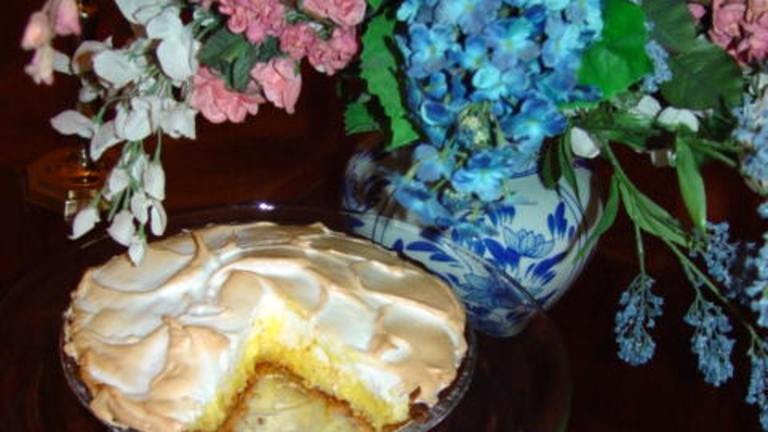 Gourmet November 1993 Note if you are seeking another recipe, it is not here. Google the name of the other recipe and I bet it shows up. The reviews are NOT for this one. Also click my name. Go to my homepage. Read the directions [wink]
Ready In:

45mins

Serves:

Units:
directions
Blanch the lemons for 30 seconds then drain and rinse with cold water.
Trim the ends of the lemons, toss them, cut the lemons crosswise into paper-thin slices. In a bowl cover the lemon slices with the sugar and let the mixture stand, stirring once after 1 hour, for 8 hours or overnight.
Preheat the oven to 425°F Remove the lemon slices from the sugar and arrange them in the shell. Add the eggs and salt to the sugar, whisk the mixture until it is combined well, and pour it over the lemon slices.
Cut slits in the crust with a sharp knife, forming steam vents, and bake the pie in the middle of the oven for 25 minutes.
Reduce the temperature to 350°F and bake the pie for 20 to 25 minutes more, or until the crust is golden. Let the pie cool on a rack and serve it warm at room temperature.
You might want to do a search engine search for the other pie if you bookmarked it.
Submit a Recipe Correction
RECIPE MADE WITH LOVE BY
"Gourmet November 1993 Note if you are seeking another recipe, it is not here. Google the name of the other recipe and I bet it shows up. The reviews are NOT for this one. Also click my name. Go to my homepage. Read the directions [wink]"
This review was written for the original recipe posted here for Jessie's Heirloom Key Lime Pie. Not for "Ohio Shaker Lemon Pie". The flavor is exceptional and does not have the creamy texture of most other key lime pies I have had in the past. Very easy to prepare with wonderful results. I will recommend this to anyone looking for a great key lime pie recipe. Thank you philocrates, for sharing Jessie's story and his heirloom recipe.

This review isn't for The Ohio Shaker Lemon Pie recipe :( It is for the one called Jessie's Heirloom Lime Pie Google it :) it is worth it. I made this recently and it was so yummy, it disappeared so quickly, I can't wait to make it again!!! I would give it 10 stars if I could. Followed directions exactly as printed, wouldn't change a thing.

Wowww! This pie is *fantastic*. I've tried tons of different recipes for Key Lime Pie, and this one tastes the best by far, and it uses ingredients that I always have on hand. I love this recipe because it's so old-fashioned and it actually has a history/story to it. And it was easy! Much thanks to Jessie and to you to, philocrates!