O'Charley's Loaded Potato Soup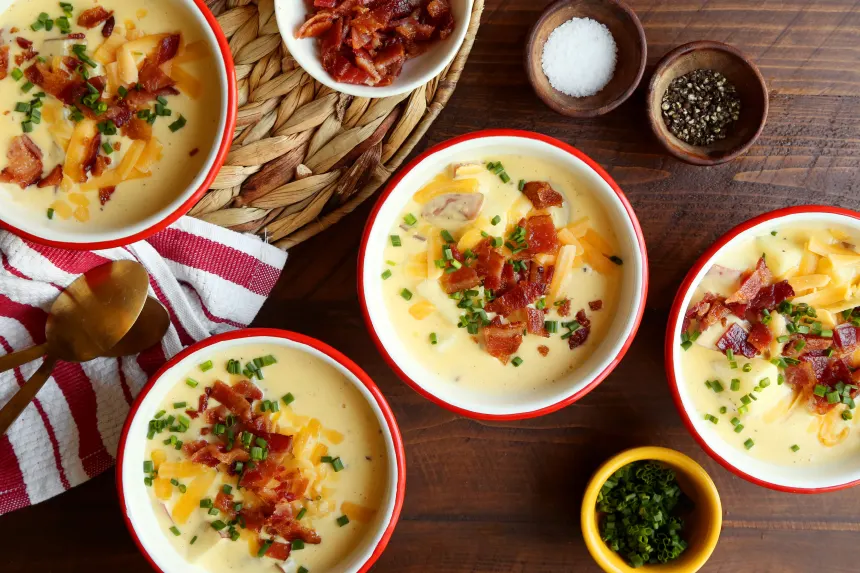 photo by Jonathan Melendez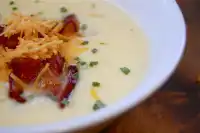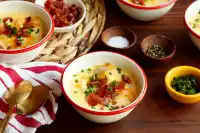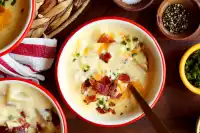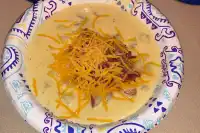 Ready In:

1hr

Ingredients:

12
directions
Dice unpeeled red potatoes into 1/2 inch cubes.
Place in large saucepan; cover with water and bring to a boil.
Let boil for 10 minutes or until 3/4 cooked.
In a separate pan, combine melted margarine and flour, mixing until smooth.
Place over low heat and gradually add half-and-half, stirring constantly.
Continue to stir until smooth and liquid begins to thicken.
Add melted Velveeta.
Stir well.
Drain potatoes and add to cream mixture.
Stir in pepper, garlic powder and hot pepper sauce.
Cover and cook over low heat for 30 minutes, stirring occasionally.
Place soup into individual serving bowls and top with crumbled bacon, shredded cheese, chives and parsley.
Reviews
The reason that this may not taste like O"Charley's Soup is because the recipe is not right. I worked there for 7 years and here is the exact recipe that we follow at the restaurant. You can adjust it to meet your needs.<br/>15#'s of Fresh New Potatoes cut 3/8 x 3/8 x 1" skin on so wash them first<br/>("Do not over cook them, they should be soft but firm , portion them in 5 pounds bags, and refrigerate them. Heat them in microwave until and then add to soup as you go. They will become mussy if you add them straight to the soup!. <br/>8 gal Water ( 4 to use when boiling the potatoes) 4 gal to prepare the Cream soup base<br/>4 Pk cream soup base<br/>4 0z Chicken Base (weight)<br/>2 #10 Cans cheese sauce <br/>2 TBS white pepper<br/>2 TBS Garlic Power<br/>2 TBS Tabasco sauce<br/>1/2 cp.. Jalapeño juice<br/> Mix the cream soup base with the water, Bring to boil and reduce heat for 20 min.<br/>After simmering add Chicken base, cheese sauce, white pepper, garlic powder, Tabasco sauce and Jalapeño juice.<br/>Mix well simmer for 10 min.<br/>This yields 6 gallons<br/>Shelf life is 3 days, you can refrig and reheat in Microwave or stove top.<br/><br/>,

 

I don't know what happened during the process to where some reviewers came out with a negative review of this. I found it to be some of the best potato soup I've ever put in my mouth! I noticed the same reviews with a Panera Bread Broccoli Soup recipe here and it came out great when I made it. "Guess it's just my great cooking ability.......", Chris said arrogantly.