Oatmeal Chocolate Chip Lactation Cookies by Noel Trujillo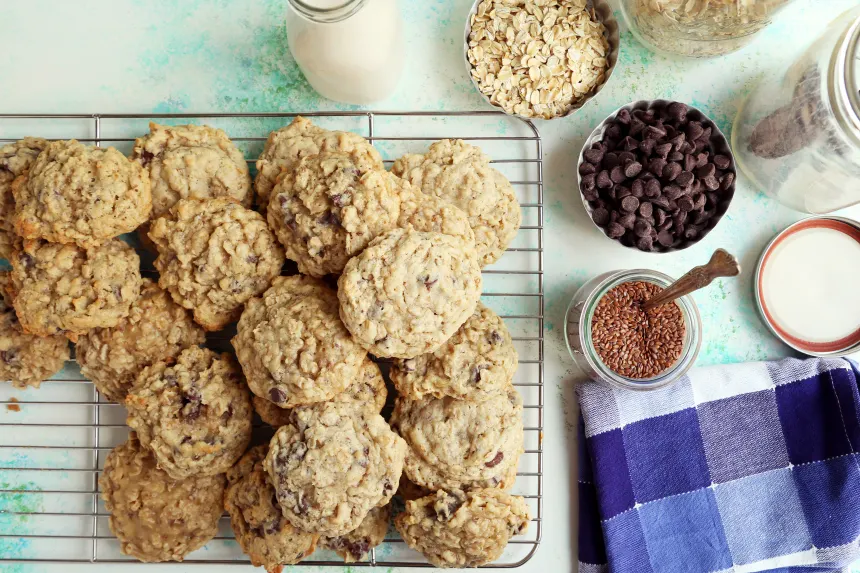 photo by Jonathan Melendez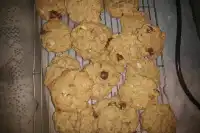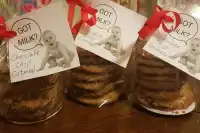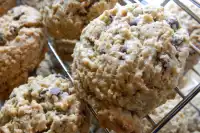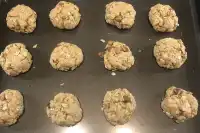 Ready In:

27mins

Ingredients:

13

Serves:

54
directions
Preheat oven to 350°.
Mix the flaxseed meal and water and let sit for 3-5 minutes.
Beat butter, sugar, and brown sugar well.
Add eggs and mix well.
Add flaxseed mix and vanilla, beat well.
Sift together flour, brewers yeast, baking soda, and salt.
Add dry ingredients to butter mix.
Stir in oats and chips.
Scoop onto baking sheet.
Bake for 12 minutes.
Let set for a couple minutes then remove from tray.
Questions & Replies

Reviews
These taste pretty good and do boost your milk supply, but it's not the healthiest recipe. I'm a doula and I make some variation of these for all of my moms. I follow the basic recipe, but I always use scant cups of sugars, 4 heaping T. of Brewer's yeast (this is the most crucial ingredient), 2-4T. Blackstrap molasses, half whole wheat flour and half whole wheat pastry flour or oat flour. Depending on what I have on hand and my mom's taste and needs, I usually add walnuts, almonds, cashews, macadamia nuts, pumpkin seeds, dried fruit, hemp seeds, carob, almond butter, spirulina, sesame seeds or any combination of the above. I also add ginger if a mom has slow letdown, but only if she didn't have significant blood loss after the birth since ginger is a natural blood thinner. If it's been a few weeks since she gave birth and her bleeding has stopped, ginger is fine. I have added fenugreek to the recipe as well, but only if the mom is having serious supply issues. Otherwise, I recommend fenugreek tea since it's milder and easier to control the amount you consume. I've even made them vegan by using Ener-G and vegan margarine and shortening. I think it's a good base recipe and it adapts well. Every version I've ever made has been tasty.

 

Ok first off, thanks so much for the awesome recipe. I have made this a few times now and after a little bit of tweaking and trial and error, I've pretty much got the hang of this recipe. The things I tweaked were as follows:<br/><br/>Flax and water: I am generous with my 2Tbs Flax and instead of 4 Tbs of water I did 2.<br/>Brewers Yeast: I am also very generous on my 4Tbs of Brewers Yeast. <br/><br/>The result is a nice fat great looking cookie that tastes awesome and has a bit extra of the main ingredients that help with milk production. On my first attempt I think the extra water made my cookies flat like a pancake, so these tweaks definitely made a difference in that, and now they are plump and attractive, especially for giving as gifts.

 

These are great. I have so many problems with my milk supply that I'm pumping constantly (trying to pump while nursing, now that's a trick!). Like many of the other reviewers I was worried about the nutrition content/white sugar & white flour. I found these Lactation Cookies at www.YummyMummyCookies.com which are organic and contain Fenugreek as well as Brewers Yeast. The Lemon Poppyseed Lactation Cookie one is addictive but they're so healthy I feel ok eating them everyday and they REALLY helped me. I started pumping an extra 8oz a day sometimes.

 
Tweaks
Added 2 tbsp extra butter, 1 extra egg, 2 extra tbsp flaxseed meal (and increased water to 8 tbsp) and used 6 tbsp brewers yeast instead of 4. I wanted in increase the items which promote breastmilk. I added the extra butter and egg because the batter seemed way too dry without it. They turned out amazing. i have 2 cookies every morning for breakfast, and sometimes have some as snacks throughout the day too!

 

I do coconut oil instead of butter, reduce the brown sugar and sugar both by half a cup, instead of regular flour I do 1 and 1/2 cups of almond flour and 1/2 cup of coconut flour, I do dark chocolate chunks, and increase the brewer's yeast (non bitter) to 8 tablespoons. I also add about 1/4 cup of creamy peanut butter to the wet mixture.

 

I refrigerated the cookie dough before baking for about 10 minutes to shape it into more cookie-like shapes and instead of using 1 whole cup of chocolate chips, I used 1/2 and 1/2 chocolate and white chocolate chips. Also, I don't mind the taste of Brewers Yeast (although the bitterness is completely negated through the amount of sugar in this recipe) so I added 5 heaped table spoons instead of 4 level.