No-Knead Bread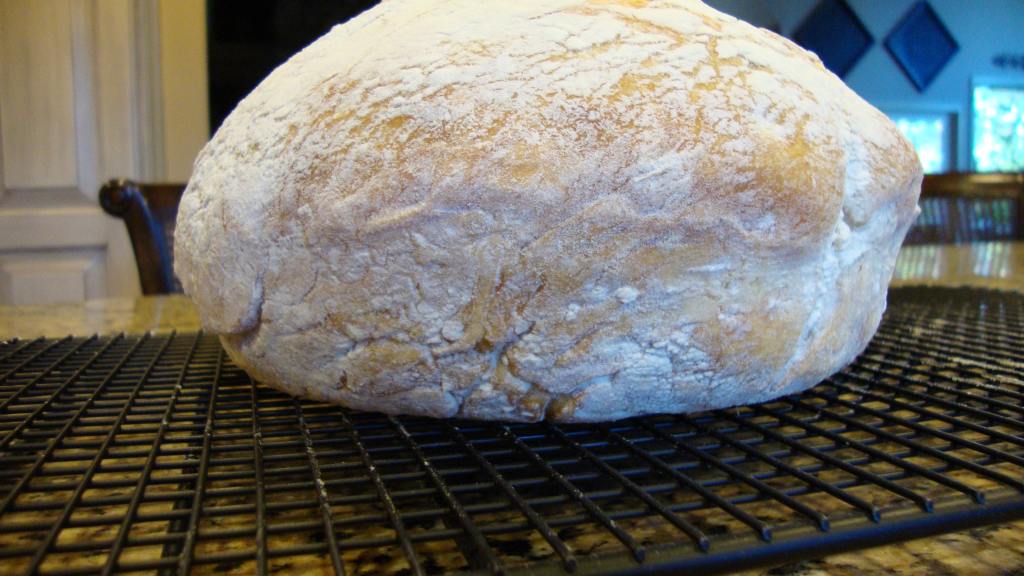 Ready In:

15hrs 30mins

Yields:

Units:
Nutrition Information
directions
In a large bowl combine flour, yeast and salt. Add 1 5/8 cups water, and stir until blended; dough will be shaggy and sticky. Cover bowl with plastic wrap. Let dough rest at least 12 hours, preferably about 18, at warm room temperature, about 70 degrees.
Dough is ready when its surface is dotted with bubbles. Lightly flour a work surface and place dough on it; sprinkle it with a little more flour and fold it over on itself once or twice. Cover loosely with plastic wrap and let rest about 15 minutes.
Using just enough flour to keep dough from sticking to work surface or to your fingers, gently and quickly shape dough into a ball. Generously coat a cotton towel (not terry cloth) with flour, wheat bran or cornmeal; put dough seam side down on towel and dust with more flour, bran or cornmeal. Cover with another cotton towel and let rise for about 2 hours. When it is ready, dough will be more than double in size and will not readily spring back when poked with a finger.
At least a half-hour before dough is ready, heat oven to 450 degrees. Put a 6- to 8-quart heavy covered pot (cast iron, enamel, Pyrex or ceramic) in oven as it heats. When dough is ready, carefully remove pot from oven. Slide your hand under towel and turn dough over into pot, seam side up; it may look like a mess, but that is O.K. Shake pan once or twice if dough is unevenly distributed; it will straighten out as it bakes. Cover with lid and bake 30 minutes, then remove lid and bake another 15 to 30 minutes, until loaf is beautifully browned. Cool on a rack.
Submit a Recipe Correction
Join The Conversation
This recipe is wonderful. It makes bread look like it come from a professional brick oven bakery. I cook at 475 and I have added many things to the dough. Fresh rosemary, oregano, garlic and marjoram is very good. If adding dried tomatoes or fruits reconstitute or it will take moisture from your bread. If I am making jalapeno cheese bread I add cheese in chunks because grated gets lost in the dough

This was weird! After leaving overnight - probably about 20 hours - it hadn't risen and was very runny - almost like a Yorkshire pudding batter, we thought all was lost. Then we tried to do the tea towel thing, but it was too runny, so just to see what may happen, we decided to pour it into our Le Creusit (after greasing w/ olive oil) and going for it. OK, it was a bit dense, but the crust is to die for and it is a good bread. Then we realised that instant yeast wasn't the same as regular dried, after reading the other reviews, so next time will go on their tips and add more dried yeast and a bit less water and I think it will be a total winner. But I'm already giving 5 stars (which is something I rarely do) as the transition from what looked to be a total disaster to a good loaf of bread was incredible. It completely doesn't make any logical sense, even for a non-baker like me, but it works, Go For It!

WOW!! I made a double batch and used 2 c. all purpose flour, 2 c. bread flour and 2 c. wheat flour. I let it rise almost 24 hours. I didn't wrap it in a towel. I put it in a big bowl with a lid and after about 22 hours I used a spoon to dip in between the bowl edge and bread and pull the bread up and over itself. I went all around the bowl like that and then sprinkled corn meal on top of the dough. I put my turkey roasting pan with the lid and about 2 tbsp vege oil in the 425 oven and let it preheat. I then dumped the dough directly from the bowl to the hot pan and sprinkled corn meal over the dough and baked it 30 minutes covered at 425 then uncovered at 375 for another 40 minutes. This is amazing bread!! I can't stop eating it. The outside is chewy and crusty without being hard. The middle is moist and has lots of holes with good texture. Next time I'll push the dough to cover the entire bottom of the pan cause the bottom crust that was in the oil is the best! This is extremely easy and unmessy if you skip the towel step!! Thanks for sharing!!