No Fuss Chewy Chocolate Chip Cookies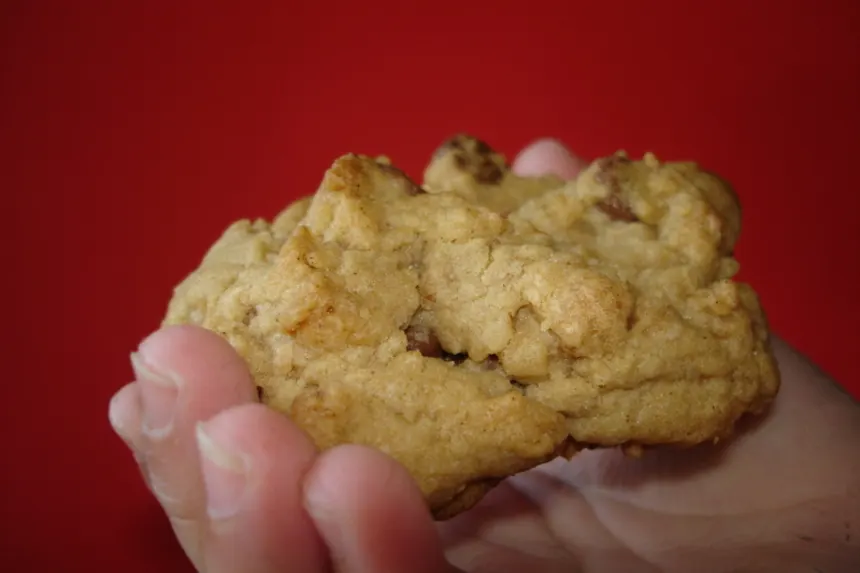 photo by Chef Mommie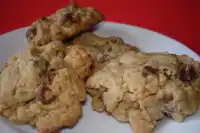 Ready In:

19mins

Ingredients:

7
directions
Preheat oven 350 degrees F.
Combine flour and baking soda. Set aside.
In a large bowl, combine meltled and cooled butter and brown sugar. Mix well.
Stir in egg and vanilla extract until well blended.
Add flour mixture and stir until just combined.
Stir in chocolate chips.
For each cookie, drop a heaping tablespoon of dough onto a cookie sheet, leaving about 2 1/2 inches between each. Bake at 350 F for 9-11 minutes or until edges harden and centers are still soft.
Questions & Replies

Got a question?
Share it with the community!
Reviews
I had a craving the other night for some chocolate chip cookies, but soon realized that i did not have any shortening. I looked on line for a recipe that did not require shortening, and came across this one. I mixed everything the way the recipe said to. I have been baking for a long time, so i know i measured accurately. This has to be the WORST recipe ever! I got a big bowl of crumbs. I guess I could have tweaked the recipe or added something to make it less dry, but after trying to even make a ball out of this dust, I tossed the whole bowl. I will never trust an online recipe again because of this post. Warning cookie lovers.....this is either a joke or someone has never baked a thing in their life. Sorry.....

 

I'm sorry to give this a 2 star rating but I had a few problems with the cookies and they didn't taste as I expected they would. The dough was very crumbly so I was not able to 'drop a heaping tablespoon of dough onto a cookie sheet.' I had to hand form each one. To me, using all brown sugar gave the cookie a caramel taste so it tasted more like a cookie with chocolate chips, rather than a chocolate chip cookie. It is a different taste than a toll house cookie or one of the Mrs. Fields chocolate chip cookie clones.

 

Don't trust the bad reviews on this one! If you look at the bad reviews they pretty much have one thing in common - "I started making the cookies but the dough looked too dry so I threw the instructions out the door and did my own thing and they turned out terrible!". Of course they didn't turn out you didn't follow the recipe! The top review said they didn't even bake the cookies they just tossed the dough because it didn't look right! Look people. This recipe isn't your traditional grease pancake recipe. Its amazing! But you have to follow the recipe exactly and the dough does turn out dry! BUT IT STILL WORKS! That being said I did add about 1/4 tsp of salt (although it's probably healthier without it) and when it says to mix the sugar and butter well, I mixed them until I had soft tips, added egg and vanilla and again mixed until I had soft tips. Make sure you don't over bake them (8 mins was perfect) if you do they might not be chewy. Seriously, These cookies turn out light and puffy and don't spread, which is what I like about them. If you like flatter cookies right when you pull them out of the over press them down with a spatula and they will still be amazing (though even then they are about 3/4 of an inch thick). In short, don't trust the bad reviews, trust the recipe and it will all be alright!

 

This is a fair basic chocolate chip cookie recipe but unfortunately somewhere in your measurements something is wrong as the dough is extremely dry and very crumbly. There is no way you can make a cookie out of the original measurements. To save the dough I added one egg white and then the dough was workable. They still bake up in mounds - no spreading at all and still are a bit crumbly/dry. I'm sorry this just did not work as well as expected. Made for Zaar Cookbook tag.

 
Tweaks
I just found this recipe through Google. I was looking for a recipe for choc. chip cookies that doesn't use shortening, as I didn't feel like getting out and going to the store right now!! I tweaked it a little, by using 1/2 c. butter and 1/3 c. of vegetable oil instead of 3/4 c. butter. As I was stirring everything together, the mixture got a little dry, so I added a little milk. The dough is chilling in the fridge right now. Hopefully they turn out good!