Nick's Pressure Cooker "bowl of Red" - Traditional Texas Chili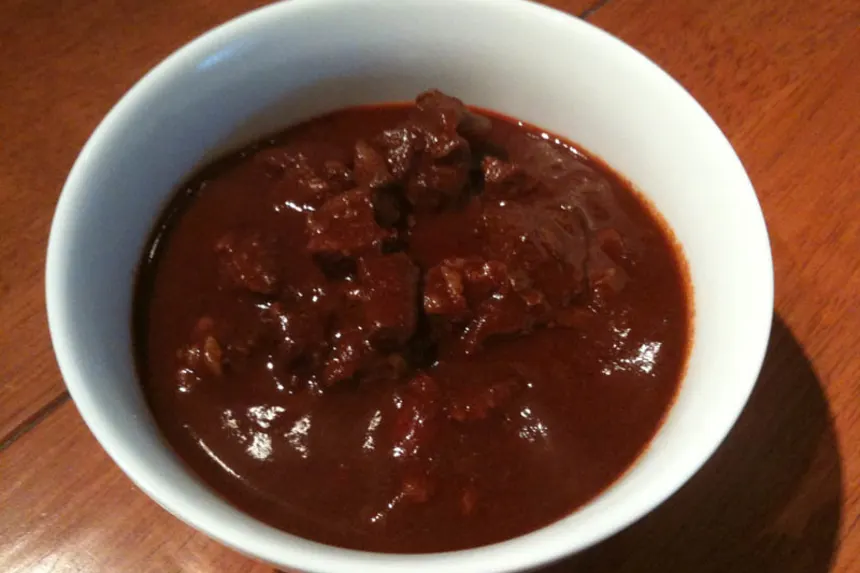 photo by agentseven

Ready In:

1hr 10mins

Ingredients:

19
directions
Steps:

Break off stems of the chiles and remove the seeds.
Place chiles in pressure cooker.
Add beef stock, chicken stock and enough water to cover.
Cover the cooker securely, place the weight on the port and pressure cook for 10 minutes.
While this is cooking, dice your meat and measure out your spices.
Release pressure by running under cold tap water until safe to open cooker. After the pressure has been released, put the chiles into a blender with a small amount of the liquid and puree to make a smooth, thin paste. Reserve the remaining liquid.
Add shortening to pressure cooker pan and brown meat.
Sprinkle the flour over the meat and stir. The meat will release some moisture during browning and the flour will absorb the oil and help to thicken the juice.
Stir in the chile puree.
Add enough of the reserved liquid so that the meat is covered to a depth of about 2 inches. Reserve any remaining liquid to use if you want to thin down the chili after it is cooked.
Add the tomato sauce, paprika, onion powder, garlic powder, chili powder, black pepper, white pepper, cayenne, oregano, and cumin.
Bring mixture to a boil and cover the pressure cooker.
Cover and pressure cook for 30 minutes.
Release the pressure, taste, adjust seasoning and add the masa harina (this will give it a slight tamale flavor and will also thicken the chile).
Return to a boil. Serve hot over cornbread, on chili dogs, omelets, hamburgers, fries, or chips.
The pressure cooker will meld the flavors and tenderize the meat. Refrigerate any remaining servings.
Questions & Replies

Got a question?
Share it with the community!
Reviews
This is as advertised - a superior example of Texas Red chili. If you're not the spicy type, this won't be for you, but if you are, man oh man, this is heaven. It's incredibly complex, deeply spicy and 100% delicious. I was confused about what the author meant by "spicy tomato sauce" - no other description is given and there is no such thing at my grocery store, so I just used regular tomato sauce. You'll need some salt at the very end, and maybe a bit more broth than is called for, but this is a definite keeper. Thanks Nick!

 

Dude! This is an EXCELLENT recipe! I had to make chili for a chili cook off at my brother-law's Super Bowl party and I am so glad that I stumbled across this recipe. Being a Native Texan, I am very particular about what I condsider to be REAL Chili as apposed to the other 99%. I got a pressure cooker last year so this was a no brainer. It takes some time to cook the Chili base down and you really should try to get all of the correct ingredients and not skimp. I won 3rd place and everyone said I probably would have won 1st if we hadn't been 45 minutes late. Kudos! Very savory and authentic.