New Zealand Rack of Lamb With Sweet Potato Mash and Three Bean R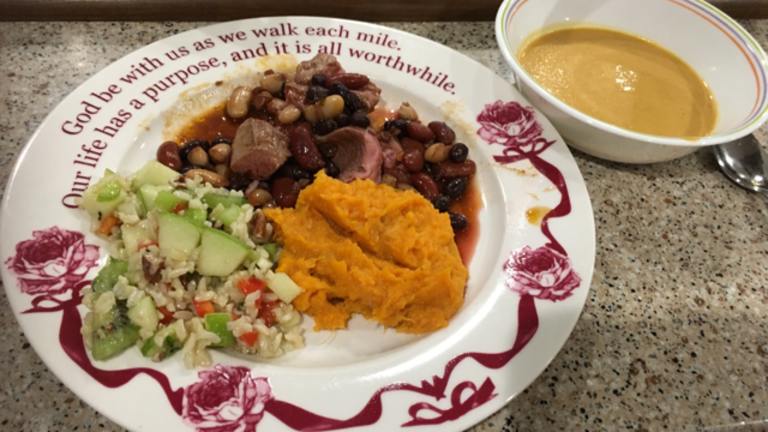 Found this Robert Irvine recipe on Food Network as seen on Dinner: Impossible. Posting for ZWT.
Ready In:

2hrs

Serves:

Units:
directions
Preheat oven to 350 degrees F.
Drain and rinse all liquid off beans. Combine beans in a bowl and set aside. Begin cooking bacon in a saute pan. Begin roasting yams in preheated oven until soft, and remove to let cool enough to handle.
Heat olive oil in another large saute pan for the lamb. Season the rack of lamb with salt and pepper. Place lamb into hot pan and sear meat all around.
Remove bacon to drain on paper toweling. In same pan lightly saute onion and garlic in bacon fat until translucent. Add red wine and reduce by half.
Place the lamb in a roasting pan and roast in the oven until done to your liking, about 15 to 20 minutes for medium rare, an internal temperature of 125 degrees F (this means that because of the 5 to 8 minutes of carryover cooking while it rests, you pull it out at 120 degrees F so it will end up at 125 degrees F for medium rare).
When yams are cool enough to handle, peel off skin and add butter and cream and mash. Season with salt and pepper, as needed.
Remove the lamb to a utility platter and let rest before slicing.
Add demi-glace and tomato paste to the pan with the onion, garlic, and bacon fat, then incorporate all beans with mixture. Lower heat and simmer. Add rosemary and chives. Season with salt and pepper, to taste.
Place sweet potatoes in the middle of a serving platter. Surround potatoes with bean ragout. Slice rack of lamb in between bones and lay over potatoes. Spoon demi-glace sauce over and serve.
Submit a Recipe Correction
RECIPE MADE WITH LOVE BY
"Found this Robert Irvine recipe on Food Network as seen on Dinner: Impossible. Posting for ZWT."
A divine meal, a "proposal" meal! The demi-glace sauce was very good, and DH devoured the sweet potatoes and spooned up lots of beans. I did not overcook the rack of lamb, so that was delicious, of course. I made half the recipe for the rack of lamb and the sweet potatoes, and used all the beans (could only find 16-oz cans). I made the full recipe for the sauce -- it is so annoying to have too little sauce, and my demi-glace sauce came in a 11.5-oz. carton. We began ZWT8 Australia/NZ with Recipe #464247, for which we bought a leg of lamb and ground it ourselves for a net price of USD$7.00/lb, and loved our patties. For today's recipe, the purchase price was $12.00/pound, but net of fat and bone, the little pieces of gold were about USD$45-$50/lb. This dish is all about presentation. It is smart to serve with mashed sweet potatoes and a bean medley, because this is not the time to overindulge on the meat portion (unless you have money to burn). Note that the rack of lamb includes the "filet mignon" part of a lamb. This recipe keeps every calorie it can: lots of butter in the mashed potatoes, and all the bacon fat from 1/4 pound of bacon in the sauce. My reaction was to have a very modest amount of mashed potatoes and sauce, but DH couldn't get enough. BTW, I microwaved my sweet potatoes (4 minutes plus 2 minutes more for each additional sweet potato) because I didn't want to tie up the oven. Ended the meal with a palate cleanser, Recipe#435991. Thank you for sharing this recipe! Made for The Wild Bunch for ZWT8's trip to Australia/NZ.