Crispy Naan Bread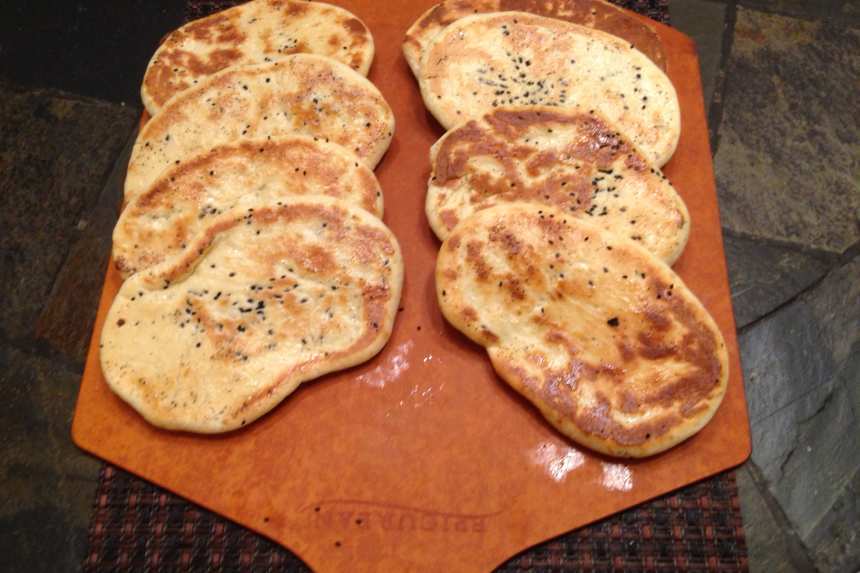 photo by Hermswok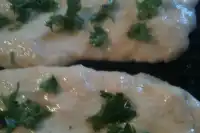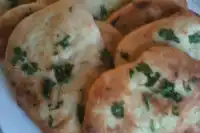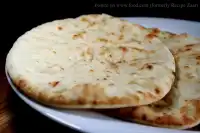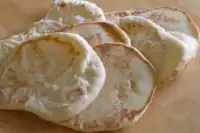 Ready In:

2hrs 15mins

Ingredients:

9

Serves:

2-3
directions
Sift the flour, salt, baking powder, yeast and sugar in a bowl and pour in the hand-hot milk, oil, yoghurt and the beaten egg and mix it all together to form a ball of dough.
Place the dough on to a clean surface and knead it for 10 minutes or more, until it is smooth and satiny.
Pour about 1/4 tsp oil into a large bowl and roll the ball of dough in it.
Cover the bowl with a piece of cling film and set aside in a warm, draught-free place for an hour or until the dough has doubled in size.
Pre-heat your oven to the highest temperature. Put the heaviest baking tray to heat in the oven.
Punch down the dough and knead it again and divide into 9 equal balls.
While working on 1 ball, keep the remaining balls covered. Flatten the ball using your hands (or rolling pin) into a tear-shaped naan, about 15 cm in length and about 12 cm at its widest. Brush the top with melted butter.
Remove the hot baking tray from the oven, grease it well with butter or oil and place the naan on to it (I cook 4 naans in one batch).
Put it into the oven on the top rack for 2-3 minutes. It should puff up and brown slightly (do keep an eye on it after 2 mins).
Once puffed up and browned on one side, flip the naan and back into the oven again for another 1-2 minutes till the top of naan goes golden brown (keep an eye after 1 minute).
Wrap the naans in a clean tea towel and serve hot.
Questions & Replies

Got a question?
Share it with the community!
Reviews
Deserves 10 stars! Easy, fabulous, versatile. I sprinkled salt on top before baking them and it was great. Brought up the idea that you could add garlic, italian seasoning, grill seasoning, all kinds of things to go with all kinds of cuisines. I will be making this bread again and again, my husband went crazy over it:) Thanks so much!

 

Great Naan, and I can't believe I made it myself! I started with 3 cups of flour (thanks swiz58 for the tip!), and added more as I needed. The dough is stickier/milkier than I'm used to but it was cool to learn about a new kind of bread. I did skip brushing them with butter because I had a loud and crazy toddler in the wings, but I will definitely ad the butter next time as it makes a naan truly a naan! Thanks for the great recipe!

 
RECIPE SUBMITTED BY
<p style=margin: 0.0px 0.0px 0.0px 0.0px; font: 12.0px Helvetica;><span style=font-family: Arial, Helvetica, sans-serif; font-size: 13px;><img src=file:///Users/aishayusaf/Library/Caches/TemporaryItems/moz-screenshot.png alt= /><img src=http://i166.photobucket.com/albums/u82/aaliyahsmum_album/bill3.jpg alt= width=402 height=507 /></span></p> <p><img src=http://i166.photobucket.com/albums/u82/aaliyahsmum_album/Untitled-11.jpg alt= /><br />Today, give a stranger one of your smiles. <br />It might be the only sunshine he sees all day. <br />- H. Jackson Brown, Jr. <img src=http://i166.photobucket.com/albums/u82/aaliyahsmum_album/images.jpg alt= /> <br /> <img src=http://i166.photobucket.com/albums/u82/aaliyahsmum_album/Untitled-11.jpg alt= /> <br /> <br />For a hobby, I'm into photography. I thoroughly enjoy baking, but have to admit, I have two left hands when it comes to decorating cakes! I also do a bit of knitting (beginner's stage) and reading. Stephen King and Dean Koontz are my all time favourite authors, and, of course, LOVE Calvin and Hobbes (does it show??!!) <br /> <br /> <img src=http://i166.photobucket.com/albums/u82/aaliyahsmum_album/chch-atheist.gif alt= /> <br /> <br /> <img src=http://i166.photobucket.com/albums/u82/aaliyahsmum_album/Untitled-1-1.jpg alt= /></p> <p>I search for recipes that carry ingredients I can get hold of locally (or I have stocked in my cupboard!). Recipes I have posted are ALL tried and tested and have been enjoyed by all! So, I hope you and your family will enjoy as well! <br /> <br />My rating system is fairly simple. Since I only pick recipes that I know my family will enjoy (looking at the list of ingredients), it's either 5 or 4 stars, I do not go any lower. I may sometimes do a bit of tweaking but that is only due to my family's tastes. If I do have problems with a recipe or if it didn't turn out the way it should have done, then I just leave a comment without any rating. <br /> <br /><img src=http://i166.photobucket.com/albums/u82/aaliyahsmum_album/Untitled-12.jpg alt= /></p>
View Full Profile