My Sweet Manicotti in Meat Sauce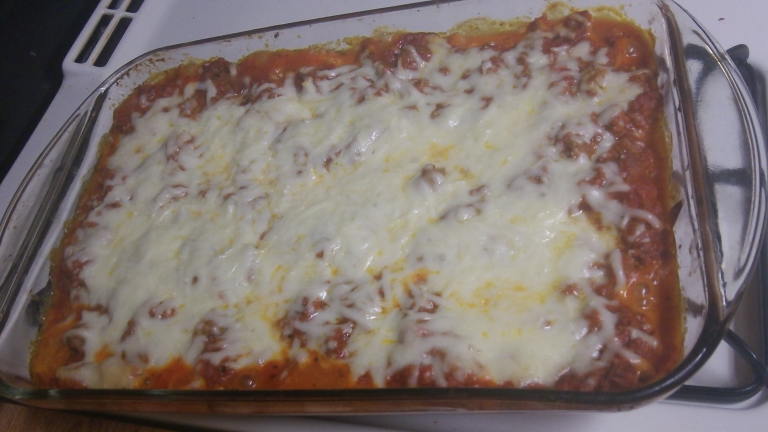 This is a GREAT dish. My family loves it and its a little bit of a twist on your traditional manicotti!
Ready In:

1hr 25mins

Serves:

Yields:

Units:
directions
Sauce: Brown the meat in a skillet with your italian seasonings and garlic salt, drain when done to get fat off.
Heat sausage up so that you can cut it into little peices, it will cook the rest of the way when in the oven.
Combine your pasta sauce, meat, and sausage and mix together over low heat.
While making your filling start boiling your manicotti noodles. Follow directions on box to go about boiling the noodles.
Filling: Mix ricotta, 1 and 1/2 cups mozarella (the rest will go on top), some of the parmesean (save enough to sprnkle on top), sugar, and chopped parsley in a large mixing bowl. Add in some dried basil. (about 3 shakes).
Take a gallon size ziplock baggy and put the filling inside. Cut a hole in bottom corner so you can squeeze filling out.
Layer some of your pasta sauce across the bottom of the pan so the noodles do not stick to pan and because theres no such thing as too much sauce!
Take your noodles and your ziplock and fill noodles full of filling. When all noodles are filled and aligned in your casserole pan pour remaining sauce on top of manicotti.
Sprinkle with your leftover mozzarella and parmesean.
Cover with foil and bake in oven at 350 for 30 minutes, then take foil off and bake an addition 10 minutes.
Take your manicotti noodles and fill the.
Submit a Recipe Correction
sweetina, I wish that you could have known my cooking skills prior to reading your recipe because you would quickly realize that you are an amazing teacher in addition to a skilled cook. To all of you guys out there that are looking to impress, provided your girlfriend is not a vegetarian, take a page out of sweetina's cookbook. This one will satisfy YOU as much as it will impress her. I should mention that I had a couple variations that I would like to share. I am a novice and was not able to match everything up exactly as written in the recipe. Therefore, the recipe calls for 15 maple sausages - I was hesitant to go for the breakfast - maple syrup sausages, so I actually grabbed one of those Jimmy Dean thick tubes of maple sausage and just heated it the same as I did the ground meat. I mistakenly bought only 2 cups of Mozzarella, however, was able to compensate with more Parmesan than stated. Sweettina, the only question I have for your recipe is where the "2 eggs" would come in? I did not see them in the instructions, so I just left them out. However, I still managed to have a delicious meal and leftovers for the week (unfortunately I have set the bar way too high as it relates to my girlfriend's perception of my cooking abilities). Sincerely, thank you!