My Mom's Homemade Bread & Bun Recipe (No Bread Maker)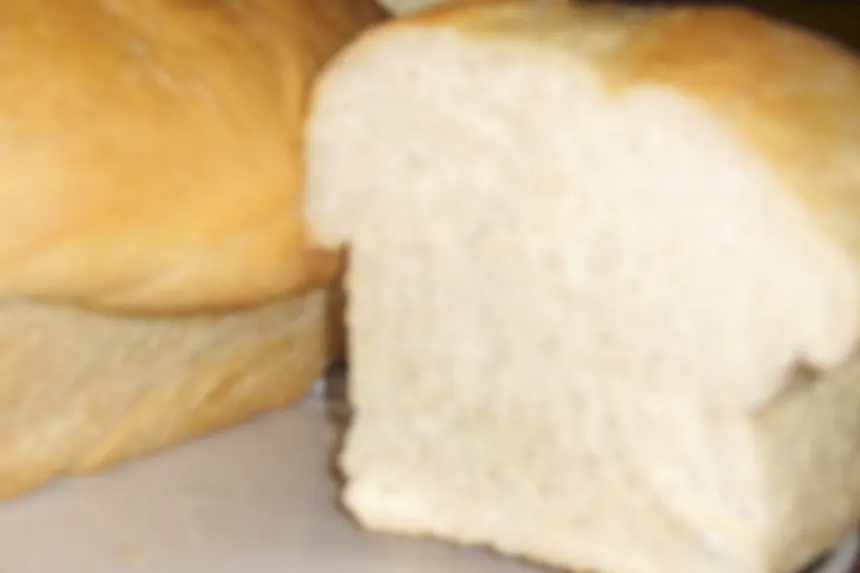 photo by Chabear01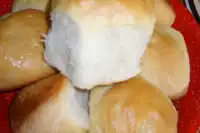 Ready In:

4hrs 2mins

Ingredients:

8

Serves:

6
directions
In small bowl place the following ingredients:

1 cup warm water.
yeast and 2 tbsp white sugar (DO NOT STIR).
let stand for 10 minutes.
In large mixing bowl do the following steps.
Place 8 cups warm water in bowl.
Place remaining 2 tbsp sugar in water.
Place 4 tbsp margarine or veg. oil in water.
Place salt in water.
Add 6 cups flour one at a time and mix as you are adding. Making sure to remove any lumps. Should be smooth before adding next cup.
Pour Yeast mixture in other bowl that you set aside into mixture.
Mix until smooth.
Continue to add flour mixing thoroughly until dough is sticky and forms a ball (note you will have to use your hands to mix it after its too tough to mix with a spoon. It should take only about a maximum of 17 cups of flour.
Take dough out of bowl and place on a flat clean dry surface which was sprinkled with about 1/2 cup of flour. Knead dough with hands for about 15 minutes or so. Dough should be soft and feel light to to touch. TIP: To prevent the dough from sticking to your hands a lot rub vegetable oil on them or take a piece of margarine and rub it into your hands then continue to knead dough. DO NOT ADD MORE FLOUR! It will make your bread dough TOO HEAVY! if you do.
Separate dough in half. Place each half in a bowl. Place a light towel over it and let the dough rise for 1 hour or until doubled.
FOR BUNS: Take about the size of a baseball of dough in your hand roll into a ball and place it on an ungreased cookie sheet. Let rise for another 1/2 hour or until buns are double in size. For buns to rise tall place them close together almost touching. Bake at 375°F.
FOR LOAVES: Take a large amount of dough and roll into a roll dough should not take up more than half of the loaf pan. Make sure dough roll is even or you will end up with a lopsided loaf or narrow loaf. Let rise for 1 to 2 hours. Or until Dough is nicely formed above the rim of the loaf pan. Bake at 350°F for 45 minutes or until golden brown. To test to see if done knock on top of the loaf. If it sounds hollow it is completed baking. It will be a dark golden brown color when finished.
Take Loaves out of oven and take them IMMEDIATELY OUT OF THE PANS upside down. (If you leave them till cooled in pans what happens is the bottom crust gets soggy from the condensation). Brush melted butter over top of loaves to prevent from drying out.
Yield: 4 loaves 2 dozen buns.
Depends on size.
TIP: This bread dough is great for anything such as pizza crusts, cinnamon buns, take a bit and roll it out thin and place it in a frying pan with a little oil and fry it and serve with jam or peanut butter.
Reviews
I just made this recipe and I am thrilled with the results! We're a small family, so I made a half batch. The bread comes out so soft, slightly chewy and the bottom has a great light and crispy crust. PERFECT. I made them into "sub rolls" and seasoned the tops with an herb, salt, garlic, pepper and cheese mixture. We ended up with 15 single sized rolls which is more than enough! This recipe is easy enough to make, so I wouldn't mind making a fresh batch often. One thing I would change would be to add another 1/2-1 tsp of salt. But other than that, these are great!

 

I was looking for a different recipe for bread than I usually make and reading this one I thought I would try as it had such good directions. I only used 1/2 a recipe as it is only 2 of us.. I have never seen dough go over sides of the bowl like this one did. I did as the directions said and did not add more flour. My dough was very sticky and as it rose it flowed over sides of the bowl not up high. Even in the bread pan it flowed over sided and did not stand up tall. I put it in a cassarole dish now and it is baking. Boy I am not sure what I did wrong but it was very dense and had a very strong yeast taste almost like a sour dough. I could have never made it into rolls it would have flowed all over the pan. I baked one of the two loafs in a large casarole dish, it was better than the one in a loaf pan. sorry could not get it to work. Don't know what I did wrong

 

Here's the thing(s): The recipe is gigantic. 15-17 cups of flour is an entire bag, leaving none left to flour the surface on which you're kneading the loaf. Additionally, I followed the recipe exactly and 17 cups was not enough to make dough. At 17 cups I had a bowl of glue. I've made bread before and there's a point in the recipe where the dough should stick to your mixing device and pull off the sides. That didn't happen here. There was no flavor either, a little honey for example would go a long way. I wish I would have read the other reviews before I tackled this recipe. This is better suited for a bakery than a home kitchen.