My Big Fat Greek Burgers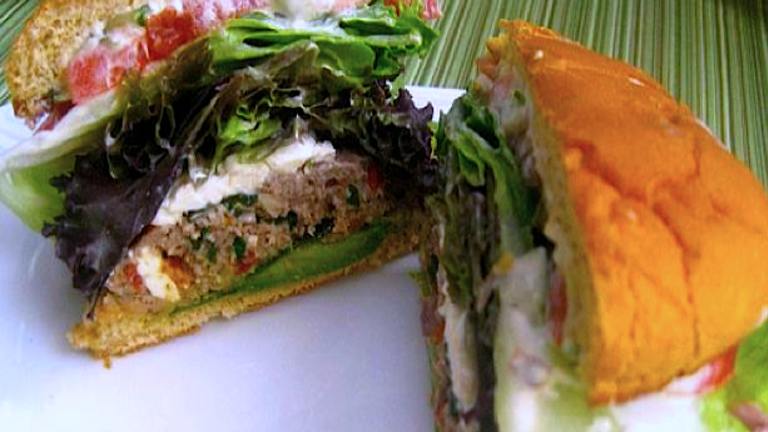 My recipe for Greek-style burgers.
Ready In:

45mins

Serves:

Units:
directions
NOTE: I USE 50% GROUND BEEF WITH 50% GROUND LAMB, WHICH IS A BALANCED MELDING OF FLAVORS.
TRADITIONAL PREPARATION METHOD: INTO a large bowl add the SEASONED GROUND MEAT ingredients without mixing; IN another small bowl beat one egg with 1 tablespoon flour; ADD egg/flour mixture to ground meat ingredients in large bowl; WHISK 1/4 cup milk and 1/8 cup ouzo or Pernod (or 1 teaspoon anise extract) in a small bowl and add 1/2 cup bread crumbs; ALLOW mixture to absorb; ADD to meat mixture; MIX well; CHILL meatball mixture until very cold (40 degrees F).
QUICK FOOD PROCESSOR METHOD: INTO large food processor add 1/4 cup milk, 1 egg, 1 tablespoon flour, 1/8 cup ouzo (or 1 teaspoon anise extract) and 1/2 cup bread crumbs; PROCESS; ADD the MAIN MEATBALL INGREDIENTS except for ground lamb and feta cheese; PROCESS; ADD ground lamb; PROCESS (Feta cheese may be added to mixture now and processed or folded into after); CHILL meatball mixture until very cold (40 degrees F).
SHAPE meat mixture into six patties.
PLACE patties onto a baking sheet (do not use a broiler pan with grill since patties will stick to the grill and/or and be difficult to remove after broiling).
PREHEAT oven to BROIL.
BROIL the patties 2-3 minutes, TURN patties using a metal spatula (NOTE: YOU MAY ADD CRUMBLED FETA CHEESE OVER BURGERS NOW IF DESIRED); BROIL 2 minutes longer or until desired doneness is reached (patties will continue to cook after removing from oven); REMOVE pan from oven; COVER patties with foil.
MAKE CUCUMBER-DILL SAUCE: Combine Cucumber-Dill Yogurt Sauce recipe ingredients in a small bowl (1 cup plain yogurt, 1/2 cup finely diced cucumbers, 2 tablespoons chopped fresh dill or 1 1/2 teapoons dried dill, 3/4 teaspoon chopped fresh mint or 1/4 teaspoon dried mint, 1/2 teaspoon finely minced onions, 1/4 teaspoon finely grated fresh lemon zest); CHILL before serving.
WARM or toast buns if desired (For toasted steamed buns if desired, melt butter a large skillet over medium heat; PLACE place halved buns cut-side down; REDUCE heat and cover until buns are browned on bottom and heated through); SPREAD the CUCUMBER-DILL YOGURT SAUCE; ASSEMBLE burgers as desired with above FIXINGS.
SERVE and say, "OPA"!
Submit a Recipe Correction
RECIPE MADE WITH LOVE BY
"My recipe for Greek-style burgers."