mushroom pate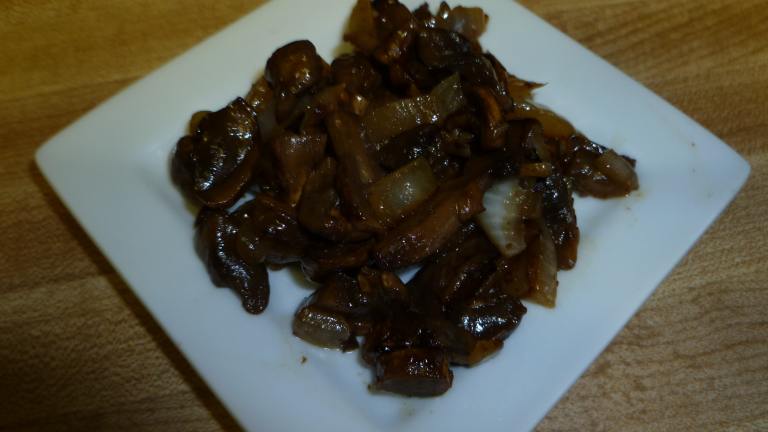 this is great on crackers, or stuffed in mushrooms. also nice on cucumber rounds
Ready In:

1hr

Yields:

Units:
Nutrition Information
directions
in skillet melt butter, add onions, saute until soft.
add remaining ingredients, cook 30 minutes, over low heat or until mixture reaches the consistancy of a spread.
chill.
Submit a Recipe Correction
RECIPE MADE WITH LOVE BY
"this is great on crackers, or stuffed in mushrooms. also nice on cucumber rounds"
Join The Conversation
I love the flavor. I used a sweetish white wine as I ha no Madeira. At first I thought it was far too much liquid. Then I was surprised how quickly the liquid cooked off. I only cooked it 15 minutes after adding everything, so it did not get soft like a pate. You can see it is still chunky in my picture. Then I added sour ccream to it and used it as a chip dip.

I made this pate last night after buying a whole bunch of mushrooms at our local market. I searched the net for a mushroom pate I could make which would be quick and not too fussy. At last I found it on this site and became a member at the same time. What a find! It was so easy to make. I added a fair few turns of ground black pepper because I like to have that well seasoned taste in my pate. I used a pale dry sherry instead of the madeira wine only because I didn't have the latter on hand. I was amazed at how tasty this was. The lemon juice and worcester sauce made for a wonderful tangy combination without taking anything away from the mushroom flavour. For its great taste and simplicity to make I'll give this one five stars. I will definitely be taking it to my daughter's for our Boxing day evening buffet. Thanks for this one Chia.

We really enjoyed this pate. I made it for a Father's Day cookout, and the hostess had bought a mushroom pate...guess which went, and which didn't?!? This is a simple recipe to make, and the flavors meld together well, so that the mushroom flavor really shines through. I used a food processor to do all the chopping for me, and then just let it simmer for about 40 minutes. We had it on Carr's crackers, and it was just excellent. Would be great as a sandwich spread (top with brie, roasted red peppers, and smoked chicken, is what I'm thinking!) This recipe would lend itself well to a lot of tweaking, too - maybe put in a bit of thyme, or herbes de provence for a slightly different twist. I have a mushroom pate that I make a lot, but it will have to share space and time with this one now - excellent recipe, and one we really enjoyed!

I made this for a food day at work. I used a mixture of button mushrooms, baby bellas, and portabellas. It was very easy to prepare with a food processor. It is also great to make ahead. The only change I made to the recipe was to use East India Solera Sherry instead of the Madeira Wine. I always have Sherry and Port, but not Madeira wine. Now for the tasting part... this recipe had really mixed reactions. Mushroom haters wouldn't go near it ( I guess that is to be expected), most mushroom lovers tried it but ate only a little, and one lady devoured the pate. She was from Louisiana and loved both mushrooms and Worcestershire sauce. The Worcestershire sauce has a predominant flavor in this pate. If you have adventurous eaters who have a more sophisticated palate they will probably like this pate. I also think it would be a good pate if you have a vegetarian guest. I am going to give this 3 stars because it is a good make ahead, and easy to do, recipe for a sophisticated buffet or vegetarian dinner guests.