Morton Thompson Turkey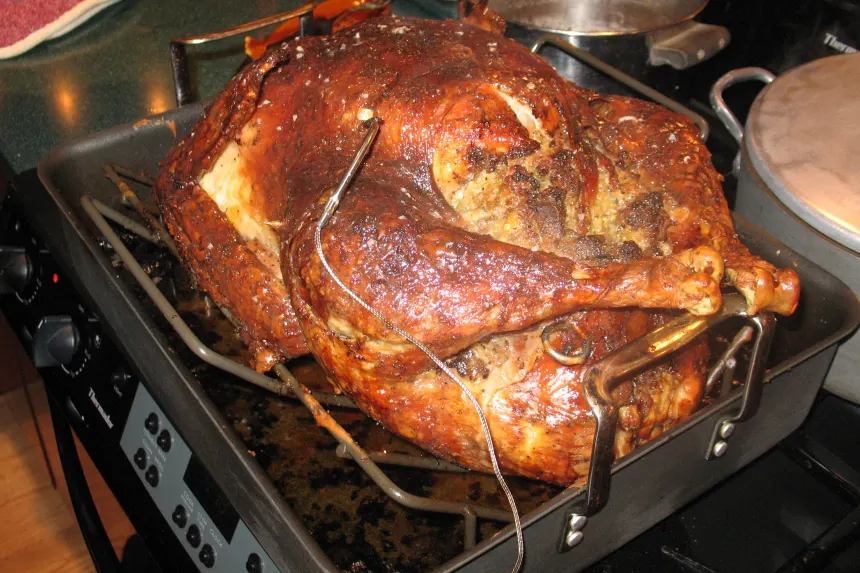 photo by Chicagoland Chef du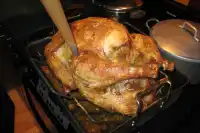 Ready In:

5hrs 30mins

Ingredients:

45
ingredients
16 -21

lbs whole turkey, fresh, rinsed and patted dry

2 -3

tablespoons canola oil

BASTING LIQUID

turkey giblets, neck, liver and heart

4 -5

cups water

1

bay leaf

1

teaspoon paprika
1⁄2 teaspoon ground coriander

1

garlic clove, crushed

1

teaspoon salt

1

cup apple cider, more for replenishing for basting as it simmers down

PREP Bowl

1

apple, peeled, cored and diced

1

orange, peeled and diced

20

ounces crushed pineapple, unsweetened and drained
1⁄2 lemon, zest of

10

ounces water chestnuts, drained, chopped

3

tablespoons preserved gingerroot, chopped

PREP Bowl

2

teaspoons dry mustard, Coleman's

2

teaspoons caraway seeds

3

teaspoons celery seeds

2

teaspoons poppy seeds, I omit
2 1⁄2 teaspoons oregano leaves

1

bay leaf, crushed

1

teaspoon black pepper
1⁄2 teaspoon mace

4

tablespoons parsley, minced

4

garlic cloves, crushed, minced
1⁄2 teaspoon turmeric

4

large onions, chopped

6

celery ribs, chopped
1⁄2 teaspoon marjoram leaves, minced
1⁄2 teaspoon summer savory

1

tablespoon poultry seasoning

1

teaspoon salt

PREP Bowl

1 1⁄2

lbs fresh breadcrumbs, ie. unseasoned bread cubes, enough for 16 # turkey

3⁄4

lb ground veal, COOKED

1⁄4 lb ground pork, COOKED
1⁄4 lb butter

fat, rendered from turkey

COATING PASTE

2

egg yolks

1⁄2 teaspoon salt

1

teaspoon dried mustard, Coleman's

1

garlic clove, minced

1

teaspoon onion juice
directions
Preheat oven to 500°F.
Chop fine the reserved turkey fat.
In a small saucepan set over moderate heat, combine the reserved fat with 1/2 cup of the water; bring to a boil and simmer until all the water has evaporated and only clear fat and small pieces of solid remain.
Reserve fat for stuffing.
Season the inside of the turkey with salt and pepper.
Rub the skin all over with the oil and season with salt and pepper.
Prepare the giblets for the basting liquid. Bring to a boil and simmer the entire time you for basting. Add more water as needed.
Meat Mixture: melt butter & brown veal, pork; cool and add to bread crumbs, combine > (bowl #3).

Make the DRESSING:

Prep Bowl of Fruits : Combine all ingredients noted above for dressing.
Prep Bowl of Seasonings : Combine all ingredients noted above.
Prep Bowl of Breadcrumbs and COOKED meat mixture.
In a VERY large bowl combine ingredients from all three bowls listed above.
Mix it well. (As Morten said, "Mix it with your hands. Mix it until your forearms and wrists ache. Then mix it some more. Now toss it enough so that it isn't any longer a doughy mass.").
Loosely stuff the turkey.
Stuff the neck cavity and sew closed the openings.
Tie legs together.
In a separate bowl: Make the PASTE with ingredients listed above. Combine all ingredients for paste in a bowl, adding enough flour to form a thick paste.
In a large open roasting pan with a rack: Arrange turkey breast side down on a rack sitting in a shallow roasting pan.
NOTE: Continually add water to the bottom of roasting pan so drips do not smoke and set off your smoke alarm! I don't think Morton had to worry about that, but we sure have have to!
Preheat oven to 500°.
Put the turkey in the oven and roast it for 15 minutes, or until browned.
Turn it breast side up and roast for and additional 15 minutes. Remove from oven.
Now that it's nice and brown, using a pastry or paint brush coat the turkey completely with the paste -- in every nook and cranny.
Reduce oven temperature to 325°F.
To the simmering basting liquid, continue to add cider and water and reduce until all cider has been added. Remove from heat but keep warm on top of stove. *This is your basting liquid.
Roast the bird, basting it frequently, (the original recipe says every 15 minutes) for 4 1/2 to 5 hours, or until an instant meat thermometer reads 180 to 185 in the thigh; 170 in the breast and 160 in the stuffing.
Let rest at least 15 to 20 minutes, before peeling away crust/skin.
Make gravy as usual.
Remove the dressing.
Carve as usual & enjoy!
Questions & Replies

Got a question?
Share it with the community!
RECIPE SUBMITTED BY
Hi there! Originally CHICAGOLAND CHEF DU JOUR, I like to think of myself as a fantastic home cook with a flair for the gourmet. I have gotten & shared many recipes since I became a member in 2007. Although I have not been active in a few years, I still return to look for recipes from some of my fave chefs. Thanks to all you have helped me over the years and thanks a bunch to any and all reviews.
View Full Profile