Moroccan Olive Flatbread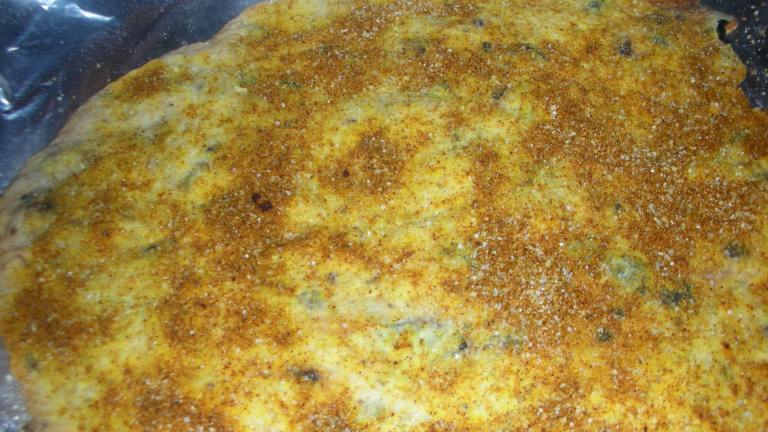 Flavorful and crisp, a wonderful accompaniment to many foods. Adapted from Partyline with the Hearty Boys.
directions
Make the spice mixture by mixing all of the seasonings in a small bowl. Set aside.
Place the flour, sugar, salt, pepper and olives in a large mixing bowl and stir to combine. Add the olive oil and stir well with a fork. Add the water and continue to stir until a ball forms. Sprinkle a work surface generously with flour and turn the dough out onto the surface. Knead until the dough is velvety smooth, about 2 minutes. Wrap the dough in plastic wrap and refrigerate for at least 1 hour.
Preheat the oven to 400°F.
Take the dough from the refrigerator and flatten into a disk on a floured surface. Using a rolling pin, roll the dough out as thinly as possible into an oval. Roll the dough onto the pin and transfer it to a baking sheet that has been brushed with olive oil.
Brush the dough with olive oil and sprinkle with the spice mixture. Place the pan in the oven until the bread is crisp and deep golden brown, about 20 minutes. Remove from the oven, let cool, and break into pieces. The flatbread can be made up to 2 days in advance, wrapped in plastic wrap, and kept in a dry place. Enjoy!
Note: This goes good with Black Olive Mayonnaise!
Submit a Recipe Correction
RECIPE MADE WITH LOVE BY
"Flavorful and crisp, a wonderful accompaniment to many foods. Adapted from Partyline with the Hearty Boys."
I made this and took the advice of the previous reviews. I basically doubled the flour and the olives, because of this I kept the salt ratio the same. To make the olive flavor pop I substituted the water for sauvignon blanc. Also I didn't want a cracker texture so I lowered the temperature to 375 and cooked it on a pizza stone for 20 minutes. The result was a very crunchy crust with a slightly chewy inside that was bursting with flavor. My boyfriend insists I add it to the recipe box for regular rotation. I do not have Facebook so no pics ??

This was a really interesting recipe that was fairly easy to put together. Unfortunately, my dough was really sticky, and I had to knead it in many handfuls of flour to get it to hold together. The original 1 cup of flour should probably just be increased. I refrigerated this for 2 hours, and then it was easy to work with. The texture of this is pretty interesting. The outer parts were very brittle and the inner parts were more pliable. I'm not sure which it should be, but I like the more pliable parts better. The salt could probably be reduced in the spice mixture, as the olives themselves were a little salty. Made by a Tasty Tester for ZWT9.