Moroccan Mushroom Couscous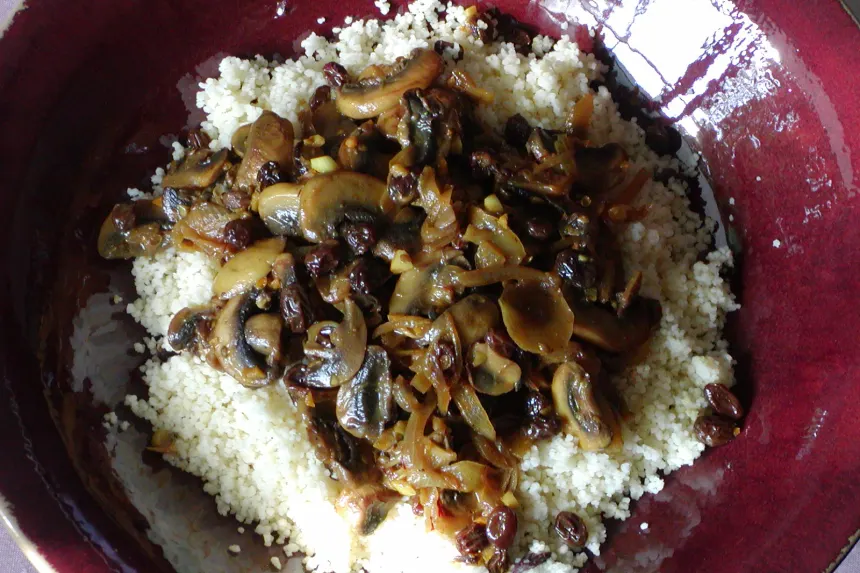 photo by Rita1652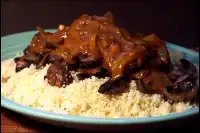 Ready In:

40mins

Ingredients:

15
directions
Heat 2 tablespoon oil add mushrooms seasoned with salt and pepper saute till tender.
Remove from pan and add 2 tablespoons oil, onions, garlic and spices cook for an other 5 minutes.
Add orange juice and zest simmering till reduced to 1 cup.
In a medium bowl Add 1 cup hot water to couscous and raisins season with salt and pepper remove let stand for 10 minutes.
For presentation plate the couscous on a large platter top with mushrooms and pour sauce on top. Just before serving toss together.
Questions & Replies

Got a question?
Share it with the community!
Reviews
This dish is a nice change from plain old couscous! At first, I plated it as you suggested, Rita, but my platter was too small. So I decided to toss it all together in a bowl to combine the sauce and mushrooms throughout all the couscous. I did find that I liked the flavor of this dish better after it sat for a bit, and the flavors combined.

 

Meh. Although the overall concept and flavors were good, I thought there were a couple of flaws that made it less than it could have been. I didn't enjoy it as much as some other Moroccan couscous recipes. We did not use saffron, and I'm glad, because there were so many spices and the orange flavor was so strong, that even saffron would have been drowned out a bit, and that is one expensive spice to drown out. Other than that, we did everything according to the instructions. I feel that this recipe has a couple of things that are not clear- for example, do we chop the garlic or put the clove in like so? What kind of pepper should we use- black pepper or red? I also think it would have been good to saute the onions and garlic before adding mushrooms. I usually do that and was wondering why not here- next time I will. I also thought twice about adding the sauce to the dish for serving because it seemed like it would make the couscous too gooey. But I followed the recipe, and unfortunately, to my taste it was too wet. Finally, I think that orange zest added in without the orange juice would have been better. The orange juice was just so strong.

 

My husband liked it but said he wanted chopped mushrooms instead, the kids cleaned their bowls. We will make this again and tweak it with the mushrooms and see how it turns out. It was a very easy dish and made our vegetarian night lots of fun b/c everyone got to add in their spice :) Thanks for posting.

 
Tweaks
I loved the spices and the orange in this dish. Saffron makes it taste luxurious. I loved the additon of crushed coriander seeds instead of ground coriander. I decided to simmer the mushrooms in the orange juice before adding it to the couscous. I had this as a warm main dish in the evening and cold as a salad the next day. It is lovely cold too. I also liked that the onion was sliced and not chopped. I enjoyed this couscous, the flavours are complex and well balanced and the leftovers are lovely eaten cold. That makes it a 5 star recipe in my view.