Mom & Dad Deviled Eggs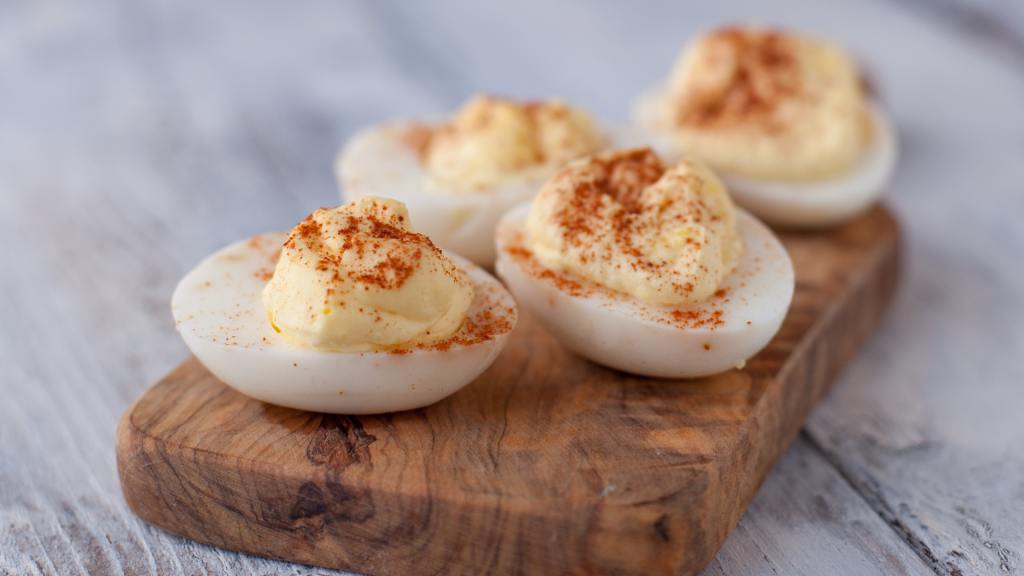 Ready In:

20mins

Ingredients:

3

Serves:

3
directions
Cut hard-boiled eggs in half length wise.
Gently scoop yolks out into a mixing bowl. Set aside egg whites.
Add whatever to yolks and mix thoroughly. (I use a hand mixer).
Place mixture in a piping bag and fill the egg whites where the yolk was removed.
Sprinkle cayenne pepper on top of egg yolk mixture. Enjoy!
Join The Conversation
ABSOLUTELY NONE of those are any good at suggestions as replacements in the sense of swapping!! ANY mayonnaisse including vegan plant-based replacements can be used (clue: they look & taste similar). Ketchup? You forgot to suggest gravy browning & Tartare sauce! It's completely different, too different to suggest. Salt instead of cayenne pepper? That again is a completely different thing, it's unhealthy & already in the Miracle Whip, plus sprinkling salt will leave you thirsty all night; there's so much to choose from – black pepper, white pepper, ground pink peppercorns, chilli powder, paprika, smoked paprika, cumin, coriander, ginger, garlic powder or why not just combine them & just buy one jar called 'curry powder'? You could also have suggested herbs. If you don't like eggs – use a potato. That isn't just a substitution-that is a completely different dish, if you mean jacket potato with the pulp mixed with miracle whip. I clicked on this as it reminded me of the first dish I made after entering high-school aged 11, a popular starter in restaurants in the 70s, called 'eggs mayonnaise', sprinkled with paprika & served on a bed of salad. The trend then disappeared in the UK into culinary obscurity. I thought the term 'devilled' would bring a suggestion of some sort of mixture to blend in with the eggs. I didn't find that this was a recipe. It was more of a suggestion for those considering classic eggs mayonnaise that they use Miracle Whip instead, like considering margarine instead of butter for jam on toast, you don't need a recipe for it. In any case, though I was prompted to make this as per some comments, I am unable to review it for various reasons. We don't have Miracle Whip in the UK & there is nothing similar as sweet salad dishes are not to British taste & the thought of adding sugar, definitely unhealthy, is not appealing. Another is that cayenne pepper is not something found in many cupboards & it is expensive to buy just to use for something like this, not for regular usage. However, curry powder is found in most & adventurous souls will have paprika & chilli powder. Just about every recipe here has so-called reviewers telling us what they did instead or how many things they changed, there are a few here too. I often change meat into a proprietary vegan 'meat' etc or use non-animal milk but if the spirit of a recipe, an unusual way of blending or cooking has been kept, I feel able to comment if I feel it will help the poster or readers. Perhaps you don't like at all, however, I feel that it is Cynthia D's comments you particularly disliked. Her review is the first 3 sentences so it is there. It is unfortunate though that she didn't word things differently from that point on.

 

Our family's taste is used to the non-sweet mayo-mustard, so this was just "OK". Most felt it was too sweet due to Miracle Whip. I had forgotten how much sugar is in it. WANT TO TRY A GOOD VERSION?? Ok, don't use a dozen eggs like I did, just in case it's not your taste. Make only a few or if you are already making them, use this version for a few-several out of your batch. Use Hellman's mayo-and yellow mustard as a starter base. Season with salt, a very small dash of pepper or as I use, white pepper, and small dash of garlic powder. Finally........wait.......CURRY! You can sprinkle it in or on the deviled eggs. Important---DON'T TELL anyone what the spice is until they try it! You don't want anyone's preconceived opinions to interfere with the taste. OMG! They are so scrumptious! People LOVE, LOVE, LOVE them. Almost every person could not guess what the spice was. Originally someone did this to me, and it worked because I thought I didn't like curry. Or maybe the curry just tastes different when mixed into the rich yolks and mayo. Either way, I don't care. I've had so many friends turn around and do this "guessing game" to their family and friends, as I did to them! This is A TON of fun! If you do it, come back and tell us what happened! Happy Thanksgiving! :-)