Moist Pumpkin Spice Bread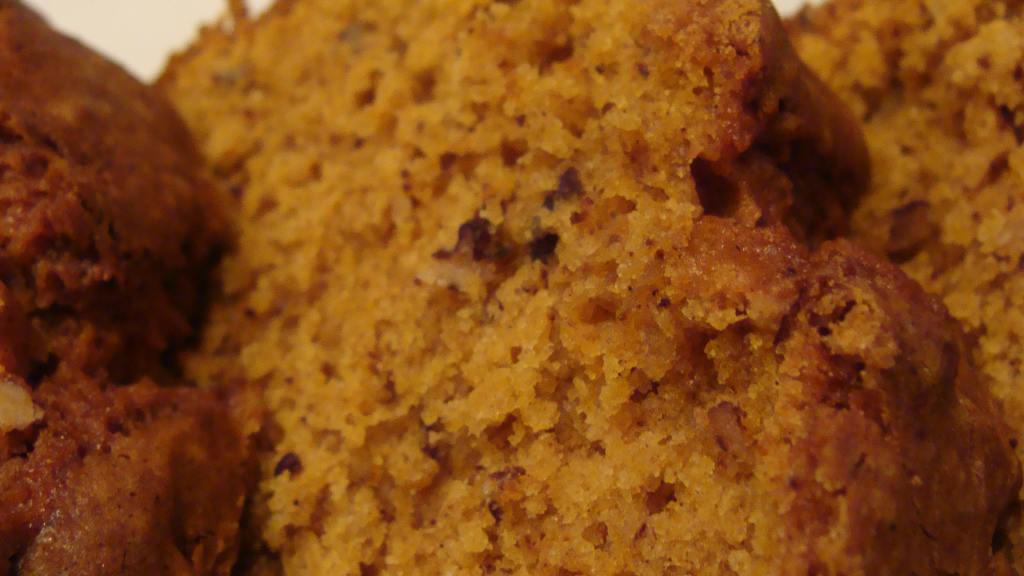 Ready In:

1hr 30mins

Serves:

Yields:

Units:
Nutrition Information
directions
Preheat oven to 350.
Grease two 9 x 5 inch loaf pans and dust with a little flour.
In a large mixing bowl, beat together pumpkin, applesauce, sugar, water, and eggs until well blended.
Measure the flour, baking soda, baking powder, cinnamon, nutmeg, cloves, and salt, into a separate bowl and stir until combined.
Slowly add the dry ingredients to the pumpkin mixture, beating until smooth.
Divide the batter evenly between the two pans.
Bake for 60-70 minutes or until a toothpick inserted in center comes out clean.
Allow bread to cool for 10-15 minutes before removing from pans.
Slice and serve plain, buttered, or with cream cheese.
Submit a Recipe Correction
Join The Conversation
Ok....why? Why are there fake reviews on this? Its pumpkin bread!!! I thought NonayerE was being harsh but no, they are right ....fake reviews!!! ..I wonder if its site wide???? I've seen at least 4 others for sure......I will likely never trust anything from this site after seeing this.....wow....I just don't understand it.....why? So, why not...... Five stars!!...my review is fake too!!!! ;)

I was going to make this, but went to the reviews to see what others thought, if they had modified, or anything like that. Then, I noticed that all the positive reviews were made within a freakishly close time to one another (not to mention the writing style of each is exactly the same.) Soooooo... I checked out the questionable reviewers. Turns out, each of them just so happened to have reviewed the same four recipes within the same few weeks of each other. Things that make ya go "hm?" So, not going to make it, not going to recommend it and in fact, plan to post this little bit of info on facebook, twitter, pinterest, etc. Shameful, really. I mean, fake news has screwed up this country, it shouldn't be tolerated in the baking world, for cryin out loud!

Just made a loaf and a cake out of this recipe and both came out fantastic! I added walnuts and used honey instead of sugar and water. Believe it or not I got plenty of lift using whole emmer and spelt flour! (Sometimes things turn out flatter if you use old baking powder/soda, just a thought.) By the way, the cake-pan version is great with cream cheese frosting. ??