Mmmm Smooth & Creamy Coconut Cheesecake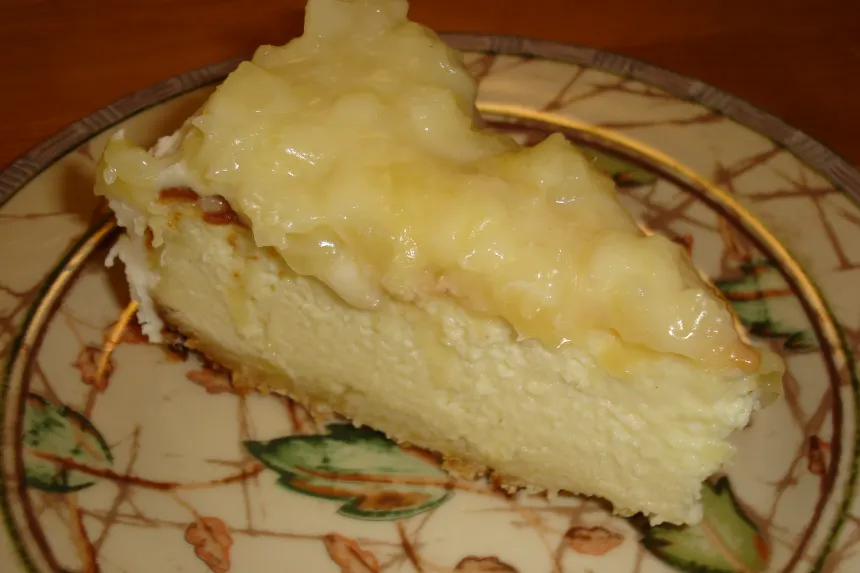 photo by _Pixie_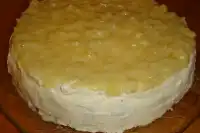 Ready In:

1hr 50mins

Ingredients:

13
directions
For crust:

Preheat oven to 375 degrees F.
Have 9 inch springform pan ready.
Mix flour, salt & sugar together.
Cut chilled butter into flour mix until flour & butter have texture of cornmeal.
Beat egg yolk with vanilla & add to flour/butter mix - mix well. Dough will be crumbly - that's ok.
Pat dough onto floor & a bit up the side of the springform pan - go for even distribution.
Bake 14-16 minutes - until golden brown.
Remove from oven & cool to room temperature Brush with egg white. Set aside.

For custard:

Preheat oven to 475 degrees F.
Place cream cheese in large mixing bowl. Add2/3 cup sugar, 1 teaspoon vanilla, 1/4 teaspoon salt & can of Coco Lopez.
Start mixing at medium speed until cheese & Coco Lopez are well-blended, no more tha a minute.
Add eggs 1 at a time, mixing 10 - 20 seconds between additions. Goal is uniform texture & color without overbeating.
Pour custard into springform pan whose bottom is lined with the baked crust.
Raise the filled pan 3 to 4 inches above the counter & smack sharply onto counter to release air bubbles, Repeat a couple of times (more if things are loud or stressfull).
Put custard in oven. Bake at 475 for 15 minutes then turn down to 225 degrees F for 70 -75 minutes. Center will still have a quiver.
Turn oven off. Keep cake in oven & prop oven door open with a wooden spoon. This allows cake to cool slowly for next 2 hours Remove cake, cover with plastic wrap & refrigerate overnight.
Serve plain or with slices of fresh mango & strawberry.
Questions & Replies

Got a question?
Share it with the community!
Reviews
I planned on serving this for Easter, so I made one in advance yesterday as a trial run. Based on the other reviews, I added 3/4 c toasted coconut to the dry crust ingredients and pulsed it in my processor before adding the butter, then the egg/vanilla. I also added 3/4 c shredded coconut to the custard ingredients before adding the egg, then baked as directed. After cooling in the oven, I removed it, whipped up Broiled Coconut Topping Recipe #168836, and carefully spread on the cheesecake (I did have to soften it a bit more so as not to tear the cake top) and broiled for about 2 minutes. I let it cool on the counter, when it was completely cool I stuck it in the fridge WITHOUT wrapping it. i did steal a few bites...though forced myself to wait until tonight to enjoy a slice. Ohhhh, it is so good! The texture is smooth and rich and velvety...the best cheesecake i have ever made. The coconut in all 3 layers was perfect...the crust on top, the smooth subtle taste in the cake, and the nutty flavor in the crust. I can't wait to serve this on Sunday! Thansk so much for posting!

 

Fabulous, delicious cheesecake! The texture is just wonderful - smooth, creamy and perfect! I fancied this up by the addition of an icing on the sides (I used Recipe #33163 ) and a pineapple topping (I used Recipe #151060 ). Next time (and there will be a next time) I think I might try a chocolate glaze. Thanks for posting, this is just divine!

 

The lost star is for the coconut flavor, or the lack thereof. The hint of coconut was so subtle that I almost missed it. I think I would make it again using coconut extract instead of the vanilla. Other than that, it was perfect! I also (after trying it) went for the pineapple topping that reviewer Pixie did. That was a great addition. Thank you Buster's friend, I loved it!!!

 
RECIPE SUBMITTED BY
<p>First about Buster: Buster moved onto whatever comes next on February 26, 2008. He was just shy of five years old. I miss him terribly. <br />He came into our lives when he ran out in front of my car late one night as I was driving home. A just under 4 pound ball of kitten fluff, complete with an ostrich boa tail that stayed straight up as he assessed his new domain. He became a 19 pound longhaired beast who guarded our house (he followed any new guests or servicepeople the entire time they are on the property) &amp; even killed copperheads (among other things with his hunting buddy, Fergus the short-tailed)! Friends never saw his formidible side as he smiled at them &amp; uttered the most incongruent kitten-like mews as he threaded legs! He liked to ride in the car &amp; came to the beach. <br />There are Buster-approved recipes in my offerings - however, HE decided which he wanted to consider - Buster demonstrated he liked pumpkin anything - ALOT -LOL!!! <br /> <br />Copperhead count 2006 - Buster 2 <br /> (10 inchers w/yellow tails) <br /> 2007 - Buster &amp; Roxie 1 <br /> (a 24 incher!) <br />Buster woken from beauty sleep - <br />http://www.recipezaar.com/members/home/62264/DSCN0335.JPG <br />Big whiskers - <br />http://www.recipezaar.com/members/home/62264/DSCN0333.JPG <br /> <br />For those of you who gave kind condolences - thank you so very much. <br />http://www.recipezaar.com/bb/viewtopic.zsp?t=250301 <br /> <br /> <br />I love to cook &amp; incorporate techniques from Southern/Mid Atlantic roots (grits, eastern NC BBQ shoulders, Brunswick stew, steamed crabs &amp; shrimp &amp; shellfish, hushpuppies, cornbread, greens, shad roe, scrapple) with Pacific Rim foods &amp; techniques aquired while living in Pacific Northwest, fish &amp; game recipes learned while living in Rocky Mountain region &amp; foods/techniques learned travelling to the Big Island &amp; up into BC &amp; Alberta &amp; into the Caribbean. The Middle Eastern/African likes I have are remnants of my parents who lived for many years in North Africa &amp; Mediterranean before I was thought of. Makes for wide open cooking! <br /> <br />Since moving back east we try to go annually in the deep winter to Montreal (Old Montreal auberges &amp; La Reine) &amp; Quebec City (Winter Carnival &amp; Chateau Frontenac)- for unctuous foie gras &amp; real cheeses, French &amp; Canadian meals prepared &amp; served exquisitely, fantastic music &amp; wonderful people - with the cold helping burn off some of the calories! <br /> <br />I love putting in our aluminum jonboat &amp; heading across the Intracoastal Waterway (ICW) to the barrier islands for foraging &amp; exploring! Bodysurfing is a lifelong sport for me - one that a person's body never seems to forget how to do, once the knack is learned (thank goodness!) <br /> <br />I especially miss cool summers &amp; foggy/drizzly days &amp; fall mushroom foraging/anytime of year hot springing in WA, OR, MT, ID, BC &amp; Alberta.</p>
View Full Profile