Mini Sicilian Cheesecakes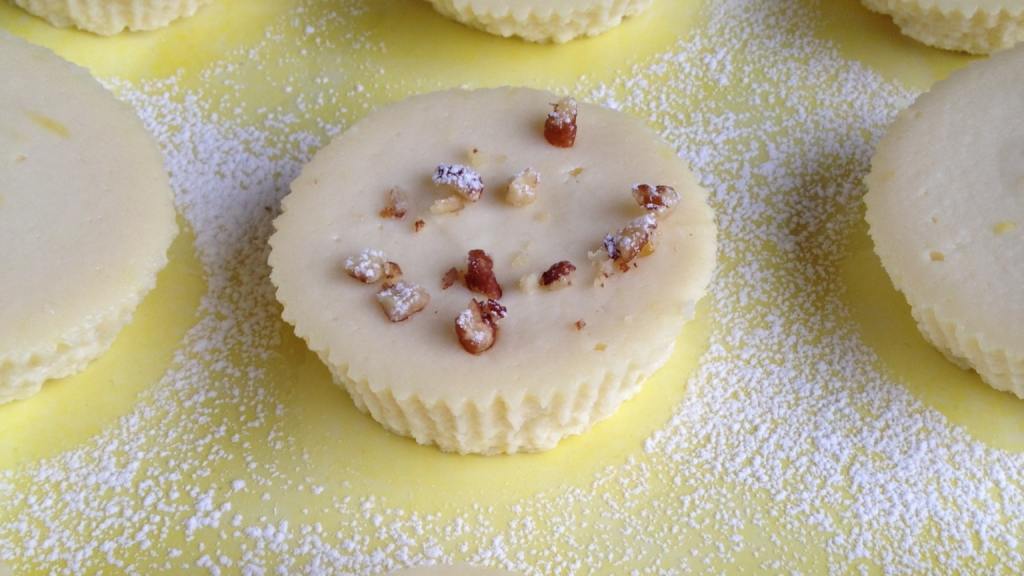 Ready In:

35mins

Ingredients:

9
directions
Preheat the oven to 350°F
Using an electric mixer, beat the eggs and vanilla on high speed until pale yellow and fluffy, about 7 minutes. Slowly beat in the granulated sugar. On low speed, mix in the ricotta, lemon peel and flour.
Line a muffin pan with 12 foil baking liners and lightly spray with cooking spray.
Pour the cheese mixture into the foil liners.
Place the muffin pan on a rimmed baking sheet, transfer to the oven and pour about 1 1/2 cups water onto the baking sheet to make a water bath.
Bake until the cheesecake centers are just set, about 20 minutes.
Remove the muffin pan from the baking sheet, then top the cheesecakes with the pine nuts, patting gently to adhere.
Let cool for about 30 minutes, then dust with confectioners' sugar.
Join The Conversation
Followed the recipe as is. Great resut. Next time, I had to use cottage cheese. Low fat. I drained most of the liquid from the cottage cheese and then amped it up a bit by adding a few dollops of reduced fat cream cheese, for a total of 3/4 pound (12 ounces). Substituted 1/4 cup of Splenda for 1/4 cup of the sugar. If you won't use Splenda just stick with the 1/2 cup sugar. With my changes, still delicious. Topped with sliced strawberries and/or nuts. Great.

Made the mini Sicilian cheesecakes. They were good but not as firm as I'd like. Not a very experienced baker so it seems there might be several possible fixes but I'm looking for advise on what might be best - longer bake time, less ricotta, more flour, less baking spray in foil papers? Help, anyone?

I cannot say enough good things about these! I made them as part of the dessert buffet for our wedding and they were a huge hit. Kept to the recipe but subbed 1/2 t. lemon extract for the lemon peel. Also made an Almond Graham Cracker crust: mixed 1 C graham cracker crumbs, 1 T white sugar, 5 T melted butter & 1/2 t. almond extract in a bowl. Added about 1 T of the graham cracker crust to the bottom of the cupcake holder. <br/><br/>Incredibly easy, gourmet results.<br/><br/><br/><br/>Read more: http://www.joyofbaking.com/Cheesecakes(Individual).html#ixzz1ZdcRbBEC