Minestrone With Italian Sausage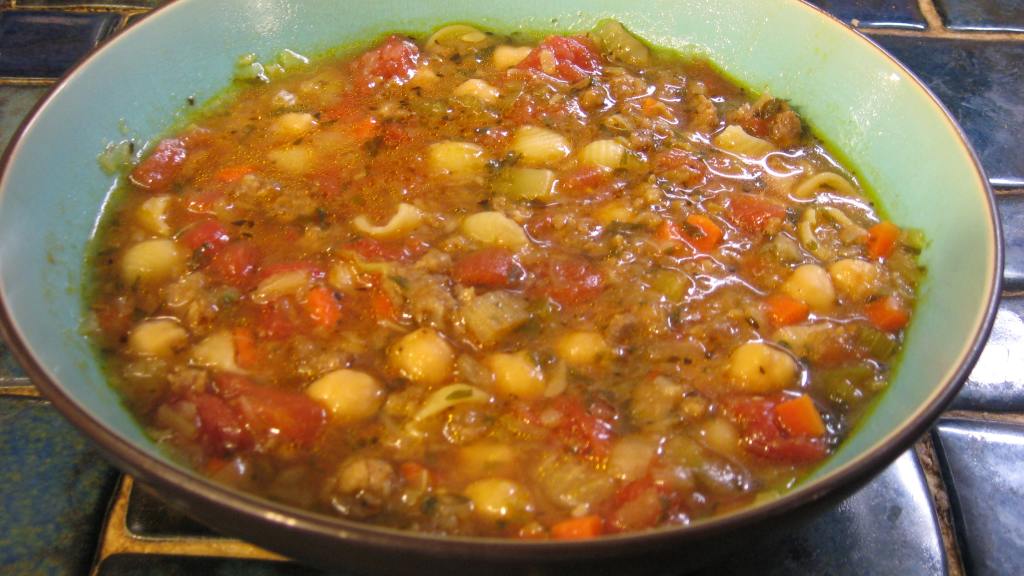 Ready In:

1hr 25mins

Ingredients:

18

Serves:

11
directions
In soup kettle, cook sausage and onion over medium heat until meat is no longer pink; drain.
Stir in the carrots, celery, leek and garlic; cook for 3 minutes.
Add zucchini and green beans; cook 2 minutes longer.
Stir in broth, tomatoes, cabbage, basil, oregano and pepper.
Bring to a boil.
Reduce heat; cover, simmer for 45 minutes.
Return to a boil, stir in garbanzo beans, pasta and parsley.
Cook for 6-9 minutes or until the pasta is tender.
Serve with Parmesan cheese.
Join The Conversation
I halved this recipe, and it still made a lot! I made exactly as posted (except for halving) except I added a little more beef broth...mine looked too dry to cook the pasta! I had to add another 5 minutes to the final cooking time to get the pasta tender...this could be my stove. I have an electric smooth top and the low seems really low! The taste is fantastic...I'll definitely make again. I can't wait to try it after it has sat in the refrigerator for a day....I bet it will be phenomenal. I made this for Gimme 5 Tag!

YES, this recipe certainly makes a lot of soup, but that's not a problem: I always love stashing future meals away in the freezer. The last couple of soups I've made have tasted so unbelievably better a few days later, so I made this two days ago and we enjoyed it tonight. Fantastic: we just savoured each and every spoonful. I made this exactly to the recipe except for using 3 leeks and adding some rosemary and sage to the other herbs, and my basil was fresh. Gosh, it's great when you have a herb growing healthily and abundantly! I used a Savoy cabbage (always more flavoursome) and used my favourite sausages from my butcher's: excellent chicken and chive sausages. Thank you for sharing this super recipe Lainey. I'm intending to do what I believe the great chefs of Europe have always done: never really empty the pot when making further batches, so when I bring a batch from the freezer that will be the base for the next minestrone, and I'll make sure that some is reserved to become the base for the next batch etc.. I once ate a minestrone in a university college and it was just superb. When I asked after the recipe, I was told that the chef - who'd been there for many years - had always done just that! So I suppose I should report in on this further in a year's time - or in ten year's time? Made for PRMR. Thank you so much for sharing this recipe.

Best minestrone ever! I love spicy food, and the italian sausage gave punch and body to a soup that tends to overpower with tomato. I would serve this with a crusty sourdough, and I wouldn't hesitate to serve this to family or friends! I would advise using fresh veggies to avoid sogginess when reheating.
RECIPE SUBMITTED BY
I want to thank all of you who review the recipes I post - good or bad. It's always good to get feedback and helpful tips and I really appreciate them all! I try to send a note when someone reviews one of my recipes, but I don't always get the chance. Please know that I really enjoy reading the reviews. I also love all the photos everyone posts, too! Thanks so much. Happy Cooking!
View Full Profile