Milk & Cookie Cups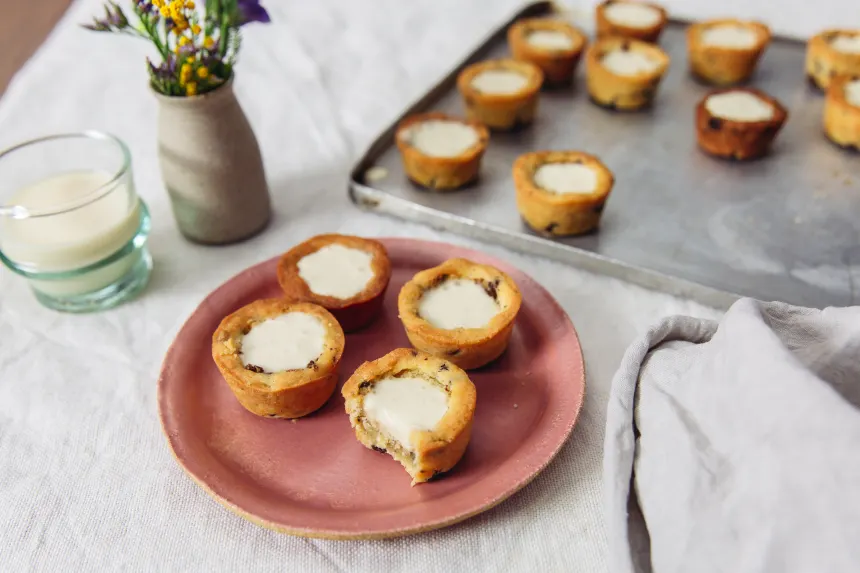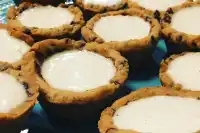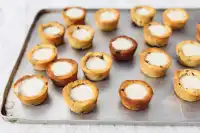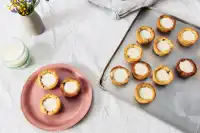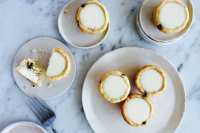 Ready In:

2hrs 30mins

Ingredients:

13
directions
Make the panna cotta filling:

Pour the water into a small bowl. Sprinkle the gelatin powder over this and set aside to bloom for 5 minutes.
In a medium pot, add the milk and sugar. Heat over a medium heat whilst stirring until gently steaming. Turn the heat down to low and pour in the gelatin mixture, stir together until the gelatin has melted inches.
Remove from the heat and pour in the heavy cream.
Strain into a bowl resting in an ice bath. Let sit for 1-2 hours cool, stirring occasionally, until thick but still pourable. (If it isn't thickening, chill in the fridge for 30-60 minutes to speed it up).

While the panna cotta filling chills, make the cookie cups:

Preheat the oven to 350 degrees F. Spray a non-stick 24-cup mini muffin pan with oil or cooking spray.
In a large bowl, cream the softened butter and sugar together until smooth. Add the egg, vanilla, salt and baking powder, mix to combine.
Add the flour and stir to get a thick dough. Fold in the chocolate chips until evenly distributed throughout the dough.
Divide the dough between the wells in the muffin tin – you should be using about 1 level tablespoon of dough for each well.
Use your fingertips to press the cookie dough in each well into a cup shape.
Place in the freezer for 10-15 minutes.
Bake for 10 minutes – the cookie dough should still be a bit soft in the centre but the edges should be starting to set. They may rise and lose some of their 'cup' shape, this is okay!
While the cookies are still soft, use the end of a wooden spoon (or the end of a pestle from a pestle & mortar) to push a large indent back into the centre of each cup.
Return to the oven for an additional 3 minutes.
Let cool in the pan for a few minutes then remove from the pan using a small spatula or butter knife. Place into a wire rack to cool completely.

Fill the cups:

Transfer the thickened, pourable panna cotta filling to a jug.
Fill the cooled cookie cups with the panna cotta filling up to the brim.
Place onto a tray or large plate and transfer to the fridge to chill for at least an hour until the panna cotta has completely set.
Store in the fridge.

Tools:

Wilton 24 cup mini muffin pan.
Buy it on Amazon: https://www.amazon.com/Wilton-Perfect-Results-Non-Stick-Cupcake/dp/B004EBS16G.
Questions & Replies

I saw someones Comment that they used 3 ounces of Knox gelatine (how it's spelled on the box) and their filling came out like rubber. Can anyone confirm thats how much I should use as I have the same type of gelatin. The regular gelatine desert recipe on the back of the box calls for 4 cups of juice and only 1 oz of the Knox gelatine to make it firm. Is it possible that this gelatine is stronger than other gelatine packets? Please help as I'm trying to make treat baskets for Christmas presents and I don't want to mess them up ??

 
Reviews
I thought these cookie cups were really cute! When I first baked them, the cookie dough 'cups' mostly lost their shape but, as directed, pressing them back into a cup shape part way through baking rectifies this. You get a perfect size to pour a bit of vanilla panna cotta in which is nice and creamy so it offsets some of the sweetness of the cookies. Perfect finger-food dessert for parties.

 
Tweaks
After MUCH research after reading people's comments regarding the Panna Cotta mixture, I found that the average amount of gelatin used for Panna Cotta is ½ oz, after more research I found that ½ an ounce is equal to 3 TEASPOONS. I used this amount for the filling and it came out beautifully! I believe it is supposed to be 3 teaspoons and not 3 ounces.

 
RECIPE SUBMITTED BY
Hungry for good food AND great conversation? Food.com boasts a smorgasbord of over 500,000 recipes and a community-inspired activity feed that allows our users to add reviews, tweaks, questions and photos to their favorite recipes. Grab a plate and join the fun!
View Full Profile